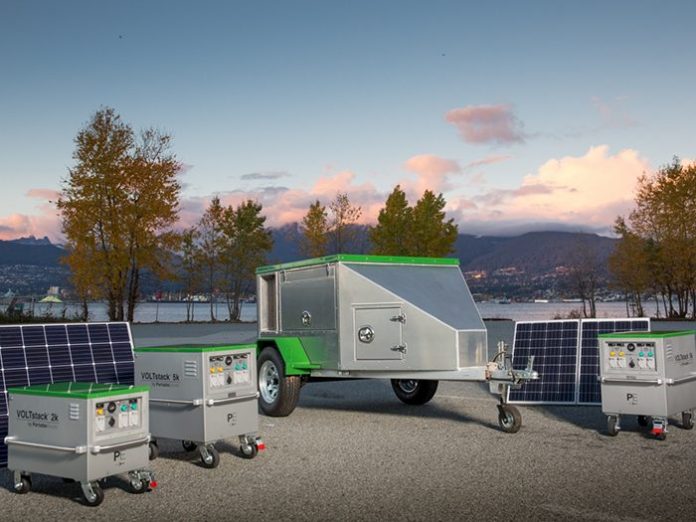 In order to carry out its everyday operations and deliver its extensive range of technical services in a way that has the least impact to the planet as possible, Creative Technology London has invested in VOLTstack 5k power stations, demonstrating another significant step towards further reducing its carbon footprint.
Creative Technology Nic Maag, TV and Film Account Manager commented: "Whether it's making eco-friendly changes to our offices for our employees or innovations for our clients' events, our mission as part of the NEP Group is to contribute to the change towards a sustainable society. We are committed to minimising our environmental impact, using our resources wisely and meeting all applicable environmental regulatory requirements."
To add to our green initiatives mission, Creative Technology has recently invested in VOLTstack 5k Power units by Portable Electric in association with Green Voltage, a portable method of supplying temporary power on-site with the benefits of no noise, no fuel, and no emissions. VOLTstack can work alongside or completely replace diesel generators and delivers silent, emissions-free power that significantly reduces costs, making it an ideal solution for film / sport production, remote site operations and sound recordists to name just a few.
Maag explained: "The VOLTstack 5K Power units are a mobile go anywhere power solution with a green footprint."
Being completely quiet and pollution free they are a perfect fit for the film work we are involved with and have somewhat revolutionised the approach to accessible onsite clean energy power.
Maag concluded: "We are committed to the evolution of its eco credentials and holds a firm commitment to maintaining and improving on the 'Green Ethos' which the VOLTstack power stations help us achieve."