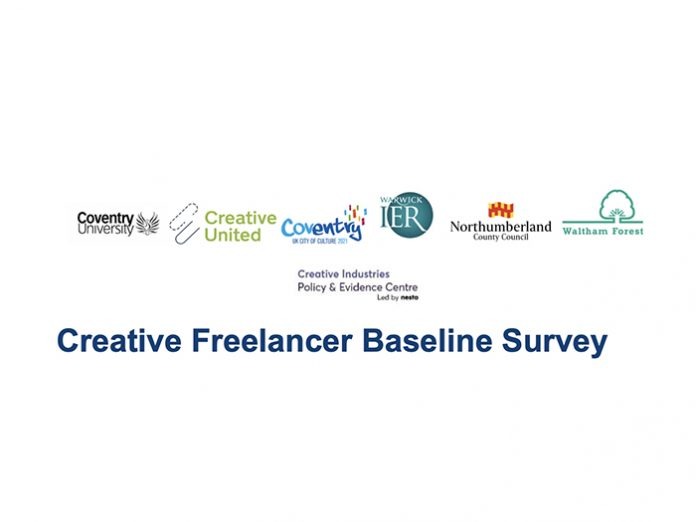 Coventry University has launched a call for Creative Freelancers living and/or working in three locations to come forward to support an important new study that will address a critical evidence gap around the contribution of freelance workers to the economic and place-based impacts of the creative industries.
The study will focus on creative freelancers that live and/or work in three specific locations: The London Borough of Waltham Forest (London Borough of Culture 2019); Coventry City (City of Culture 2021); and The County of Northumberland
Today's announcement calls for anyone that identifies as a 'Creative Freelancer' providing services in any part of the arts and creative industries to come forward as potential subjects for in-depth interviews. The interviews will help the research team to establish a 'typology' of freelancer business models that will enable policy makers, funders and development agencies to develop more targeted strategies for supporting this part of the creative economy, the vulnerability of which has been exposed further by the impact of the Covid-19 crisis.
Commissioned by the Creative Industries Policy and Evidence Centre (PEC) and led by Coventry University in partnership with ​Coventry City of Culture Trust​, ​Creative United​, ​Northumberland County Council​, ​Waltham Forest Borough Council and ​Warwick Institute of Employment Research. the study will generate new insights into the business models of creative freelancers and their relationship to local labour markets, creative networks, supply chains and innovation ecosystems – as well as identifying the challenges that they face.
As a first step, creative freelancers living and/or working in these three localities are being invited to complete a two-minute survey which can be accessed via this link: www.smartsurvey.co.uk/s/CreativeFreelancers/
One of only six projects funded nationally, and led by the Centre for Business in Society at Coventry University, the research proposal responded to the PEC's open call for projects that could help to demonstrate how freelancers and micro enterprises contribute to the UK's creative industries.
Professor Nick Henry of Coventry University said, "​When we were awarded this project, we knew that freelancers are a lifeblood – but potentially vulnerable lifeblood – of the booming creative industries. We wanted to know how do they, and their different business models, engage with and embed in place? And with what economic and social outcomes? We still want to know, but that vulnerability has been laid bare by the pandemic crisis. Our funders and partners want to know more, because they are committed to creative freelancers and because place-based policy opens up possibilities to support them to be sustainable and resilient – even in times of crisis. We look forward to some great interviews and some innovative policy discussions​."
Mary-Alice Stack, Chief Executive, Creative United said: ​"Freelancer workers are and have always been the beating heart of the UK's thriving arts and creative industries. As an organisation that is committed to supporting the growth and development of this sector, we are acutely aware of the evidence gaps that mean this population of uniquely skilled and talented individuals is often overlooked and under-supported.
With the help of our partners and the freelance community itself, we are determined to take steps now to address this issue by documenting the business models adopted by creative freelancers so that their particular way of working and economic contribution can be properly understood and appreciated as an essential part of our creative economy."
Designed to produce 'deep dive' qualitative evidence on creative freelancers, this research will increase understanding of the economic relationships, dynamics and business personas of freelancer models in order to directly support locally-based investment and policy responses to creative industry business models.
The study is expected to complete in late autumn 2020. To find out more about the project and the full portfolio of six research projects that the PEC have commissioned, please visit: www.pec.ac.uk/news/our-first-commissioned-research-projects