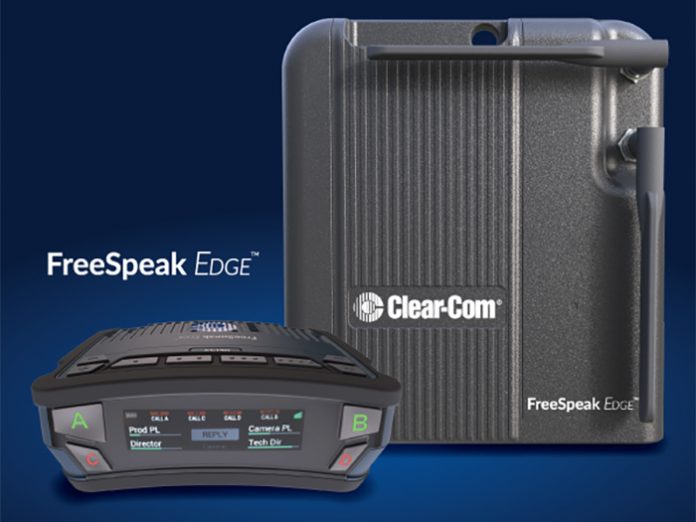 Clear-Com's Eclipse HX digital matrix intercom's latest software update strengthens its position as a flexible and dynamic all-IP intercom solution on the market.
It is a highly scalable, extensible and programmable platform for enabling non-blocking, bi-directional communication for small to large collaborative work teams. Eclipse HX version 12 supports SMPTE 2110-30 and AES67 third-party interoperability and now works together with FreeSpeak Edge, the latest addition to the FreeSpeak product family.
FreeSpeak Edge harnesses the power of 5GHz technology to perform flawlessly in even the most challenging venues and high multipath environments. The system takes advantage of Clear-Com's exclusive RF technology, which uses OFDM to provide a robust transport layer that is immune to most forms of interference. FreeSpeak Edge delivers the clearest 12kHz audio quality with ultra-low latency and is highly scalable with the technology and bandwidth to accommodate the largest and most complex productions. With version 12, Eclipse HX now configures and seamlessly connects with the most sophisticated and robust FreeSpeak Edge 5GHz transceivers over AES67 adding to the integration of the 2.4 GHz and 1.9GHz frequency bands in FreeSpeak II.
Connectivity doesn't stop there. The Eclipse HX system can connect with any third-party device using AES67 audio over IP, and intercom, using the SMPTE21110 standard within video IP systems.
The system enables up to thousands of direct (point-to-point) and one-to-many (group and partyline or conference) audio and data signal distributions/connections. All systems can intelligently trunk over redundant Fiber or through trunks based on IP (Dante, AES67 and native), MADI and audio CAT5 without compromising audio quality or performance. For very large systems, Eclipse HX v12 now includes a Cross Ring IP Bridge (CRIB), which is a new intercom trunking scheme that links separate, distant Eclipse-HX intelligent fiber rings over IP trunks.
Eclipse-HX allows connection of as many of your users on the networked 64-matrix system over multiple media types. The expansive network is achieved with three high-density and high- performance system frames—which can support up to 256 AES67 or SMPTE2110 ports— supported by user devices consisting of any combination of hard-wired key panels, mobile apps, soft-panels, two-way radios, POTS, IP telephony, wired or wireless beltpacks—connected over either 4-wire or IP (Dante, AES67 and native), Fiber, CAT5, and/or MADI.
Lastly, V-series Iris panels keep Eclipse HX users organized with multi-colour, 10-character OLED display that allow colour-based user groups. The AES67 connected panels provide high- quality, uncompressed audio and can deploy up to 64 panels per E-IPA AoIP card in an AES67- based network.