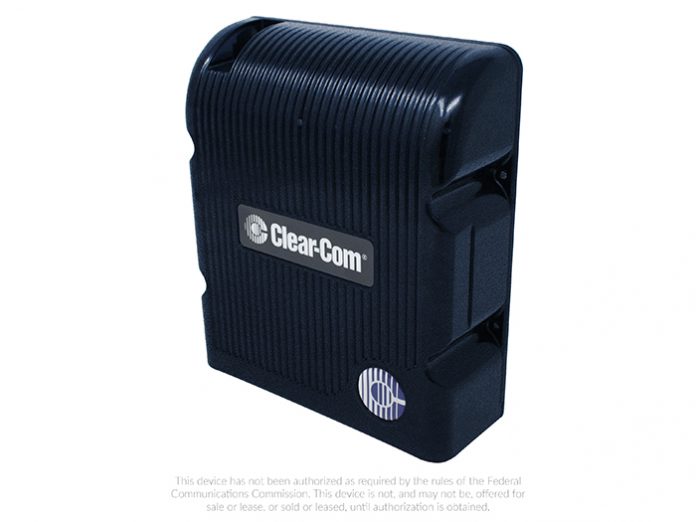 At the LDI Show 2018, Clear-Com will showcase new hardware and software functionality for FreeSpeak II, a digital wireless intercom for live performance, theatre and broadcast users.
Also, on display will be E-IPA, the new high-density audio-and-intercom-over-IP connection card for the Eclipse HX digital matrix intercom family.
A significant firmware update to FreeSpeak II provides new functionality, including a cleaner User Interface and text messaging, together with InSite to provide improved diagnostics and telemetry screens, and audio enhancements systems when used in complex radio environments, such as tracking beltpack roaming between cellular transceivers and quality of service over time. The new 1.5 firmware is available as an update for the FSII-BASE-II base station and its CCM management software.
The new FreeSpeak II 1.9 GHz IP Transceiver, IPT, features AES67 connectivity, low-latency signal distribution and high-performance audio routing with high audio bandwidth. As a result, FreeSpeak II wireless beltpacks can now be addressed across a user's LAN. Additional enhancements include supporting a higher density of users per transceiver.
All IPT Transceivers are connected to an AES67 IP switch and to the Eclipse HX system fitted with Clear-Com's new E-IPA high density audio-and-intercom-over IP system card; each E-IPA card provides up to 64 ports of IP connections, which effectively supports 64 IPTs. The IPT can be powered from a PoE switch or local power source. Direct fiber connection is also available on each IPT.
FreeSpeak II wireless beltpacks are seamlessly handed off from IPT to IPT, never losing connection on the intercom if the user stays within the radio zone. Each Transceiver supports up to 10 FreeSpeak II wireless beltpacks; twice as many beltpacks as the existing FreeSpeak II transceivers.
"It's our passion to continually make Clear-Com products better and easier to use, especially during high-stress live performances," said Simon Browne, Vice President of Product Management, Clear-Com.
"Our FreeSpeak II, Eclipse HX, Median and Omega users constantly see benefits from our R&D work to make existing products better by adding features and functionality, while at the same time bringing new solutions to market, like the E-IPA card which makes communication logistics easier."
Natively AES67 compliant and SMPTE 2110-30 ready, the E-IPA card provides 64 streams of low-latency and high audio bandwidth connections for linking existing and new IP-based Clear-Com products and will be the vehicle for future interoperating with other AES67 compatible Clear-Com products.
The E-IPA card comes in 16, 32, 48, and 64-port options, and is compatible with Eclipse HX-Delta, Median and Omega systems, allowing users to build an extremely dense network with a mix of connectivity options. Compared to other Audio/Intercom-over-IP connectivity options on the market, intercom users can optimize their investment on Eclipse HX and conserve system card slots for other connectivity needs.
FreeSpeak II, the IPT Transceiver and the E-IPA card will be available for demonstration, together with a wide range of Clear-Com's trusted communications solutions, on Clear-Com's booth 2010 at the LDI Show 2018, taking place at the Las Vegas Convention Center from October 19-21 2018.