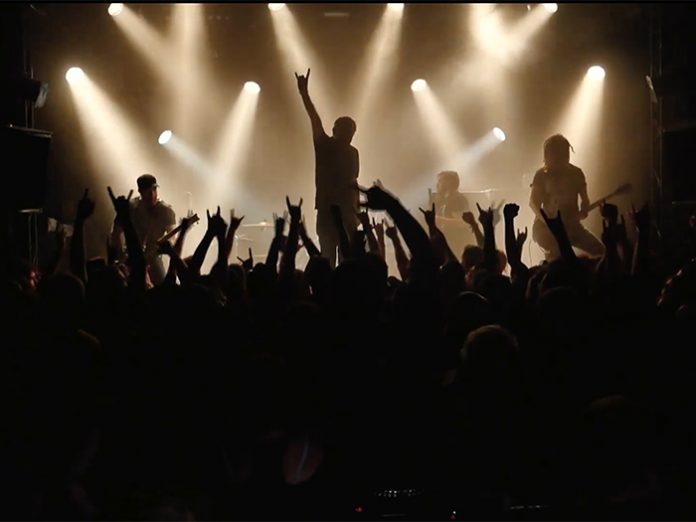 Throwing fuel on the flames of Mass Hysteria's sound was a relentless Romain Dronne designed lightshow powered by a ChamSys MagicQ MQ80 with an Extra Wing.
Part of the Chirac Design team, Dronne turned up the brightness of his rig at key points throughout the show, transforming the relatively tight confines of Club Le Ferraileur into a ball of light. The close-in setting of the club made the show well-suited for streaming, since many fans would be watching on mobile phones with their relatively small screens.
However, beyond this "technical" consideration, the size of the venue also reinforced the close relationship that the band has with their fans according to Dronne. "This is a small venue by the standards of Mass Hysteria," he said, noting that the band has opened for the likes of Metallica. "But, the intimacy of this show's venue is in keeping with the kind of connection that the guys share with fans."
The connection, Dronne speaks of is readily apparent during the streamed show, as the band exchanges quips with the crowd and tosses swag into the audience, while fans share the moment with Mass Hysteria singing along and clapping in rhythm to songs.
Through it all Dronne's design races forward in step with the show, accenting crescendos with bursts of light, engaging the crowd with audience lighting, strobing, creating evocative silhouettes and changing perspectives with unusual side lighting.
If the lighting seemed to flow naturally with the music to those watching the stream, it's because Dronne is fully immersed in his client's sound. He busked the entire show, never pausing for a millisecond. Indispensably valuable to him in this process was the user-friendly layout of the MagicQ MQ 80 with its 12-inch display.
"The brilliant thing about the MQ80 is how easy it is to navigate, especially for its size," said Dronne. "I mean, here is something that is compact enough for me, yet its display is really easy to work with because of its size and high resolution.
"I especially like the Execute Buttons on the MQ80," continued Dronne. "I used them, including Play and Pause to control Grid One. The Color Palette was also very important, since I relied on gradients of different shades when creating silhouettes to change up the mood on stage."
Although his show used three universes and 32 fixtures, Dronne was able to create expansive looks and unsettling intensity without interruption. Like his client, who played in a smaller-than-usual venue for this show, he proved that the power to move comes in all sizes, an especially important lesson when streaming to an audience watching on smaller mobile screens.