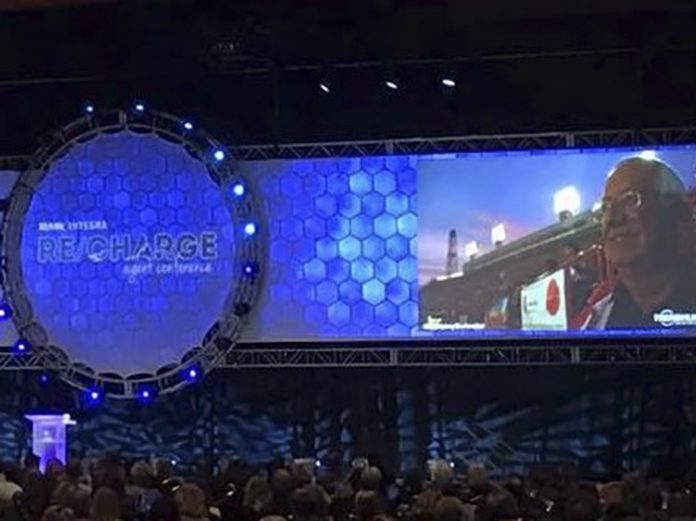 A lively lighting display that featured 16 CHAUVET Rogue R2 Wash fixtures and supplied by JDI Productions was used for the RE/MAX RE/CHARGE event that takes place in New England every October.
Flown on downstage truss, 10 of the moving RGBW LED fixtures were used to wash the stage in vivid colours during speaker presentations. The remaining six units were flown on upstage truss and were used to backwash speakers and provide audience lighting. Output from the washes had to be coordinated with two borderless video projection screens: two 10-inch x 30-inch surfaces that extended well beyond the width of the stage, and a 14-inch diameter circle in its centre.
"It was very critical that we got enough brightness from the Rogue fixtures to make the stage pop, but at the same time not wash out the images displayed on the video," said Chris Hubbard of Emergency Production, who served as the director and audio/visual vendor for the event. "Derek Iorfida of JDI Productions did an excellent job achieving the balance we were looking for between making the stage come alive with light, yet not washing out the video."
The task facing Iorfida and the lighting team (Mike Gionfrido & Andrew McGuirl) was made more challenging than usual, because the downstage truss had to be raised extraordinarily high to avoid interfering with the sight lines due to the lower than normal trim of the video screens. "There were a lot of features about the Rogue R2 Washes that made them especially well suited for this project," said Hubbard. "Their wide zoom range (12° – 49°) allowed us to focus the light on stage, so we didn't wash out the video images."
Given that RE/MAX RE/CHARGE 2016 drew over 1,000 attendees to the main ballroom of the Boston Convention & Exposition Centre, the output of the stage lighting was critically important.  "We couldn't rely on haze to help us, because it wasn't allowed here, just as it isn't at most convention centre ballrooms," said Hubbard. "This left it all up to the lights to deliver their own punch."
Consisting of beams and blinders as well as the Rogue washes, the RE/MAX conference rig had the output that the event's large venue required. The colour rendering capabilities of the Rogue fixtures also helped create a sense of balance on the stage. 
"We needed true colours to make the design seem exciting, but natural at the same time," said Hubbard. "The colours we got from the Rogues were very smooth and even, which created a sense of intimacy even in this kind of room. This event is supposed to connect the company to its agents – and our lighting helped create that feeling."