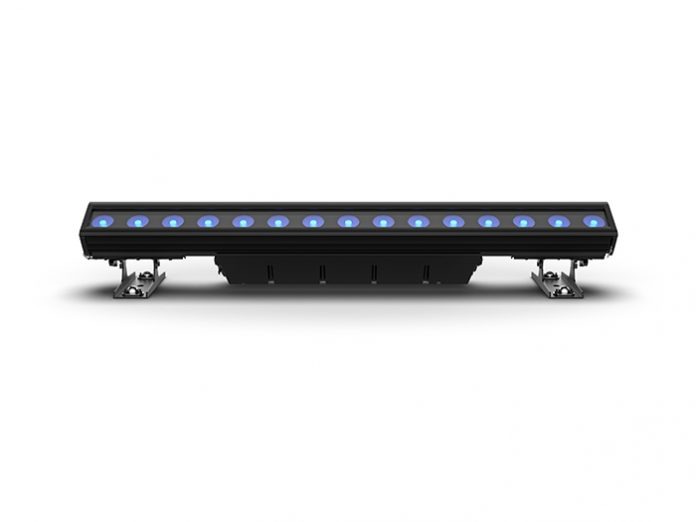 The new IP65 rated COLORado Batten Q15 features an array of rigging options that make it right at home in a wide range of designs.
The adjustable trunnions on this 1m long RGBW LED batten, which can be adjust without tools on its integrated track, have been given an even greater degree of versatility with the addition of ¼ turn omega brackets.
Adding to the COLORado BattenQ15's adaptability is a new system for joining different units together. Integrated into the end caps of the fixture is a system to connect units seamlessly for perfect row alignment. Since these attachments are weight bearing, the COLORado Batten Q15 can be hung "icicle style," or arranged in tower configurations using the included hanging/floor mount plate.
"Given the demands of today's market, when lighting rigs are being set up in many different types of settings, we feel that adaptable rigging options have never been more important," said Chauvet CEO, Albert Chauvet. "The COLORado Batten Q15 combines a high degree of rigging versatility with outstanding performance features."
Among those performance features is the intense output from the new fixture's 15 20-watt LEDs, which render beautiful and vivid colours and lend themselves to sizzling pixel mapped displays without the "skittle" look often associated with battens.
Capable of transitioning quickly from a smooth colour wall wash to a stunning effect, the COLORado Batten Q15 features an elliptical 42 – 15-degree beam spread, a stowable glare shield, colour temperature presets from 3200 K to 10000 K, and selectable smooth dimming curves.
Designed to excel indoors or out, and in broadcast studios as well as on concert stages, the COLORado Batten Q15 is intended to be as versatile as it is reliable. "Our customers are being asked to be more flexible and imaginative than ever today," said Chauvet. "We developed this product to help them meet that challenge."