After several months of lockdown, French Sound Engineer, Nicolas Poitrenaud of Herisson.tv dusted off his roadie uniform to embark on a unique broadcast project which saw Lebanese jazz trumpeter and pianist Ibrahim Maalouf bring together the ancient and the modern to deliver an innovative live performance in the age of COVID-19, with NEXO sound systems providing an immersive soundfield.
Staged in the historic Arena of Nîmes, Ibrahim Maalouf's production used mobile NEXO sound systems to create an immersive soundfield in which to record a concert for multichannel replay in the future. Poitrenaud was approached by Oleo Films to assume the role of recording engineer.
"My first thought was simply to make an acoustic recording for the movie," Poitrenaud explained, adding that after talking to Jean Lyonnet, Ibrahim Maalouf's longtime touring Sound Engineer, he understood that the performers needed to feel the space and sensations of a live concert. "Samuel Thiebaut asked us to create an immersive soundfield, which we could record and use in multichannel installations at a future date."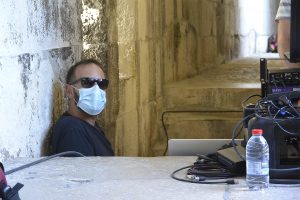 Poitrenaud was aware that many performing artists are unable to perform in such a big space without monitors. "We decided to bring in a PA for the event, so I contacted TEXEN to provide the equipment, and enlisted the help of NEXO and Bertrand Billon from the Engineering Support division," he said. "We asked them for a versatile and powerful FOH live sound system, that could easily be moved and deployed, with a minimum footprint to maintain the aesthetics of the project."
TEXEN deployed NEXO GEO M12 loudspeakers, positioning three modules on top of two MSUB18s to create a mobile FOH system consisting of groundstacks, mixed by a Yamaha CL5 digital FOH console – powered by NXAMPMk2 amplifiers equipped with Dante network cards. Poitrenaud also required a discrete and distributed monitor system for the choir and the brass band, and for this, TEXEN deployed NEXO ID24s on mic stands, installed in a circle surrounding the children's choir.
"NEXO's new point source P8 cabinets were used as wedges and FOH for the remote stage, while P12 models were the perfect powerful main wedge for the two main performers," Poitrenaud enthused.
"NEXO offers a wide variety of sound equipment starting from mini powerful point sources to coaxial wedges and powerful line arrays that you can easily deploy. They have an interesting stacked solution in their new GEO M range, with integrated rigging and dedicated subwoofers that are fast to deploy and can move from one place to the other. Its integration within a Dante network makes it easy at the time we have to combine them with a Yamaha console."
The immersive sound field was generated for the recording and post production elements of the production and not for the empty venue. "I needed individual sound objects that I could spatialise later, which was achieved by using close-up microphone recording," Poitrenaud said, explaining how he utilised the sound of the empty arena. "By default, an arena has its own acoustic signature which is immersive by itself. All I had to implement was a multichannel recording system."
The decision was taken to occupy separate spaces inside the arena to capture a depth of audio assets, from the middle of the runway to the middle of the seats in the balconies, as far as the highest point of the arena, at 21m high. The primary performers – Maalouf on trumpet and François Delporte on guitar – joined forces with a choir composed of 100 children and 100 brass musicians. "The idea was to have the performers inside the historical place with fewer technical elements visible – with no stage, truss, light or visible speakers or microphone," he said. "The space was naked."
Reflecting on his first gig since the COVID-19 crisis erupted in the region, Poitrenaud said: "I'd describe my emotions as a mix of excitement and apprehension due to the ever-changing landscape of live events."
To ensure the safety of the performing artists, management and the crew, temperature measurement, hydroalcoholic gel and face masks were ever present. The crew also adopted social distancing rules of 1.5m between performers, and catering was provided in individual food parcels, with regular disinfection of tables, chairs, toilets and all surfaces regularly.
Maalouf: The Concert, The Movie was released in November, broadcast on Qwest TV, to accompany the release of Ibrahim Maalouf's new album. "I would really like to thank Bertrand Billon from NEXO, Julien Beffara and Thomas Goeuriot from TEXEN and Jean Lyonnet," Poitrenaud concluded.  "They were all deeply involved in the project."
This article originally appeared in issue #255 of TPi, which you can read here.