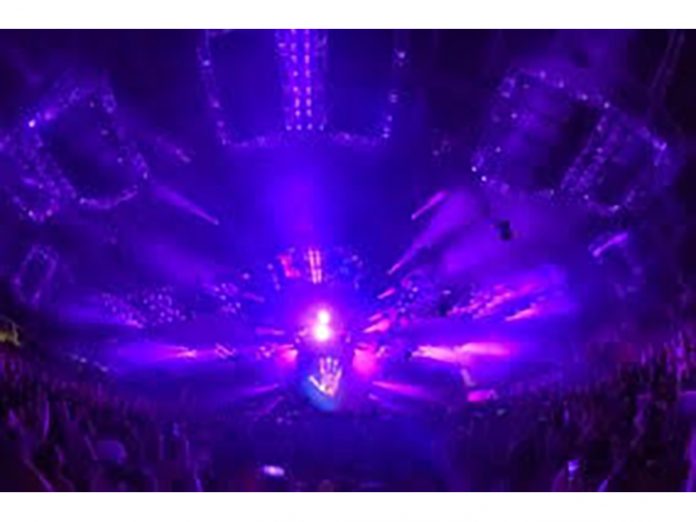 It is very fitting that confetti plays a prominent role in Above & Beyond's global tour in support of their Common Ground album. Originating in northern Italy during the Middle Ages, confetti (literally "small sweet") became symbolic not only of celebrations but also of the shared joyful experiences that bring people together. This ebullient mood resonates throughout the Grammy-nominated EDM trio's latest music with every synthetic hook, bouncy turn and transcendent keyboard melody.
Above & Beyond's performance overflows with hope and inspiration, qualities that are reflected in their tour's uplifting Neil Marsh-designed light show. Running his 48-universe show with a ChamSys MagicQ MQ500 Stadium, Marsh creates a stunning video and light panorama that sweeps audiences up into a shared Above & Beyond experience.
Marsh's journey with the group began in the summer of 2010, when he met one of its members, Tony McGuinness, at Glastonbury. "Tony had a solo show on the Dance Stage," recalled Mash. "He liked what I was doing there and asked me to do some European shows later that month with the full band. I agreed, and now I design and operate all A&B shows, in addition to doing production, advancing and directing visual content creation with my colleague Dylan Bryne."
Capturing the ethereal spirit of his client's show in light on the Common Ground tour, Marsh uses roughly 900 fixtures, supplied by Delicate Productions of Los Angeles. Made up primarily of LED washes and strobes, the rig also includes beams and profile fixtures. A centre stage video wall and half mirror ball positioned above the upstage DJ booth contribute to the mood, along with a plethora of multi-coloured confetti. Lasers are used for three tracks in the show.
Marsh explained how he pulls the entire rig together with help from his ChamSys MagicQ MQ500 Stadium. "We have a bespoke system to keep the video in time with the Midi Clock from the mixer on stage operated by Dave Kyle, another longtime collaborator with the A&B show," he said. "Each track has a unique colour, visual and dynamic, which are the same from show to show.
"As the show is in a DJ format, it is sometimes the case that tracks get changed last minute or even during the performance itself, so there is some busking for new tracks or set changes," continued Marsh. "The MQ500 is the finest console available for this application. When you need to busk something, or find a look in the programmer and seamlessly integrate it into a programmed show, there is no faster professional console than the MQ500."
In particular, March praised the editing features of his console. "The merging / editing / blind programming / live fade times etc. are all invaluable to making on-the-fly changes at the last minute," he said. "The MagicQ also works great for video. I have a couple of my universes for our video layers, and I have brightness, screen chase and blackout available from the console. In general, a really nice thing about this console is that it makes it very easy to go from manual to time-code. The track has colour / gobo information in a stack ready to go with intensity masters operated manually."
A ChamSys user since 2009, when he worked at Colour Sound Experiment in London, Marsh is enthusiastic about the advances designed into the MagicQ MQ500 Stadium.
"The first time I used the MQ500 was for a Disney Gala at Camden Roundhouse in London in early 2017," he said. "I've been a big fan ever since. The screen space is huge. I like that there are busking regions for fast busking of colour and effects from the execute window, as well as regions for colour picker applications. Plus, the onboard Visualiser is really helpful."
In addition to his ChamSys MagicQ MQ500, Marsh singled out his crew for helping to make the tour work smoothly. "Erik Fink, the PM and stage manager for the US leg of our tour, was invaluable, as was our entire team," he said. "Working together, we've been able to capture the unique spirit of this tour."