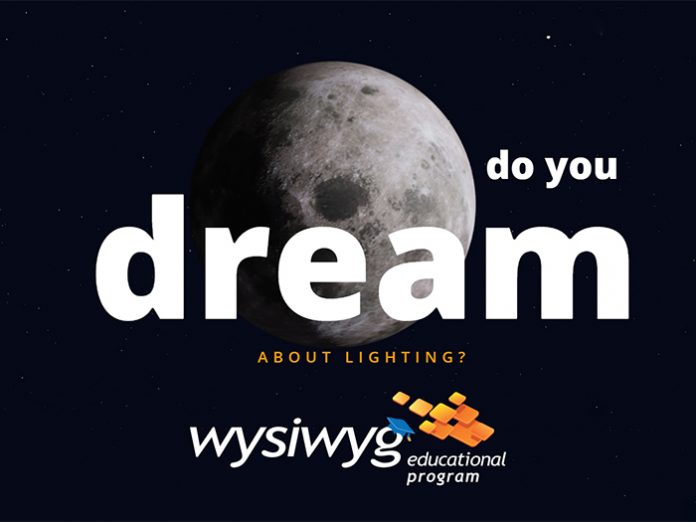 CAST Group reveals a free version of wysiwyg Design is now available to all students and teachers, enrolled on a full or part-time lighting design course at a university, college, post-secondary vocational or poly-technical school.
Used in over 300 educational establishments worldwide, wysiwyg offers a 3D environment where productions can be planned, designed and programmed, risk free, offering students a safe virtual lab where ideas can be tested and experimented with.  
With wysiwyg Design, you can create professional lighting plots and paperwork, and clearly communicate design ideas through high quality renders and animations. Should you wish to connect to a lighting console to program shows, you can upgrade your free wysiwyg Design to a 4 universe (2048 channel) or 8 universe (4096 channel ) version of wysiwyg Perform for only 99 or 149 USD per year respectively.
wysiwyg Educational software gives you the power to learn at your pace, in or out of the classroom. Once approved, your license is valid for 365 days.
Joining up with the WYSIWYG Educational Scheme brings its benefits: 
To help you get up and running with the software you have access to the popular wysiwyg forum, Getting Started Guides, and wysiwyg Reference Guide, installed with the software, are also there to help you to develop your knowledge and skills.
Students are invited to attend any of our publicly scheduled training courses at reduced cost.
The opportunity to enter our annual Design competition with a chance to have your work showcased on CAST website and win CAST swag.
A chance to enter the CAST internship scheme, working with the CAST team at a major industry tradeshow. This is your opportunity to meet the CAST team, showcase your talents and develop your network of industry contacts.
Apply for your wysiwyg Student Edition: cast-soft.com/educational-program/
For more information contact education@cast-soft.com