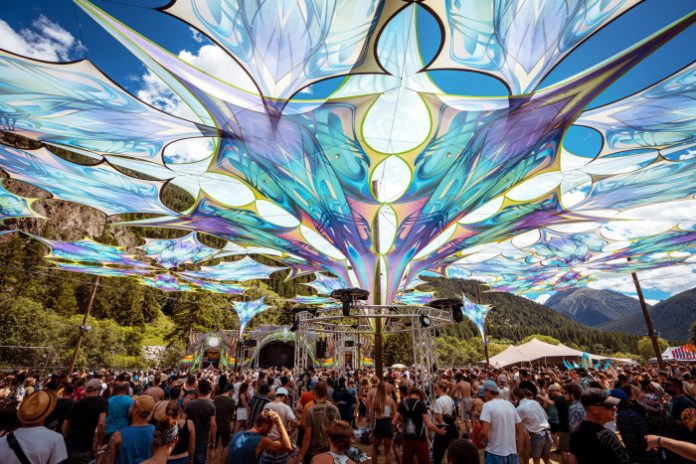 Mixing a psytrance infused melting pot of colour, light, art and community, Burning Mountain Festival 2022 brought a new energy to the stunning landscape of the Swiss Alps for four days at the end of June. Both stages featured Funktion-One sound, including Vero VX on the main stage, supplied by Austria's Nomex Eventtechnik with support from Force Production (Czech Republic), and an Evo system from Lylava (Switzerland) on the second stage.
The 37-acre site near Zernez village, one of the highest inhabited valleys in Europe at 1450m above sea level, is encased by the River Inn and smatterings of woodland. Its remoteness is deliberate, with the festival facilitating 'connection and interaction offline in an increasingly digital world'. 
Nomex first supplied the event in 2013 and has collaborated with Force Production on three previous occasions. This was the first deployment of Vero VX for either company. The system featured two hangs of six VX90 mid/high speakers with 12 ground stacked V124 bass enclosures arranged in a delta configuration central to the hangs, plus Res 2SH outfills and PSM318 DJ monitors.
Nomex's Wolfgang Lemmerer commented: "When we first supplied the festival, we were told that the Funktion-One sound was much better than the previous system. First, we did it with Res 5, then with Evo7 and F121s, then with F124s and now with Vero VX, so the sound has always evolved throughout the years. I would say that Funktion-One brings a very direct and powerful sound, where you not only feel the bass but also the mids, which creates a holistic sound experience."
Force Production's Kevin Dobson added: "Despite the hangs being quite close together at only nine metres due to a last-minute change of the stage, the sound was simply incredible. The punch from the VX90s was stunning, and the overall stereo image simply captivating. We spent hours and hours in front of the rig listening to psytrance… we don't even particularly like this genre, but the one thing that this kind of music has in spades is detail, especially in the upper mids and high frequencies. It was just breath-taking."
Burning Mountain's second stage – a 25m by 25m tent structure – featured a Funktion-One sound system from Lylava. It comprised a stereo arrangement of Evo 7EHs (three per side), with four F215 Mk2 and eight F121 for low end reinforcement. Lylava's Laszlo Bach explained: "Our goal was to create a super high intensity acoustic experience within the tent and minimal spill outside. We got a great result and lots of positive feedback." 
Happy with his own stage, Bach was keen to experience the Vero VX system on the main stage. "I was absolutely blown away by how wide they can throw, with absolutely crystal-clear sound quality. It was just six enclosures on each side, I never expected such an amazing experience."
Burning Mountain Festival makes its annual pilgrimage to the Swiss Alps again on 22 to 25 June 2023, with the first tickets being released on 15 October 2022.