Bryan Ferry has been a main stay in the art rock world since the early '70s. Still playing music with commanding style, he returned to the stage with support from rental supplier, Britannia Row Productions.
Almost five decades of critically acclaimed song writing has allowed Ferry's live tours to present extraordinary amounts of material – both from his successful solo career and as part of British new wave heroes, Roxy Music. Tracks like Slave To Love, Let's Stick Together and Love Is The Drug have ingrained Ferry into British rock royalty, requiring his audio vendor to be of the same ilk.
In early March, before the Coronavirus pandemic had hit the UK, Ferry took to the road with Britannia Row, delivering what FOH Engineer Davide Lombardi described as "the most challenging yet rewarding tour to date. "Bryan is very tuned-in to making his audiences happy; he's a perfectionist but in a very good way," stated Lombardi. "His attention to detail is impeccable."
Having worked with Britannia Row for some years, Lombardi states that the key to success for a tour like Ferry's is "total trust" in your team. "His live sound is different because of the constant alteration of arrangements within the songs. Show days involve long soundchecks, and during the gig I have to really concentrate on my mix. However, before we can do anything, getting the PA acoustics right are vital. It's the only way we can achieve the depth of sound that this show needs."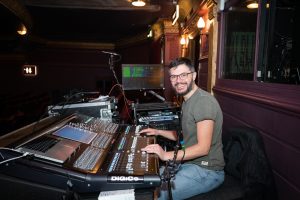 Brit Row System Tech Alessandro Cestaro designed the PA specs throughout the tour. "I totally trust Alessandro," said Lombardi. "We've worked together in the past and so have a good rapport. Having him on the tour means I don't have to worry that we'll get results. Bryan's fans also have very high expectations and so we have to get it perfect every night."
At Manchester's Palace Theatre, an L-Acoustics LA12X-powered system comprising a main hang of Kara, SB18 subs, A15 Wide line source and 112Ps was deployed.
"This room is challenging," noted Lombardi. "It's a typical old theatre with a grand tier and two steep but low balconies. Alessandro decided it would be best to treat the room as two separate areas, having a ground stack for the floor, flown Kara in the centre fields and SB18s covering the corner seats."
Mixing on a DiGiCo SD10, Lombardi explained: "I always use DiGiCo for Bryan's shows because it's so versatile. There are so many changes each day within multiple songs; using this desk makes it all far easier for me to arrange."
Lombardi's FX Rack includes a Bricasti M7 Stereo Reverb Processor, a TC Electronic D2 for dynamic delay, Smaart v8+, Smaart SPL and an iSEMcon EMX-7150 Measurement Microphone.
In monitor world, assisted by Brit Row Monitor Tech, Megan Clement, Monitor Engineer, Tom Howat said his mix is "very full on." Noting that with the nightly arrangement changes, the end results are always better. "To Bryan's credit, if he didn't have the attention to detail he does, we wouldn't have this consistent improvement. He has a very creative vision and he wants to keep showing his fans something new."
Using an Allen & Heath dLiveS5000 has become second nature for Howat, which he links back to being involved with the desk's R&D. "It's fast to get around and operate, which is imperative for this gig. Bryan's very communicative from the stage too, so I can't look down at my desk when I'm mixing. In general, I think that's an important factor in monitor world."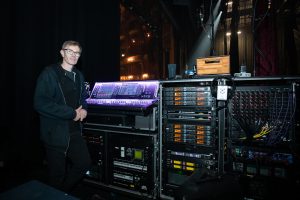 The 12 performers on stage – including singers, keys, guitars, drums, sax and Bryan himself – are mostly on in-ears, using Sennheiser SR 2050 IEM systems and Shure UR radio mics for saxophones.
The audio rental relationship is key to any tour, and this partnership is one which Production Manager, Adam King happily inherited. "I'd never worked with Brit Row prior to coming into this three years ago, but I've been bowled over by their service ever since," said King, whose PM duties for this tour crossed over with Supergrass, another Brit Row client.
King said: "Our Account Manager Dave Compton is amazing; I can call him about any territory in the world and he has the solution. That spills over into having the Clair support too. I've noticed over the last year or so that this resource has really taken what Brit Row can do up to the next level. I'm always so impressed with their global contacts."
He added: "Having had two tours out with them at the same time, I can honestly say that from now on Brit Row will always be my first choice of vendor. Anything I need, it's done. And that's made my own job so much easier. Why would I want to make life difficult by changing that?"
Brit Row's Dave Compton concluded: "Britannia Row Productions are very proud to have such an iconic artist as Bryan Ferry as a client, working with him worldwide through the Clair Global group. The crew of Davide Lombardi at FOH, Tom Howat at monitors and Adam King in production are such a pleasure to work with – all at top of their game. It's no wonder these shows were so good."