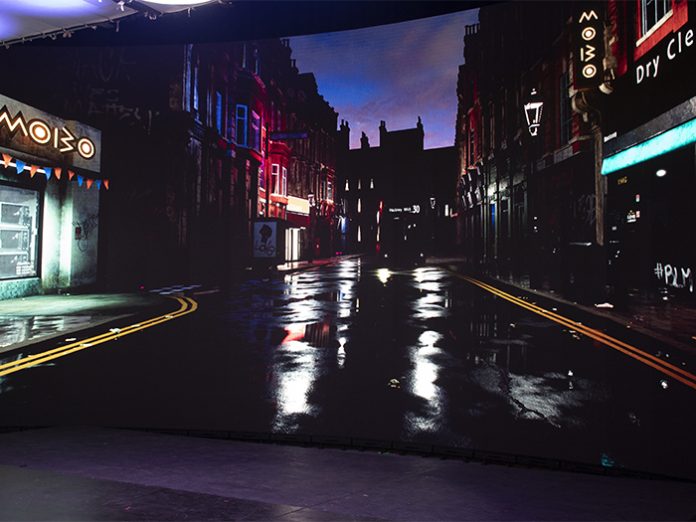 After a three-year break, the globally renowned MOBO Awards (MOBOs), the UK's biggest celebration of black music and culture, returned in December last year. Moving from a live to virtual format, it was a show like no other. The 90-minute awards ceremony was brought to life by a high-quality LED screen running on Brompton Tessera processing provided by Universal Pixels (UP), that delivered beautiful, exceptionally realistic looking, multiple video playbacks throughout the virtual ceremony.
Hosted by former BBC Radio 1 presenter Maya Jama and YouTube creator Chunkz, and with exclusive performances by Headie One feat. M Huncho, Ms Banks, Tiwa Savage and Kojey Radical, the event was conceived by creative company CC-Lab and delivered by creative agency, Satore Studio. It was streamed live on YouTube on the 9th of December, followed by a BBC One broadcast.
"CC-Lab wanted to find a new way to present the MOBOs," reminisces Tupac Martir, founder and creative director of Satore Studio. "Everyone was clear they wanted an LED screen, but I wanted to take it further. I suggested to Jason Hocking, co-founder and MD of CC-Lab, that we could use the work we'd done in virtual production and play around with it, running the VP experience alongside still imagery."
In a departure from standard television formats, the team combined film techniques and technology in a TV environment, using a multicam setup with an off-stage camera capturing the entire studio. "With this last camera, we could show what was going on behind the scenes to highlight that we weren't trying to imitate being somewhere else; we were combining the physical and virtual worlds, and being creative with how we were doing it," explained Martir.
To achieve Martir's vision, UP provided ROE LED panels running on Brompton Tessera SX40 LED processors. "It was important for us to deliver the equipment that would directly respond to each of Martir's creative and technical requirements, such as delivering highest-quality visuals during the show that was shot at 25 frames per second to give it a film look as opposed to the TV look," explained UP's Phil Mercer.
Recording was over two days and used two different LED screen configurations. On day one, a curved 8-metre-wide by 4.5-metre-high ROE Diamond 2.6 LED screen was used, with two one-metre-wide LED 'towers' placed on either end of the main screen. Day two saw the screen re-configured as a 10-metre-wide curve. Two Brompton SX40 4K LED processors (one active, one backup) and two Tessera XD 10G data distribution units were used to run the entire screen.
Brompton's OSCA (On Screen Colour Adjustment) and ChromaTune proved to be key features for effective colour management, which was vital as the screen was also used as a light source. According to Martir, whilst an image can look correct on a computer screen, it can look entirely wrong on camera. Using a high-quality LED processor allows him to get closer to that perfect on-camera look.
"There's only so much in terms of bit depth that my HDMI or fibre-optic cable can achieve; going from my computer or from my server to the LED screen is say eight bits, but the moment that I add in the processor, I just made it into 16 bits," he explained. "This gives me extra range in my colours and all of a sudden red is not just red. There are now 50 variations to choose from so that I can get exactly the red I want to send to the camera."
"There was a particular scene on the LA subway where the director felt that the light from the sky wasn't quite right," adds UP's Roly Oliver. "With OSCA, the Satore team could change the colour of the sky in real time to ensure it was lighting the rest of the scene correctly, rather than having to adjust things in post-production. On a show like this, you have to hit the ground running. With Brompton processing you can dial in the screen precisely on the fly, which makes things a lot quicker."
The show achieved close to half a million views on YouTube with hundreds of thousands watching the ceremony on BBC One, and feedback was overwhelming. "We had some great feedback from the MOBOs' team,'" Oliver exclaimed. "It was a real compliment to our work, and Brompton Tessera processing was an important element in that success. Generally, processing isn't mentioned as much as the screen itself because, particularly when you're using Brompton, you just don't have to think about the processing. That is Brompton's biggest selling point – it just works!"
For Martir, technology is a character in the story one is trying to tell, with the characters one picks having a direct impact on the story's look and feel. "The engine I use, be it Unreal, Unity, Notch, or a media server like disguise, each has a different signature. I make the decision of what to use in the same way that one might cast an actor or a musician; I ask myself what kind of story I wish to tell with that piece of equipment," he concluded. "For the MOBOs, we used 92 links in five different 'worlds' for five performing artists, and we moved within those worlds using techniques that were unique to each performance. With such a diverse array of content elements for each performing act you need the processors to be doing the heavy lifting on site and in real time. Adding Brompton LED processing gave us a tonality and a range of colour that was delivered within the story and enhanced it, which is just what we are all there to do."