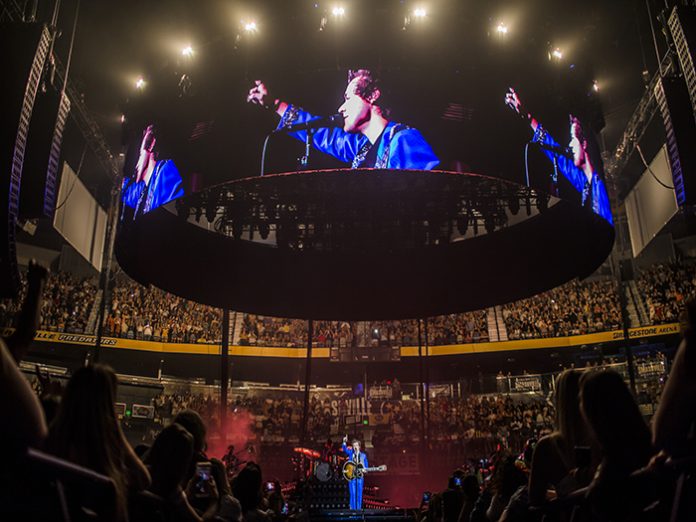 Britannia Row Productions serviced Harry Styles 2018 tour of his eponymous first solo album while simultaneously stepping into the arena market.
"Last year we started off playing smaller venues, theatres mainly. Recently we've scaled up the production into arenas," confirmed his Live Sound Engineer, Karl 'Snake' Newton.
"That's a pattern we've followed worldwide. It's a fascinating tour, for someone who has experienced the big time Harry remains very grounded; he cares about his craft and works hard on his performance."
For Newton continuity has been important. "The tour has been serviced by Britannia Row Productions through every country we've visited, with L-Acoustics K1 or K2 being the main system. 2018's Brit Row package proved very smooth from my point of view. This arena leg now sees Brit Row as part of Clair Global and I've been pleased to see how careful Clair have been to allow the Brit Row identity to be maintained.
"For example, one or two members of the sound crew have been with me for most of the run. That's the continuity from Brit Row I value. Rod Clarkson looks after the stage and has been there since we started. Gavin Murray, my system tech' joined me later. Gavin has been with me since Europe late 2017 when we started playing arenas, and he's on board for the rest of the tour."
Murray, who hails from Australia where he learnt his chops on L-Acoustic systems, has been with Brit Row for 2 years.
"I've been working as a systems tech for five or six years in total. I like the people at Brit Row and the investment they make informal training. More important to me is that they constantly try to push the envelope – they are unafraid to try new ways of doing things.
"For example, when you're in the shop preparing a rig to go out you'll get that – 'Hey why don't we try it this way?' and they are always willing to have a look and say yes. Young people with new ideas is what I experience there, and those ideas are shared, both in the shop and out on the road. There's a community of guys and that's a valuable tool."
"It is so important to have somebody like Gavin," continued Newton. "The screaming fans element is all pervasive on this tour and that makes it hard to mix, let alone know what's happening in the room. It's fingers to the faders all the time. With Gavin, I have a pair of ears out there in the room to tweak the system while I'm glued to the desk. I've set up, so Gavin has an insert on the vocal channel.
"On the Lakes, he can dig in on the channel I'm mixing – say if I've run out of filters. The Lake filters are even more precise than those on my Avid S6L. That said, I really like the board and I'm pleased Brit Row backed me and invested in the consoles. For plugins I've got three internal DSP cards full of my favourite toys; lots of McDsp and Sonnox. Also, I'm using a pair of outboard Mac Pro based servers with MADI I/O which gives me all my old favourites: UAD Lexicon & AMS, TC Electronic, Softube and Soundtoys! Everything I need."
The schedule is packed right through to the last show in California on 14 July 2018. "Then we get maybe ten days off to see the family. It's more like a tour from the eighties in that sense. This leg will have been six months solid touring; having Brit Row's steady certain hand managing the process as we move around the world has made that seamless andstress-freee."