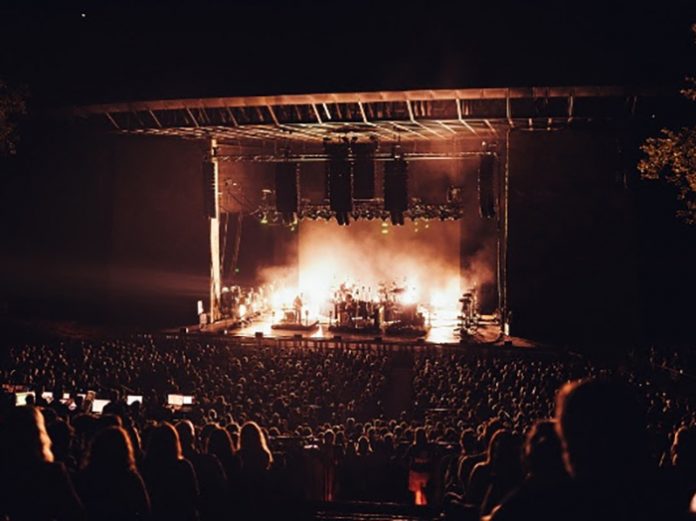 With such a broad range of sonic elements in the mix, Bon Iver's show at the Santa Barbara Bowl on an L-ISA Hyperreal Sound system recently served as an unforgettable opportunity for 4,500 lucky fans to hear the group in an expansively panoramic soundscape for the first time.
"Bon Iver's records are amazing and Grammy Award-winning, but anyone who has seen them perform will quickly tell you that their live show is infinitely better," says L-Acoustics' Scott Sugden. "And none of it is pre-recorded or set to timecode. Everything is done live—organically and dynamically—by the band, which never plays the same set twice."
Knowing the group's reputation for staging an engaging show on a traditional left/right PA, Sugden invited Bon Iver FOH engineer Xandy Whitesel to join him and L-ISA Labs' Carlos Mosquera at L-Acoustics' North American headquarters in Westlake Village to explore L-ISA's even greater potential.
"I brought in a multi-track of a live show that I had mixed in a Cubase session, and I was immediately impressed with how easily my stereo mix transferred to L-ISA," Whitesel recalled. "After some thoughtful spatial positioning in the L-ISA Processor for each channel, very little change in EQ and level were needed for a very presentable product. That began the critical process of converting my brain from a stereo presentation—or mostly mono in the live world, really—to the L-ISA Scene/Extension setup and how to apply L-ISA to Bon Iver's current show."
A collective decision was made to stage an L-ISA gig at the Santa Barbara Bowl, which had previously been the site of a successful L-ISA show by the chillwave duo ODESZA earlier in the year.
For Bon Iver's unique Bowl performance, Clearwing Productions flew a 7.1 L-ISA configuration comprised of 3 centre hangs of 8 L-Acoustics K2 plus 4 Kara down paired with 2 adjacent hangs of 14 Kara for the 5-array Scene system. This arrangement was flanked by 2 outer hangs of nine Kara enclosures each for the Extension system, while a dozen KS28 subs were flown in two cardioid arrays directly behind the centre K2 hangs for focused LF.
A total of 9 coaxial X8 spread across the stage lip delivered front-fill, while 2 ARCS II on either side of the stage supplied coverage for the fans on the extreme sides of the stage. L-Acoustics LA8 and LA12X amplified controllers powered all of the enclosures, and a pair of L-ISA Processors at FOH generated the show's spatialization.
Bon Iver's musical lineup is every bit as eclectic as its repertoire, ranging from as few as three artists to more than 20, depending on the show. At the Santa Barbara Bowl, the band performed as a five-piece, with one full-time drummer and four multi-instrumentalists on vocals, guitar, keys, bass, sax, percussion, and a second drum kit.
"Even with only five guys, we still had 85 discrete inputs coming from the stage, and the biggest eater of inputs is that we had two drum kits and piles of electronics, most of which are stereo," described Whitesel, who manned a DiGiCo SD7 console at FOH, which was paired with an SD5 onstage for monitors, mixed by Donato Paternostro. "L-ISA is currently capable of 96 inputs, so I gave it each of my 85 inputs as channel direct outs, and ended up bussing effects returns."
Although the band wasn't looking to do something sonically "gimmicky," they were excited about the separation that the vocal, musical, and percussive elements would have during the show. "With two drummers often doing very different things, there would normally be a certain element of blurring in a stereo system where all of these elements would share the same position in the L/R mix," said Sugden. "But with L-ISA, Xandy was able to spread everything out very naturally by their positions on stage and you could distinctly hear both of them, which is a rarity."
Bon Iver's production manager, James Dean, was duly impressed: "Walking around the venue, you can more easily place instruments in the field of 'vision' using your ears," he said. "It was much easier to notice which drummer was doing which part. It was like wearing headphones, but without the headphones—very detailed! For the number of subs in the system, I was also highly surprised by the clarity and strength of the low end. I was not expecting that."
As the FOH engineer and ultimate decision-maker on the show's L-ISA mix, Whitesel says that he walked the venue extensively during the band's rehearsal day and soundcheck to critically listen. "I found that the mix and image at Front of House were impressively presented at almost every seat in the house, which was fantastic," he said. "My primary objective for this show was to increase perception of width and audio quality for the bulk of the audience, which it absolutely did. L-ISA lives up to its hype."
The engineer reports that the actual show had some surprising moments—even for him. "At one point, during the duet part of '45', I noticed that the image was tilted to the right because of the sparsity of the instrumentation and the sax location," he says. "After a moment of anxiety, I remembered that this is L-ISA and everyone can hear everything just fine. Obvious panning is okay with this system."
"With each sonic element having its own distinct identity in the wider soundscape, I also had several moments during the concert where I noticed things that I'd never noticed before. And, as a mix engineer, being able to identify elements to operate on with speed and precision made mixing this complex band easier, faster and even more fun. The performance was easily my favorite Bon Iver show in the past three years. We accomplished a beautiful, huge, wide, immersive, engaging presentation of the band's music, and it turned out magnificent!"
One of the biggest takeaways, according to Dean, was that L-ISA truly helped foster a more communal bond between the artists onstage and their audience. "The system really creates a more realistic feel and invites people in to be on stage," he says. "In fact, Justin noticed that there were very few cell phones out during this show, which means that people were totally 'in the moment' and engaged. With L-ISA, it's all very intimate."
A reviewer from The Santa Barbara Independent echoed this sentiment, praising the "wider sonic panorama" that had been achieved with L-ISA, and underscoring the heightened sense of connection, affirming, "I have often walked out of Bowl performances with that shrugging sense of feeling half-detached from the music, as if it was just always over there. But Bon Iver's show elevated my notion of what Bowl shows can be."