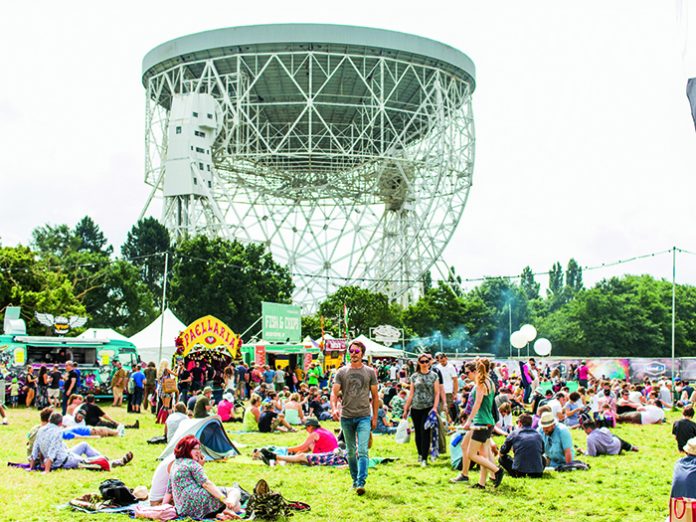 Bluedot Festival enjoyed its inaugural year under the shadow of the Lovell Telescope at Jodrell Bank. Setting itself apart, Bluedot fused the worlds of science and space exploration with some of dance music's brightest stars, including Underworld, Jean-Michel Jarre and Caribou. TPi voyaged to the observatory to meet the crew that brought the cosmos to Cheshire.
Every year a new festival comes along promising an alternative experience for those who don't wish to stand shoulder to shoulder with fellow drunk patrons in a couple of inches of mud. The summer of 2016 was no exception. The organisers of Bluedot offered punters a festival of discovery. In the apt setting of Jodrell Bank Observatory, with the Lovell Telescope dominating the skyline, revellers bore witness to ground-breaking encounters, live performances and DJ sets, and talks from leading experts in various scientific fields.
Under the supervision of Bluedot's Creative Director, Ben Robinson, the festival grew out of other events that had been held at the site for the last few years. "Around six or seven years ago we came down here to try and do an album launch for British Sea Power," explained Robinson. "Unfortunately it didn't quite come together but Jodrell Bank came to us afterwards and said they would like us to work with them on attracting a new audience to the location and to bring together the worlds of science and culture." After this encounter, Robinson went on to help create landmark shows including performances from New Order, Sigur Rós and The Flaming Lips. Despite the popularity of these events, Robinson and his team were keen to push this science-meets-music mash up further by launching an annual event. After putting their heads together, the result was a festival that was all about innovation, creativity and broader thinking; Bluedot was born. "Personally, I've been to a lot of festivals over the last decade that have very similar line-ups and events have become a bit more throw-away," stated Robinson. "What I wanted to do with Bluedot was to maintain an ethos similar to Glastonbury; to encourage and enable people to explore new ideals and learn."
Production
Heading up the production was Tommy Sheals-Barrett and Dominic Morris on behalf of Ground Control. The duo split responsibilities, with Sheals-Barrett managing the main stage (the Lovell Stage) and the second Orbit Stage, and Morris managing the other four stages. Sheals-Barrett discussed how the partnership worked for the weekend: "In terms of responsibilities, the specification and advancing required for each stage was split very easily and clearly between the two of us. We then worked closely together in terms of budgeting, scheduling and procurement for production across the whole site to ensure we maximised resources and didn't double up on requirements." This was the first time Morris had taken on the role as Production Manager. He expanded: "I have worked as a production assistant for Ground Control for a few years now and have specialised in looking after some 'non-musical' events at Festival No. 6. This event shares some of their more unusual elements, so Jon Drape, Ground Control's MD, approached me and asked if I was interested." Morris added: "I really enjoyed having so much expertise available. This was also the first time I had worked with Tommy and I learnt an awful lot from him; I definitely took a lot from his years of experience." Also assisting the duo in the production office was Office Production Manager, Jess Webb, a familiar face on the Ground Control team.
The festival industry can be a sector predicated on one-upmanship, in which each event tries to exceed the former with its individuality. However, it seems that Bluedot has a unique blend of music and science and it has struck a cord with its audience: "I think it has a lot to do with the venue," stated Sheals-Barrett. "It's completely unique as a festival setting. It's such a brilliant place to visit before you even begin installing any event infrastructure, so you already have a head-start over other festivals. When you couple that with interesting and unusual artists, you have a recipe for something really unique." Another thing that set Bluedot apart, according to Morris, was the diversity of acts: "Take the Mission Control stage for example," he began. "In the daytime it hosted lectures and talks from people from BBC Horizon – not to mention a performance from the Clanngers early in the day for children – then at night we had acts such as DJ Yoda. There was certainly a wide demographic. I have been hearing customers' feedback that there was plenty to keep all ages happy. I've even seen some pictures from the weekend showing kids on their parents shoulders watching Underworld. Images like that really demonstrate that how family orientated Bluedot is and there is something for everyone."
Growing Pains
As this was the first year of Bluedot festival there was no previous blueprint to shape production plans. This may have phased many production teams, however, both Morris and Sheals-Barrett believed that despite the challenges the event was a huge success. Sheals-Barrett began: "When you're stepping into unknown territory you always want to make an impact. Having said that, you don't always know if what you are planning will reap the necessary rewards. I think the biggest potential issue that we had was the scope and variety of talent appearing in the same space. On the main stage we had everything from 30-piece orchestras to eminent scientists doing live video link talks with telescope sites based in the US and even Jean Michel Jarre… All on the same day!" Sheals-Barrett complemented all the members of the production team whose diverse skills and expertise made the whole event possible. "One benefit we had on our side was the Jodrell Bank staff," he continued. "They are very involved in everything that happens on the site and Bluedot was no exception. After holding events there for a number of years now, Ground Control's relationship with Jodrell Bank is great and that really helped everything run smoothly." Despite the helpful staff at the observatory, the location did create an interesting challenge for the crew working in the build and break down. "Mobile phones and Wi-Fi are not allowed as they interfere with the telescope. It's not ideal by any means but you get used to it!" commented Sheals-Barrett.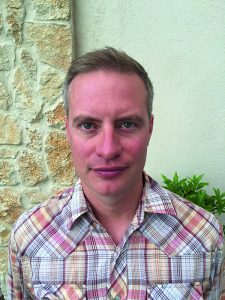 Handling the logistical elements of the show was Joe Baran. His main roles were to handle site logistics, allow all contractor vehicles in and out of site, deliveries (from miles of trackmat to model spacecraft from UK Space Agency), as well as deploying kit across site. Despite Bluedot's semi-rural location, there was very limited storage space, which required slightly more transport in and out of the grounds. Baran talked through some of the logistical challenges he encountered when working with the unusual festival grounds: "Usually with festival sites you have free rein of an area but this was not the case here. The public had access to the Discovery Centre and gardens right up to live show days and it's busy with school trips and other organised groups visiting. There are also scientists from Manchester University and SKA conducting research around the clock so vehicle and plant movement in some areas can only happen in specific time slots. With only one road in and out the logistics took some careful planning. Although it can be very challenging to work with multiple land owners, it was a smooth operation, with minimal interference to the day to day operations at Jodrell Bank."
Suppliers
Most of the vendors for the festival had already worked with Ground Control at various events. Sheals-Barrett discussed the importance of working with familiar suppliers and building existing relationships: "This event was brand new and the specs were changing almost daily as we all tried to nail down exactly what we wanted and how best to achieve it. It can be quite frustrating and time consuming for everyone going back to the drawing board over and over, so the key thing for myself and Dom was to work with people who understood that process was necessary, and could work with it."
Old Friends
Providing lighting and audio site-wide, with a few exceptions, was Audile. "Ground Control has a long-standing relationship with Audile," explained Morris. "They are one of our go-to suppliers when it comes to procurement for the simple fact that we know them so well. They always deliver everything we request."
Described as the 'hub of the Bluedot universe' was the Lovell Stage. Situated just in front of the famous telescope from which it gets its name, the stage had a carefully curated line up designed to reflect and celebrate the visionary innovator Sir Bernard Lovell – who conceived and constructed the large steerable telescope and headed up the Jodrell Bank Observatory for 35 years. The stage hosted Underworld, Jean-Michel Jarre, Public Service Broadcasting and even everyone's favourite softly spoken physicist, Dr. Brain Cox.
To handle the audio demands for this varied line up Audile provided a complete d&b audiotechnik system consisting of 28 J8's and J12's. For the sub-bass 16 J-SUBs were deployed along with two d&b audiotechnik V12 lip fills. All speakers were powered by d&b D12 amplifiers with a Lake LM44 drive system. For control, Audile provided two mixing consoles including an Avid Profile digital mixing console, as well as a Midas Venice 240 analogue desk. For monitor control a Yamaha PM5D-RH digital mixing console was put in place. For on stage sound 16 d&b audiotechnik M4's were deployed along with two d&b Q-subs, two d&b C7 Tops and four d&b C7 subs.
Audile also supplied a lighting package for the main stage, which included 18 Clay Paky Mythos and 12 Sharpy Beams along with 18 Robe Robin 600 LEDWashes and 12 100 LEDBeam lights. For effects, 11 Clay Paky Stormy CCs were present along with 12 Showtec Sunstrip Active DMX battens, six 4-lite molephays and 18 2-lite molephays. Key lighting was provided by 12 ETC Source Four profiles, four Arri 2000W Junior Fresnels and four ArcLED 7513 Zoom LED PARs. Finally, from the stage standpoint, Audile provided two Martin by Harman Jem ZR-44 smoke machines and two Look Solutions Unique 2.1 haze machines. For control, as with audio, two consoles were put in place including an MA Lighting grandMA2 and an Avolites Pearl Expert desk. Distribution came courtesy of the Luminex Art-Net DMX data system.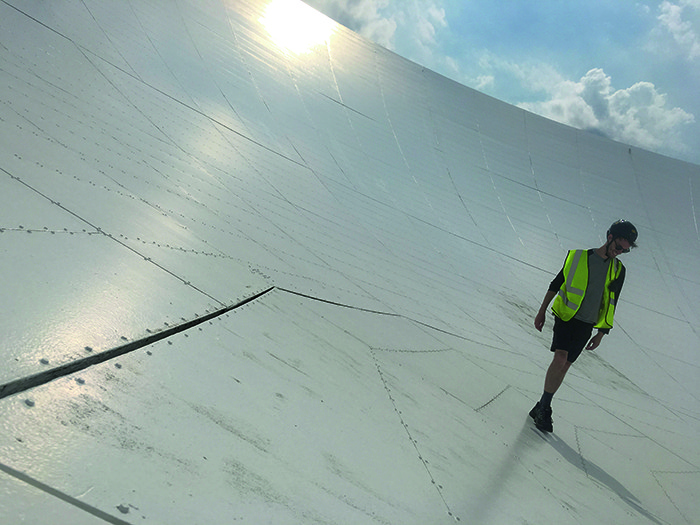 As Bluedot is a festival of futuristic ideals and discovery, it seems fitting that the production was equally as innovative. On both the Orbit and the Nebular stages, Audile deployed Precise Audio's latest Voice series PA. "The PA itself was supplied by Audile but overseen by Aaron Booth, owner of Precise Audio," explained Morris. "This system is currently not on general release and is still being beta tested out in the field at various shows." Speaking to Booth a week after the festival, he talked through how the field testing of the new system was going: "We have been getting great responses with the new system and are excited for its official launch. There really hasn't been any negative feedback and a lot of what we have been working on is the aesthetic of the speakers and making them easier to carry."
He went on to outline which stages utilised the Voice PA. "We had our new Precise Audio Voice Series monitors on the Orbit Stage. The model was an M15, a two-way bi-amp 15 and a quarter-inch wedge monitor. Altogether we had 14 monitors in total providing a 10-way mix powered by five of our four-channel PA-M20 DSP amplifier. We also supplied our new Precise Audio Voice Series Point source speakers on the Nebular Stage. These were powered by our four channel DSP amplifier PA-M20 amps. The system consisted of six Voice 4 Mid/Hi speakers, which is a three-way tri amp system, four Voice B21 speakers which are dual 21-inch subwoofers and four PA-M20 amplifiers."
Rob Ashworth, Director of Audile was onsite to oversee the companies involvement with the festival. "We were really excited to get involved with Bluedot," he began. "Jodrell Bank is a fantastic venue, and the science element of Bluedot made it unlike anything else we had worked on before. It was an added bonus to work with Jean-Michel Jarre. For those of us who grew up in the '80s and early '90s, it's fair to say that his shows back then were an inspiration for all of us to join the industry. We are all very much look forward to next year's edition!"
Also providing PA solutions for Bluedot was Manchester-based Noisebox Productions. "Noisebox was a new supplier that I personally bought on this year," explained Morris. "I have worked with some of the guys that run the company before, outside of Ground Control, and I thought that it would be good to get them involved for this year's event." Noisebox's responsibilities focussed on the Roots Stage; a platform for new talent. Director of Noisebox, James Clamp, discussed the experience. "We agreed that a small company would be in-keeping with the aesthetic of the Roots Stage." Joining Clamp on site was fellow Director James Playford. Noisebox provided the PA, monitors, mixing desks, microphones, DJ equipment and all other necessary cables and power distribution to bring the Roots Stage to life. "Being an open air, primarily acoustic stage, clarity and coverage were our main considerations when choosing which system to send out," stated Clamp. "We ended up choosing out Electrovoice Deltamaz DML1152 tops (two per side) for the job as they work quite well for long throw applications and have quite a wide coverage area. With these we also used four PD1850 loaded CV A subs (two per side) for when electronic and full band acts took to the stage, providing plenty of bass to fill the area. Even from behind the trees and the art instillations around the stage and the main entrance where we were located, the music was clear and audible without being overly loud. This also added to our PA choice as we were the first stage people saw and heard upon entering the festival!"
Noisebox Productions also deployed its Ohm BR15s for monitors, which provided ample volume to even the loudest band. Providing both FOH and monitor duties were Behringer X32 mixers. This was mainly controlled via an iPad as it had to be set up side stage. Clamp added: "It was actually quite pleasant being able to sit on the grass in the sun while mixing the acts under the gaze of the telescope." Big Fish and STS Touring supplied backline across all stages.
Video / Projection
While making your way toward the site of Bluedot, one element that dominates the skyline is the iconic Lovell Telescope, named after Sir Bernard Lovell. The structure is actually the world's third largest steerable radio telescope. Its imposing structure would be enough for most festivals to simply be a quirky feature but the organisers of Bluedot really wanted to make the most of the satellite by illuminating it with 77 Million Paintings; a collection of images created by musician and artist Brian Eno. The artist worked in conjunction with Bluman Associates as well as Eno's visual team, Lumen, to create a projection design that lit up the 70m high structure. During the early stages of planning the festival, the decision was made to project images onto the girder work of the telescope with the goal to highlight the mechanics of the structure. Working with such an unusual surface meant that it was difficult for the projection team to visualise what the final product would look like. Fortunately Bluman Associates modeled the telescope in 3D using a d3 Technologies media server to help the creative team visualise the finished product.
The technical design included two projection locations with four Barco 40K Projectors on each side. Due to the complicated surface, it wasn't possible to layer the images by overlaying the projectors. Instead they were tiled together by splitting a single image into a four-way grid, dividing it between the four projectors and carefully positioning the output of each projector to create one large image. Despite the image was broken up by the mechanical nature of the telescope girder, there was still enough of a coherent surface that the image resolution was bold and strong. Pod Bluman of Bluman Associates talked about his experience at the festival: "This was one of the largest and most complicated surfaces we have ever projected onto. Our role was to look at the content, the environment, design and facilitate it all coming together with the chosen artwork. As it's such a big structure, it was important to make sure the projections were as impactful as possible so be seen by the whole audience."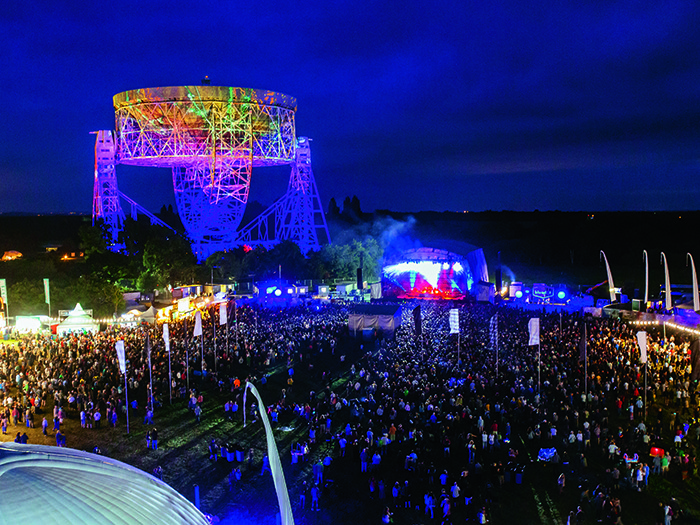 Dominic Norman-Taylor from Lumen reflected his experience on the project: "We were really happy with the finished result and the feedback from those who attended the show was fantastic. Given the job was quite challenging, we were very pleased with how it all turned out." Norman-Taylor went on to describe that due to the challenging projection surface they had to make sure all the images were strong and bold. Continuing: "The lighter colours just didn't create the same level of impact. So driving back on Thursday night, Brian and I were sitting in the car amending the images. After the viewing on Thursday night we amended the images so by Friday night the images were so much stronger."
Transition
Transition Video provided video elements for all of the stages. "Transition Video was formed in November 2015 and our first year has been incredibly busy," stated Director Rhodri Shaw. "Having supplied video for over 18 festivals from Glastonbury to Boardmasters, we've now outgrown our new warehouse based near Heathrow and are looking to move to larger premises to deal with the demand. We've had incredible support from our clients and suppliers and look forward to what already looks to be a busy 2017."
Before Shaw founded Transition Video, he had already worked with Ground Control and since the company's inception has helped on several events throughout the summer period. For Bluedot we supplied site wide video," explained Shaw. "For the Lovell stage we supplied a ROE MC-7H LED screen which was on a rolling riser. The screen was rolled on and off for various artist and was very effective for the quick changeovers." The company also supplied a 6m by 3m Vies 4mm LED screen driven by Playback Pro on a MacBook Pro for the Close Encounters stage and a 10ft by 6ft Fastfold screen and a Barco FLM HD20 20,000 ANSI video Projector (again driven by Playback Pro on a MacBook Pro) for the Contact stage. For the Orbit Stage a Barco FLM HD20 video projecting on to a 10m by 6m Shark tooth Gauze for the Be One show, the act performed behind the gauze. We also supplied a 16ft by 9ft Fastfold screen. Finally for the Mission Control stage three, 10ft by 6ft Fastfold screen with three Barco FLM HD20 20,000 ANSI video projectors edge blended using a Green Hippo Hippotizer V3 media server.
Shaw gave his final thoughts: "Bluedot is certainly a very different festival to most. It was great to come on board in it's first year. Having worked with production managers Dom Morris and Tommy Sheals-Barrett at Ground Control on numerous events of the last couple of years, the process of pre-production and advancing was made easy, and from load-in to load-out, the production ran seamlessly. The stages were effectively inflatable venues and were a challenge due to the amount of ambient light, we upgraded the projectors in all venues to Barco HD20 20,000 ANSI video projectors to overcome this issue."
Working alongside Transition Video for the weekend, providing video content for the Mission Control stage and the Orbit stage was Logan and Wilcox. The content providers didn't have the quickest turn around with the project having only two months to prepare for the festival but according to Vik Kaushal, Director of Logan and Wilcox, it was nothing that his team could not handle: "We have worked with Rhodri at Transition Video many times before, not to mention having worked on multiple projects with Audile. It always helps when your working with people you know."
As Bluedot's main theme centred around space and the universe, Kaushal made sure that the content produced for both stage fit in with these motives. "For the Mission Control stage the aim was to make it feel like the audience was in a space shuttle looking out into space. Because there were three screens on the stage the idea was to span the image across all three to make them appear as the window of the space craft. We even used some footage from NASA to produce some of the looks."
Staging
For all its staging needs, Bluedot and Ground Control brought in Serious Stages to provide a 19m Supernova Knee Roof stage for the main stage. The Supernova range of steel stages was designed and manufactured by Serious at its Somerset facility, offering a range of concert stages which can be configured to suit each client's needs. Bluedot used an 18m depth comprised of five, 3.6m bays plus a cantilever front to increase weather protection for the performers and accommodate a forward lighting truss. The stage incorporated two side extensions to accommodate monitor desks and production technology and a rear access ramp from stage height to the loading bay. Flanking the stage Serious installed two, 12.5m single mast flying systems to hang the PA speakers. It also supplied a 7.2m wide by 4.8m deep FOH mixer tower, decked on two levels to house the lighting and sound, along with a 7.2m by 4.8m assisted viewing platform and three covered projection towers from which the stunning visuals were mapped onto the iconic telescope. Providing all the other stages and risers requirements was MLS.
Crewing And Logistics
Providing the local crew was DNG. The company has traditionally been involved with all the Jodrell Bank's events over the past few years making them a natural choice for Bluedot to provid all the production and stage crew for the festival. Senior Crew Chief for DNG Crewing, Mark Wilson explained: "Over the weekend we provided over 40 crewmembers. We have a very good relationship with the production team. We actually have worked a number of events together over the season and it creates a good working environment." Wilson went on outline some of the challenges faced over the weekend: "The biggest challenges are the site and the weather, as is the case with most picturesque festival sites. There are a few extra rules with the observatory, exclusion zones, radio use limitations, but the local team are open to having events there so certainly nothing is an obstacle." Wilson concluded that he thought the new addition to the festival season adding that he and the rest of the DNG Crewing team look forward to see what they have in store for next year. Providing crew accommodation on site fell to Silvergray busses who supplied two 16 berth sleeper buses for those working on the site.
I Got The Power
Ensuring there was enough power for the site fell to Euro Generators. The company supplied all generators, distribution, festoon and site lighting across the entire Jodrell Bank site, from car parks, event areas and campsites. Ben Hyman, Euro Generators General Manager, was on site during the festival and filled TPi in on the company's involvement with the event. "This was the first project that Ground Control had contracted Euro Generators to supply site power to one of its events, so we were really excited to be part of Bluedot Festival, especially with it being the first year of the festival as well. A total of 30 road-tow generators were distributed across the site to power production and concessions and two of our ultra-silenced 200Kva Twinset Generators were supplied for the main stage. Synchronised sets were used across all major areas of site not just to ensure reliability, but to be used in load-control configurations during certain times of the day." Hyman went on to explain that having a fleet of road-tow generators was helpful on the Jodrell Bank site, as some of the generators were located in semi-remote locations away from hard standing ground.
The project was managed by Euro Generators' Aaron Harvey-Holt, and delivered on site by a team of eight over a period of seven days. "Key values to our company, and any temporary power project is efficient running of generators," stated Hyman. "With this in mind, Aaron spent considerable time calculating real-world loadings and specifying generators as necessary. This resulted in stable power across site, whilst running engines efficiently and keeping fuel usage within an expected amount."
In The Not So Distant Future
With the ever growing list of festivals each summer there is always the fear of oversaturation within the market. More and more it seems that festivals have to work even harder to make sure their annual extravaganzas are a true experience as well as having a desirable line up. It seems however that Bluedot really stumbled on a magic formula; marrying the world of science and music, giving a festival that brings something completely new to the table. The weekend was an unquestionable hit with the punters but what's more is that all the crewmember seemed to really support what Bluedot was trying to achieve with all of them expressing their excitement for next year's event.
With 2016's successful launch we will now have to see what orders come from mission control to push festival further into the stratosphere.
TPi
Photos: Tom Martin
www.discoverthebluedot.com
www.jodrellbank.net
http://groundcontroluk.com
www.audile.co.uk
www.noiseboxproductions.co.uk
www.precise-audio.com
www.bigfishrentals.co.uk
www.ststouring.co.uk
www.lumenlondon.com
www.blumanassociates.com
http://transitionvideo.com
www.stages.co.uk
www.vme-uk.com
www.dngproductioneventcrew.wordpress.com
www.eurogenerators.co.uk