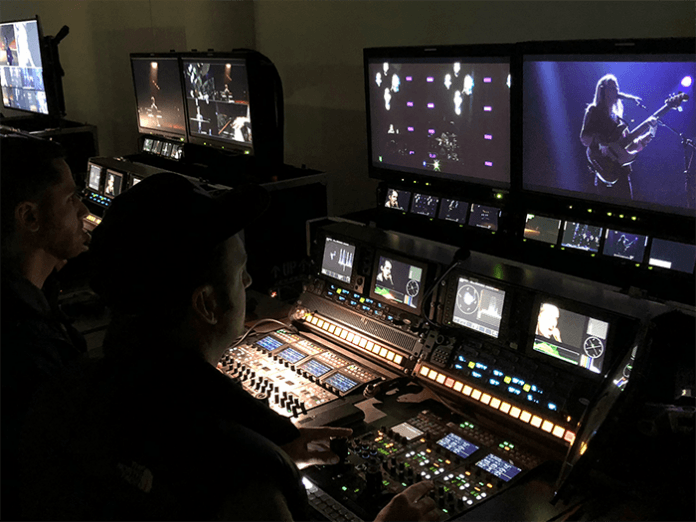 Big Picture recently supplied a turnkey camera and editing solution for its friends at Five Peas who were engaged to co-produce Panic! At the Disco's performance of Bohemian Rhapsody for the American Music Awards by Dick Clark Productions.
The performance was recorded live at PATD's Sydney show at Qudos Bank Arena with a very tight schedule and integration with an arena touring show no obstacle for the Big Picture team.
Big Picture supplied our HD-8 Carbonite 3ME 3G PPU System complete with Panasonic AK-HC5000 1080P Camera Chains using a selection of Fujinon HD 99x Long lenses and HD Wide Angle ENG lenses, AW-HE130 1080P PTZ Remote Cameras complete with CCU ROP's and Marshall CV365-CGB 3G POV Cameras, our HD-9 Carbonite Solo system handled IMAG switching off a separate ME Row of the main switcher.
"From the outset, I knew we needed to build both a capable team and a flyback camera system that would seamlessly integrate into a live arena show and serve our requirements while still delivering the live IMAG for the show. The Big Picture team and the Panasonic cameras totally delivered once again" Commented Luke Shave, Producer at Five Peas.
Many users on the YouTube upload which has amassed more than 1.8million views also commented on the quality of cameras used for the recording. Viewable here: https://youtu.be/cyc-a-DOKwk
A Riedel MicroN network was installed as a backbone to transport and integrate all required signals between PPU location, audio mix facility, IMAG integration and remote monitoring for Lighting Director to transport the Remote cameras and audio signals with redundancy.
The ClearCom EHX System in HD-8 was expanded with extra key stations including remote panels via IP and a Freespeak II system to service the wireless communications requirements.
Big Picture also supplied a full EVS Record and editing workflow based around XT3 Servers with XFile 3 and XT Access streaming onto a local NAS with 10GB Backbone to allow editing from iMac suites straight after the performance.