When London-based and internationally loved electro indie quartet Bastille undertook their biggest headline tour to date, they would need a confident crew and a show design that would make them stand out from the countless other arena tours ending the 2016 season. With the help of Production Manager Joel Stanley and Show Designer Rob Sinclair, the band successfully brought their fans into their own Wild World, as TPi's Kelly Murray finds out… 
Kicking off at the end of October 2016 in the UK and running until February 2017 in Europe the band's Wild World tour will come to fruition at the Halle 662 in Zurich. Production Manager Joel Stanley (Kanye West, Blur, Major Lazer, Kygo) is at the helm of the show, having become acquainted with Bastille three years ago during a BRIT Awards collaboration for which they performed alongside Ella Eyre and Rudimental. Stanley produced the affair, and, having gone smoothly, when the band were looking for a full-time PM, he fitted the bill. "They went out to do a run of club / theatre sized shows in the US, while I advanced festivals from the UK. I did a five-month festival tour with them before heading back to North America for an arena tour but it was 'half house' meaning they were doing arenas because they'd gotten too big for clubs or theatres. They've never played to arena size crowds for a headline tour up until this point. Now they're selling out venues like the O2 and Manchester Arena."
The show itself is certainly impressive: it looks all encompassing and intimate all at once, boasting a production design from heavyweight LD Rob Sinclair, making this the first tour that the pair had produced together. Continued Stanley: "We pitched the initial ideas to the band at V Festival in August 2016 and they became more involved during the production rehearsals. We ended up having to re-budget slightly, and to make it more scalable but once we'd come up with a few re-designs."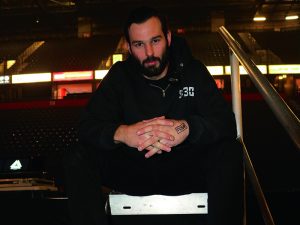 Production rehearsals took place at LH2 Studios, one of Stanley's "tried and tested" suppliers. He expanded: "It's a great space. I've used Neg Earth Lights [owner of LH2] for seven or eight years now, I can't fault them. SSE Audio have been my go-to since day one, but I do have a new video supplier, CT. I'd been talking to Graham Miller and Jim Liddiard for a number of months to open up the doorway, it's worked out well.
Lucy Bell, from The Pantry Maid, is a brilliant cook and I like her company; it's important to have people you actually like hanging out with on your tour. Everything's worked out for the best and all of my suppliers are doing a great job. We've got a really good system going between all of the departments, partly because the crew is handpicked and get on well."
Stanley, his Production co-ordinator Holly Sandeman and Tour Manager, Dick Meredith, operate a "strict open door policy", meaning people can come and go as they please, resulting in a free flowing and relaxed atmosphere while getting on with their jobs in a friendly environment, and the ambience in the production office is a tell-tale sign of this.
SET AND LIGHTING DESIGN
Production and Lighting Designer Sinclair is old friends with Stanley and Meredith, who had invited him to meet the band. "Luckily we all got on, and I've been working with them for about 18 months now," he said. Speaking of the show's strong look, he continued: "There are a lot of themes in the Wild World record that we wanted to reference on stage. We wanted something architectural that was imposing and slightly intimidating. The most obvious reference are the two wire figures that sit on top of the screen. They represent the guys from the album cover. They've done pretty much every show and promo appearance this year and I like to say that we treat them as if they are members of the band!
"In my earliest conversation with Dan [Smith, frontman] he mentioned the idea of a secret society or corporation that we could use as a narrative thread throughout the whole campaign. That became Wild World Communications (WWComms), which is a fictional entity that can mean anything we want it to mean. It's been fascinating seeing the effect of what we've done live on the promotion of the record and vice versa – both the record company and promo video makers have done amazing things and we've really fed off that and they off us."
There is an arc to the show that uses WWComms as its story telling vehicle. "We wanted to explore the type of media that a corporation that runs the world would produce from infomercials to light entertainment to aspirational travel to news and political broadcasts. We filmed for a day with Simon Hepworth who plays the face of WWComms and got some amazing footage – from the disturbing to the hilarious!" he added.
A key part of the inner workings of this theme, content creators were vastly important, as Sinclair praised: "I'm so grateful to content creators at Blink TV for taking my slightly scatter-brained ideas and forming them into the strongest show of content I've ever made."
Incorporating lighting into the show involved using some of Sinclair's favourite workhorses including a plethora of Martin by Harman Aura XBs, Martin Vipers, Martin Sceptrons Clay Paky Mythos and TMB Solaris Flares. Upon seeing the show happen in full swing, the LD noted: "I'm always quietly confident but the crucial moment is always when the house lights go out for the first time. However, we knew we were onto a winner from the first night of rehearsals."
Touring the show for Sinclair is Lighting Director Jamie Trant. "I had no relationship with Jamie before the tour but the band love him and wanted to keep him. He's really good and it's a pleasure to work with him," stated Sinclair. Trant added: "We have a grid of the Auras that sit underneath the video wall, and the Sceptron strips are designed in a randomised yet uniform way… almost like a continuation of the video wall. There's two trusses full of Philips Vari-Lite Washes which create a big block of light coming though the streel work, this gives the show a really nice dimension. Floor lighting and side lighting is mainly Auras and MAC Viper Air FX across the back of the stage. TMB Solaris Flares are used for a wide, bright punchy wash. We use multiples of the same fixtures.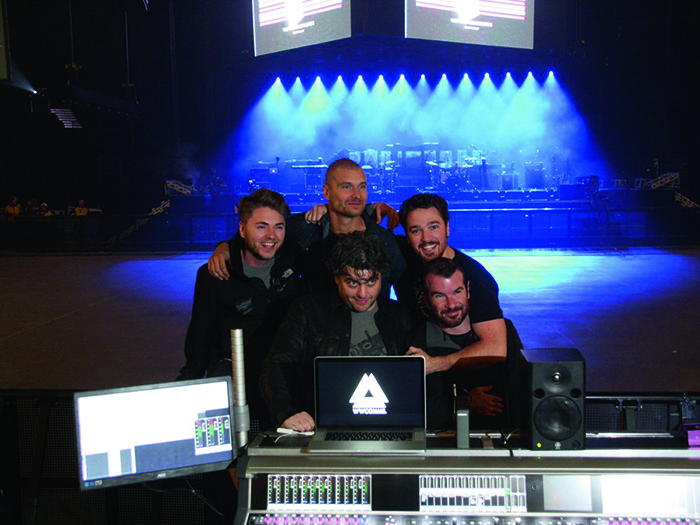 "The set list is broken up into groups of five songs, and each five songs have a theme. In terms of the content, the first five are to do with architecture, the second is control and cameras and surveillance. There's a song called Four Walls, and that's about capital punishment which then runs into a song called Blame which features scenes of military footage and rioting. The songs mould into concept blocks so the video screens play a big part. It's quite a balance between video and lighting. We worked hard to accent what the video is doing – it's all moulded so that it's never conflicting."
The impressive lighting show runs on a fully redundant network with Luminex equipment. Trant has relied on an MA Lighting grandMA2 console that are networked together with powerful and robust GigaCore 16Xt switches. "We configure each Ethernet switch in separate groups so we can run MANet and ArtNet within only one network, using the same switches. At both FOH and dimmer city we have two GigaCore 16Xt's – one active and one to offer extra redundancy. All switches are linked together through fibreoptics for the best possible quality and long distance coverage at large venues."
Backstage, at dimmer city, two MA NPU's convert the Ethernet protocols coming from the GigaCore switches to DMX signals. Then eight Luminex DMX/RDM splitters multiply the DMX signals and send them up the lighting rig. In total, the entire system processes 14 DMX universes. "Thanks to Luminex equipment we were able to efficiently run a fully redundant lighting network that is very easy to set-up," said Trant. Recently Luminex has released a new version of the DMX/RDM splitters called LumiSplit, coming in a 2.10 and 1.6 version.
VIDEO
Being their biggest tour to date, Bastille took the opportunity to combine their musical prowess with a strong visual display that featured an incredible pairing of lighting and LED. Creative Technology (CT) worked with Stanley and Sinclair to deliver the visual elements.
Throughout the pre-production process, it became clear that a clean and smooth design was desired by not only the production team but also the band themselves. Creating a bold and impactful shape was at the forefront of everyone's mind when considering the LED and the lighting, bringing the two together to create an incredible visual show.
The final design revolved around an asymmetrical V-shaped LED rig that was flown above the band with Sinclair's intricate lighting design hung underneath, facing downwards. Made from just under 80sqm of ROE MC7, the challenge was how to rig this V-shape at multiple venues while maintaining the design wanted by the production team and band. Using custom-made metal additional joints to create a cleaner finish, CT was able to produce the modern and fresh design seen onstage.
Complementing this V-shaped gondola was a 75sqm ROE MC7 back wall with two 21k projectors creating the side-stage IMAG. Backstage, Catalyst media servers provided control to the FOH team with Nev Bull at the helm of video control as the Catalyst Engineer. Alongside this, CT also provided a multitude of cameras, supplying tour camera director Steve Price, with a large amount of footage as four HD cameras, two robot cameras and a further four mini-cams, with one on a tracking slider beside the drummer, kept their sights on the band.
Although CT had worked with some of  the creatives involved previously, and with Bastille on a festival stage, this is the first time CT has worked with the band directly to bring their own vision to life on the tour.
Jim Liddiard, CT's Project Manager, believes that this is one of the most impressive designs he has seen: "The band is very hands-on in how the show looks and we have gone through a variety of designs in the whole process of getting this tour together. That being said, Rob Sinclair's ultimate design is one of the best arena designs that I have seen in a long time and we are really glad to be a part of this tour."
CT's Head of Music and Touring, Graham Miller, told TPi: "We were approached by Joel who was looking for his next video supplier. We had done a couple of one-off shows with the band before, such as festivals, but we'd also worked with some of the creative team involved so it felt as though we slotted in easily to the new production.
"We worked with production through quite a few different versions of the design – the original was very different from what the show became. We fabricated and customised metal work to make it all come together. As this process continued and the designs changed we ended up changing products including the ROE MC7 screen, which was more suitable. We then made some metalwork to give nice clean edges to the front of the 'V' screen which sits above the stage."
The results impressed the CT team. "I think it is one of the best looking shows I have seen in a while. I loved the look that the 'V' screen gave the stage – especially filled with all of Rob Sinclair's lighting choices. I think it gave the band a whole new look, and felt quite edgy. Nev Bull did an amazing job of pulling it all together and Steve Price did a great job on the IMAG – as always!" Miller added.
RIGGING
James Heath, Production Rigger came up with an 'unusal' rigging plot for this design. He said: "We put it into rehearsals and it just seemed to work, all 26 tonnes of it, five of which is audio. For the bigger arenas, we have eight up and four down local riggers."
Neg Earth Lights has supplied all rigging equipment, with motors ranging from the new Area Four Industries EXE chain hoists to CM Lodestars for the audio kit. The plot details 58 points typically, with 64 at London's O2 Arena. Heath continued: "It's an interesting rig. Most rigs are symmetrical because usually whatever's on stage right will be on stage left, with straight trusses. If it's not straight trusses it will be the mirror image, but this is asymmetrical. It means that to work out the rigging points, we have to do it individually, and each point needs attention to make sure that it's set correctly."
SCENIC
Freehand sculptor Nikki Taylor described how she was "simply knocked out" when she saw her aforementioned sculpture art in production rehearsals. "I'd never worked with bands before, so I was in awe of other intricacies that went into the performance. Sculpture is a matter of capturing the mood and body language but this project has a particularly nice result because these figures aren't sat still gallery; they truly get to travel the world!
"I was thrilled to be asked to make two life-size wire mesh figures for the stage set for Bastille. On a large set the wire men perch on the top of one of the big on-stage video screens, looking out across their world, and on a small set they can hang out up front with the band!
"The creative idea behind the album cover and the figures comes from Dan who writes all the band's material and the same theme runs through many of the songs on Wild World. Dan's own interpretation of the artwork is that the image isn't about what's just happened or what happens next, it's not about how they got there or how they get down. It's about sharing a moment – two friends existing in that split second in that exact space, two people framed in the vast context of this huge mad metropolis that we've all built. They're there out of choice.
"The original vision for the stage set was to reflect the skyline idea with the figures perched up high on the big video screen, my brief being to create figures who reflected the same ambiguous mood as the guys on the album cover. The sculptures I made do indeed work very well in the large arena sets just as planned, and given the nature of the wire mesh material they can either be lit to be highly visible, or to disappear altogether when appropriate," she concluded.
FOH AUDIO
FOH Engineer Paul Cooper has perfected Bastille's live sound. "They're not a simple band to mix, and they have a hell of a lot going on. As I knew their monitoring requirements and what everything should sound like consistently, it was time for me to move to FOH. "I think the mix should sound like the album, but not identical, otherwise you may as well watch a video at home!
"In the ever-expanding channel and musician count, I decided it was time to give DiGiCo consoles a try. I contacted Mark Saunders and he arranged a day to play around on a few DiGiCo consoles… I fell pretty quickly for the SD7. The desk is more than happy with everything I've asked it to do so far. We're running 105 inputs with click tracks and tech / band talk channels, allowing the band to add string players, singing brass players, extra track channels or percussion bits when needed. Output wise, at FOH I tend to have the usual left, right, sub and front fill outputs. I also have a separate 'broadcast' mix that I use for festivals and radio shows, a hard of hearing feed for certain venues and a recorded mix for my own personal reference."
Cooper also uses a DiGiGrid MGB interface for recording the shows. "It gives me 64 channels of 96k, and allows for virtual sound checking. I record the 'essentials' missing out percussion channels and any extra bits, and use that when the band can't make checks. I also use a second one for a plugin or two. My broadcast mix has a compressor and EQ chain via Waves."
For the vocal microphones, Cooper decided on a Sennheiser e965 for lead vocal duties. He elaborated: "I tried a hell of a lot of vocal mics before settling on it, but it suits Dan's vocal to the ground. There's so much high-end character – and that's exactly where his voice is at its strongest. With its switchable pattern, it's actually become my go-to microphone for any lead vocal."
PA
The PA is an SSE classic L-Acoustics rig. The main hangs comprised 12 K1 per side and eight K2 per side. Flown subs were 8 K1SBs per side which augmented the 24 KS28's used as a centre sub array. Side hangs (per side) were 4 K1 and 12 K2. Lip fill and out fill consisted of 6 KARA and 3 ARCS II per side respectively. For the larger London and Manchester dates, 18 K2 delays were also deployed. L-Acoustics LA-RAK II amplifier racks were flown on top of the arrays.
Cooper commented: "For me, it's L-Acoustics every time. I love it to bits! My tech Perttu Korteniemi is fantastic at arranging coverage and audio mapping to ensure everyone is the room is hearing things just as they should be."
According to SSE's Audio Crew Chief and System Tech Perttu Korteniemi, this makes the setup easier and reduces the cabling needs. He said: "The system design process was actually very smooth for this tour. After initial conversations with Paul, we set about designing a system that suited his mixing style. I then went through the venues the band was going to play in to ensure the correct speaker cabinet count was specified. L-Acoustics Soundvision Acoustical Simulation software was used for this task. SSE Audio Groups Project Manager Dan Bennett was also heavily involved making sure the packing and logistic requirements would meet the Bastille's production needs.
"After the audio system concept was completed, we continued to progress with our Show Designer, Rob Sinclair. A clean looking and sounding show was everybody's common target and by exchanging Vectorworks designs, we were able to achieve very good sight lines for the wide variety of venues performed. In my opinion, the L-Acoustics system gives good consistency throughout the different venue styles."
The audio returns system for the tour was being controlled by an SSE Audio DriveRack2. The show ran over a Dante network synchronised by an Antelope digital clock at 96kHz. The Amplifiers are a mix of the new L-Acoustics LA12's and LA8's.
Continued Korteniemi: "The crew was very professional and tight, so there wasn't much guidance needed. Having a dedicated crew chief just makes it easier so that there's one point of contact to the audio department. When we needed some help with programming the DiGiCo SD7, Sales and Support Manager Mark Saunders sorted us out literally within minutes, and Tuomo Tolonen from Shure UK replied to my tech support text messages on a very early Sunday morning…  these kinds of people make the technical side of the touring much smoother for the people travelling," he smiled.
MONITOR WORLD
Monitor Engineer Ben Kingman has worked for Bastille since March 2013 and has seen the band and crew grow significantly since then, creating a more challenging environment to mix in on his chosen Midas PRO X console. He detailed: "Midas digital desks are my preferred consoles, although this is the first time I've taken a PRO X out with me, as the show has outgrown my original choices of the PRO2, PRO6 and PRO9. The show is currently 16 stereo mixes for the band, brass, strings, techs and production plus effects."
The band and Kingman use in-ear monitoring and opt for Ultimate Ears UE18's for IEM needs and use Shure's PSM1000 system for RF requirements. "As far as the in-ears go, I've always had a really good fit from UE which is half the battle for me. I really like the detail and clarity of the PSM1000's too, as well as the Shure Wireless Workbench Software and SB900 Lithium-Ion re-chargeable batteries."
Kingman concluded by stating that this tour is a good camp to be in: "They're a great bunch and fiercely loyal to their crew which is refreshing. It's great to feel like part of the family."
The SSE crew was completed by Monitor Tech Chris Speirs; Stage Tech Will Lucas, PA Tech Nick Lythgoe and Delay Techs Rob McNeil and Mark Pantlin.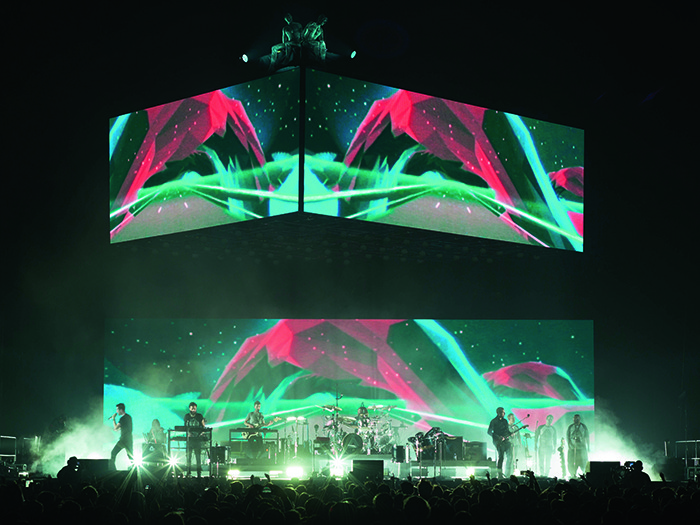 STAGING
When Bastille embarked on their arena tour Mojo Barriers was called upon to ensure artist and audience safety at all 22 UK and European dates. Mojo is supplying stage barriers, flex corners, snake gates and metal cable ramps. As well as positioning barriers across the main stage, the safety barrier specialist has also designed a bespoke barrier configuration for the B-stage, to ensure continuity throughout each venue.
Mojo's Stanley Jilesen furthered: "Our story with the band began when I got in touch with Joel Stanley. He wanted to take a touring set of Mojo Barriers on tour as it had proved difficult to get the right barriers for their particular needs. As he was already a big fan of Mojo and our products, it was great to begin working alongside his tour." Mojo also supplied four diamond plates.
Stanley added: "I made and proposed to the band when we were talking about the budget that we should use Mojo. A lot of promoters will add barriers on as a line item, but if you distribute that across 38 shows for example, it becomes a lot more cost effective. It adds another 15 minutes to the load in / load out but it's the better, and safer option in the long run."
The Mojo crowd barriers were installed to safely guard crowds at the A and B stages, supplied by All Access Stage & Productions.
The company's Matt Bull told TPi: "At the front of the stage we built a 2 metre-wide apron going out to four metres at each end to allow access down to the venue floor. This also allowed space for the subs to go underneath. On stage right and stage left we also built rolling tech bunkers with an 8ft x 8ft top deck to be used as ego wings for the band and a sub stage level for the backline to live. The tech bunker was 8ft high made from stock equipment and used more and more by bands to create a good high level platform for the band as well as allowing the backline to wheeled into place underneath."
TRANSPORTATION
Fly By Nite provided the tour's trucking. Account Handler Matt Jackson told TPi: "Depending on the venue, we supply between eight and nine trucks per show. This is their first arena tour but we've been with them a while now. We always give people the key things you'd look for in a tour: good price, good service and the knowledge that the relationship will grow. Every band and tour starts somewhere, and for us, the smaller shows are just as important – that's what keeps our trucks and crews out there working, which is what it's all about. We're very proud that we have a relationship like this, because we've watched them grow and seen the demand for their production and
trucking needs along with that."
Bussing was supplied by Jumbo Cruiser and Rock-It Cargo took care of freighting needs between the UK, Europe and US.
CATERING
Lucy Bell, Director of catering vendor The Pantry Maid found her way backstage through a somewhat diluted path: a part time waitressing job while studying for a maths degree eventually led her to helping out a friend: "He had a catering company in Ireland so I did Electric Picnic for him as my first event job. I worked for another company for five years and then set my own company up with a friend. For the last 2.5 years, I've been under this name, running my own business," explained Bell who at the time of this tour also has staff working on comedienne Catherine Tate's production and The Luminaires' most recent run.
"Comedy was actually the first proper break that I got once I'd set up on my own, so that's where it all started for me," she continued. For Bastille's tour, she has another three people on her team feeding 75 people per day with dishes ranging from roasted meats and homemade lasagnes to nut roasts and fish dishes, finished off with a hearty dose of salads and superfood choices, or hand-crated puddings that'd make the Hairy Bikers stop and take note. Concluded Bell: "It's been a pretty intense schedule, so everyone is tired at this point, but that's all the more reason to keep them fed and happy; they're loving our food!"
Bastille continue to tour in early 2017, taking in dates across Europe and North America before heading into the summer festival season.
TPi
Photos: TPi, SSE, Rob Sinclair, Light & Lace Photography & Tony Woolliscroft