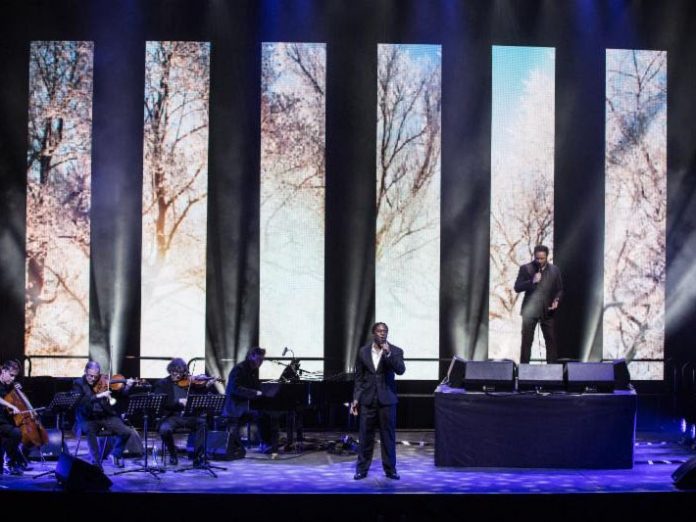 Avolites' trailblazing lighting and video integration system is 'heaven sent' for LD James Bawn on his latest large-scale project, live arena spectacular 'Heaven on Earth', which will be touring UK arenas between 4th December 2017 and 12th May 2018.
The large-scale musical, produced by Eden International Productions, is a classic re-telling of the biblical tale of Adam and Eve. Written by Sara Jeffs and directed by Racky Plews, the musical boasts an original musical score and arrangements by Geoff Alexander.
"The story is fantastic," said Bawn, who has been developing the production's lighting and video design for the past year. "Creatively, the production has really demanded that we all push the boundaries of our own area of expertise."
Bawn, who worked closely with stage designer Jacqueline Pyle on the production, describes the creative process as 'organic', developing each time the designer reads the production's script.
To build and program Heaven on Earth's large lighting and video mapping elements, Bawn selected an Avolites Sapphire Touch console running Titan v10.1 and an Avolites R-Series media server running Ai v10.
As with all Avolites consoles, the Sapphire Touch console and Titan v10.1 software provides an intuitive platform for designers to test and work the boundaries of their own creative potential, without being slowed down by numbers and formulas. As one designer put it, 'Avolites is an arts desk, not a maths desk'.
"I am a big fan of Avolites product," said Bawn. "They build innovative and creative control systems. The Sapphire Touch console will always be my first choice for any large-scale production I am working on."
Bawn will be using two Sapphire Touch consoles in the upcoming Heaven on Earth tour, one as primary control and the other as back up. The Sapphire Touch will also be networked to the production's large-scale video mapping element, allowing the designer complete control over both the production's lighting and video from a single programming surface.
"On the show we have a mixture of screen types, utilising both high- and low-resolution products," said Bawn. "We brought in the Ai media server to handle the high-resolution video mapping. For me, Ai and Sapphire Touch is a perfect match. Having just one control surface to program on makes the process much quicker and simpler."
"For us at Avolites, it makes perfect sense that the lighting designer has control of all the visual elements of the show, including both lighting and video," said Avolites' Sales Manager, Stephen Baird-Smith. "Heaven on Earth provides a clear example of how important it is for all these elements to work together, and we're excited to be a part of it with Titan and Ai."
Heaven on Earth had its initial press launch last month at the SSE Wembley Arena in London. Live audiences witnessed the show's musical stars performing the production's title number.
"The press launch was a little teaser for the national media," said Bawn. "I designed a three-minute intro where we projected the VT onto a drape, which was then released via a kabuki drop and dragged above the audience into a sniffer. I wanted a high impact opening sequence and we absolutely nailed it."