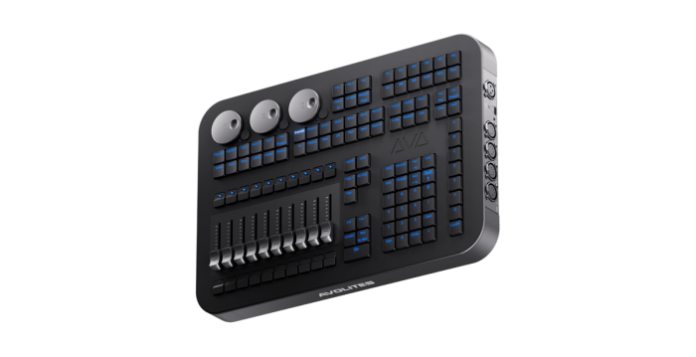 Avolites T3 and T3-Wing professional lighting controller solution has been designed for fast programming and accurate performance in a PC wing format, and offers high build quality and familiar ergonomics. 
T3 is the headline product in the newly named, PC powered, T- Series, comprising of the existing T1, T2, and now with the addition of the new T3 and T3-Wing. Taking design cues from Avolites' Diamond 9 flagship console, its ergonomic design requires less muscle memory to operate, as well as having a lower height profile and being 20% lighter yet still as robust as its predecessor.
Connect and power the T3 or T3-Wing via the USB-C port and use the four robust DMX ports and an LTC port to hook up the system to your full rig. Output up to 16 DMX universes from the host PC via Art-Net and sACN, with the option to upgrade to 32 or 64 universes if required. The T3 key features include three Optical encoder wheels, nine new Titan keys to match D9 layout, 10 playback faders, 12 Macro/Executor buttons, 20 C&K flash buttons with custom cap, 92 Cherry MX Low Profile keys with blue backlit illumination and AVOKey security built in.
Designed with lighting designers for lighting designers to become their owned console of choice, the new T3 blends a user-centred design approach with high quality materials and components, reliability, comfort and ease of use. T3 and T3-Wing and the custom carry cases they come with, can easily fit into a standard PC backpack along with a 15" PC and weigh well under the 15kg cabin baggage limit.
"The T3 has been built as the essential tool for every lighting designer and their busy life on the road." said Paul Wong, Managing Director, Avolites. "It underlines our commitment to innovation and ensures users can afford to purchase their own console, as well as create amazing live experiences wherever they need to travel to."