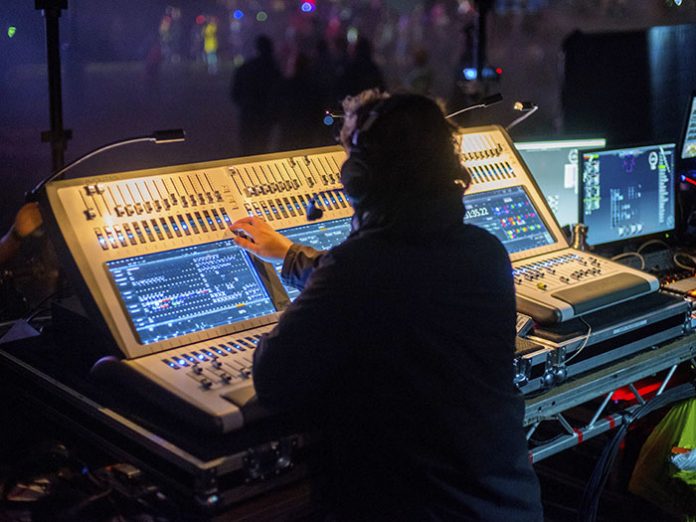 Avolites' lighting consoles, dimmers and media servers have once again featured as part of Glastonbury's vast and varied musical programme.
For nearly 40 years, Avolites equipment has been found surviving the mud in each corner of the Worthy Farm takeover. This year the British manufacturer's consoles and media servers were not only used on the main stages such as the Pyramid Stage, which was also powered by Avolites ART2000 dimmers, the Other Stage, John Peel Stage, West Holts and the Acoustic Stage but also Arcadia Spectacular and The Temple, and afterhours areas such as the Unfairground art field.
Lighting Designer Andrew Liddle, whose recent portfolio includes OMD, The Charlatans and La Roux, has been working with Avolites consoles for the past 35 years. Like Avolites, Liddle is a Glastonbury stalwart, hitting the festival for the 16th year running – this time with indie dance legends New Order. With a performance of 'atmospheric magic' that impressed NME magazine, the Manchester-born group took to the Other Stage in support of their latest album Music Complete.
Liddle augmented the Other Stage's house rig with 24 Clay Paky Sharpys, four Martin by Harman MAC Vipers and six ETC Source 4's, controlling the set up with an Avolites Arena supplied by technical event production house Hawthorn.
Performing on the John Peel stage was Brighton's DJ legend Fat Boy Slim, with long-time Lighting Designer Stephen Abbiss creating the ultimate rave atmosphere for the raucous crowd that packed the tent. Abbiss transferred the show file from his own powerful Titan Mobile, which he uses for some of his biggest shows, to a Tiger Touch II running Titan v10.
Also on the John Peel Stage, Tom Campbell of TC Lighting Design was operating a Tiger Touch II to control his design for John Grant; whose performance received a great review from The Guardian despite the American singer-songwriter suffering from flu.
As Grant captivated the audience with his heart-wrenching back catalogue, Campbell complemented the performance with a series of retro-esque lighting looks, using LED technology disguised as classic tungsten fixtures. His design is also based around a rear 'analogue' video wall, constructed using eight rear set pieces made out of metal gauze, ranging in height from 12ft to 20ft, depending on the venue. These are used to create a range of three-dimensional visual looks for the band to perform in, which Campbell triggers from the Tiger Touch II.
Moving across to the West Holts area, Lighting Designer John Rogers chose a compact yet powerful Avolites Quartz console to control his design for soulful funk group Quantic All Stars.
Rogers' festival tour design for the Quantic All Stars relied heavily on Robe Pointe units.
"The looks have to be big and bouncing, like a carnival in the sun, even if you're in a muddy field in the pouring rain. And this year was particularly muddy," he explained. "However we had a great show and it was lovely to see some familiar faces around the festival. Big thanks to Greg Haynes for helping me get the Quartz up to the top of the slippery FOH tower and generally being excellent."
Another seasoned Avolites user, LD Ken Coker operated a Sapphire Touch – the Acoustic Stage's house desk supplied by Rob Sangwell at Fineline Lighting – for Barclay James Harvest. Interestingly, the progressive rock group were the first band to take Avolites' original equipment on tour in the 1980s.
Coker applied the house rig including Robe and Martin by Harman fixtures to ensure frontman John Lees was perfectly lit at all times, whilst also creating a myriad of textures with gobo work and beams.
As ever there was plenty of Avolites action on the incredible Arcadia Spectacular, who brought back their Metamorphosis show to the festival for the second year running.
Two Sapphire Touch consoles worked as the main and back up lighting desks, with a Quartz used to control SFX. A single Ai Infinity RX8 media server with eight outputs powered the incredible visuals for the entire set up, with a back up in place. This meant there was only one machine live at a time running the interface, plus seven outputs going out to external devices – six projectors and one LED processor.
In addition, two Infinity Rx8 servers, one main and one back-up, ran video content on The Temple Stage. Avolites expert Arran Rothwell-Eyre set up and operated the system, alongside top visiting VJs.
"We ran a total resolution of 7900 x 1024 content which was split across eight projectors to create 360° surround video mapping," he explainsed "As well as running custom content directly from the media server, we used multiple DVI and SDI inputs on the system to take live feeds from artists and VJs and apply them to the structure in real time. This allowed us to plug touring VJs straight into the system without a long and complicated setup procedure and as a result could easily combine their visuals with the specially made content."
Glastonbury Festival ran from the 22 June to the 26 June 2016 in Pilton, Somerset.