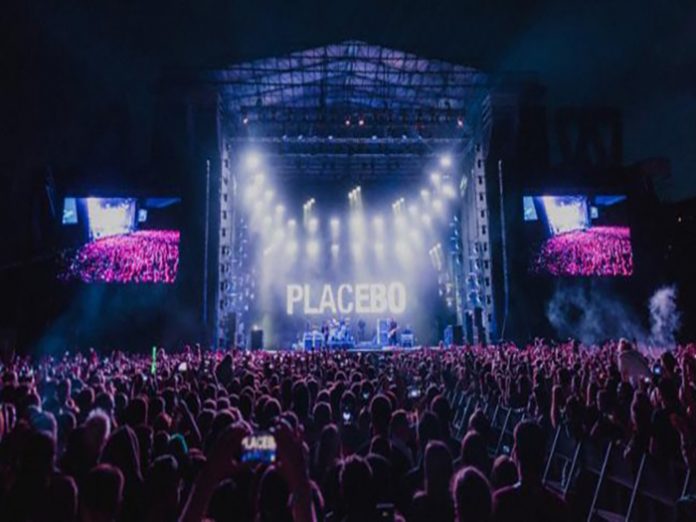 Placebo's epic new show is touring European festivals with a revamped rock 'n' roll lighting design by Will Kinnaird, who's armed with an Avolites Arena running Titan V11.
Kinnaird has pimped Placebo's lighting for festival season, with recent shows having been more video-based. "My lighting brief was 'big rock 'n' roll', so that's what we're delivering," said Kinnaird, from WK Design. "We're playing various festivals across Europe, all of which obviously have very different house rigs ranging from 40 to 240 fixtures. Therefore, I needed a festival-ready console with live control acreage. The Avolites Arena is a big, powerful console with 2 touch screens and lots of faders."
Kinnaird used his own Avolites Titan Mobile and Wing to run Multi User Backup during the shows and for pre-programming off-site, mainly when he was flying to the next gig and in need of a smaller desk.
"I love that with Titan it's so easy to transfer a show from one console to another," he continued. "I programmed the base show in rehearsals on Capture, which is the perfect accompaniment to Titan. The integration of Capture into the desk is a really nice feature – you can simply import the show from the desktop version into the consoles which saves you from flying an extra PC with the software on. It's so nice to just rock up to a show and be ready to go in about two hours."
To help him create the prodigious rock effects, Kinnaird used a host of Avolites Titan V11's features, including Key Frame Shapes.
"This is possibly the most beneficial feature – it's such an easy way to create really interesting looks, whether it's colour flicks, or unlimited tilts, there's so much you can do with it. Almost every song had a Key Frame Shape effect in it and once I had fixture exchanged and updated the palettes, they all worked perfectly.
"This was also the first shows that I have run completely from Cue Stacks, as I've usually split the programming up into stacks and busking faders," Kinnaird continued. "I found it to be a super easy transition and really liked how quick it was to edit a cue in a stack even when the show was running. There are some great features in V11 – the most used one was the 'Flash and Go', which was perfect for colour bumps. I'm looking forward to more festival dates!"
Production Manager for Placebo was Allan Moffat. The Avolites Arena was supplied to Kinnaird by Haydn Cruickshank at Colour Sound Experiment. Placebo's compilation album A Place for Us to Dream was released in 2016 to celebrate 20 years of chart success.