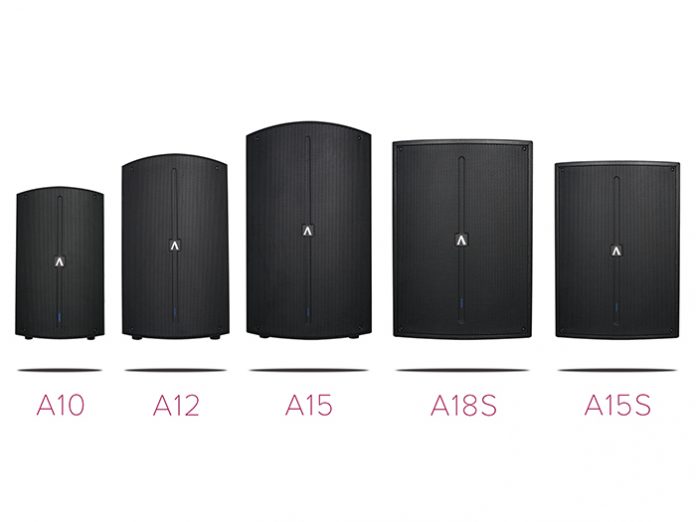 Debuting this month at InfoComm, ADJ Group of Companies will launch Avante Audio – a new professional audio brand born from a passion for audio excellence. Avante believes in producing high quality products – that offer both sonic and aesthetic beauty – at attainable prices in order to provide the greatest possible audio experience for its users.
Avante Audio is proud to launch with the Achromic Series, a complete range of active loudspeaker cabinets that offer powerful output, detailed audio clarity, built-in DSP, and sleek exterior designs. Created for musicians, bands, houses of worship, audio production companies and rental houses, the Achromic Series speakers are equally suited to permanent installation as they are to one-off and touring productions.
The Achromic Series comprises three full-range loudspeaker options, the 10-inch A10, 12-inch A12, and 15-inch A15. All three models feature a Bi-Amped, high efficiency fan cooled Class A/B switching power amp for the highs, and a Class D power amp for the low end. Each cabinet was carefully designed with components specifically chosen to provide high SPL levels while ensuring smooth coverage across all frequencies in a light weight package ranging from the A10 at 28.7 lbs. up to the A18S at 83.8 lbs.
Power Ranges from 1000 Watts for the A10 to 1200 Watts for the A12/A15. Designed to work for you, the full-range speakers feature a 35mm pole socket with two position options – zero or a 7.5-degree downward tilt for stand mounting but can also be flown via the built-in M10 fly points, wall mounted or used a main or floor monitor. To provide enhanced bass response and extended low frequency coverage, the Achromic Series also includes two active DSP Controlled sub options with configurable output directivity. The cardioid output option allows you to better focus your low end in a ground stack configuration for tight clean bass.
The A15S offers a 15-inch woofer with a 3-inch voice coil, while the A18S is fitted with an 18-inch woofer with a 3-inch voice coil. Both feature an integrated powerful Class D amplifier that delivers an impressive 1600kW.
Every model in the Achromic Series features an advanced easy to use Digital Signal Processor accessible via an LCD screen on the rear panel of the speaker. The built-in DSP allows custom optimisation to configure the speaker specifically for different needs: Music Type /Room/ mounting option/EQ/ and System configurations.
"Avante Audio is a project that our team has been working hard on for some time, and I am excited to now be able to unveil it to the industry," said Toby Velazquez, President of the ADJ Group of Companies. "This premium brand will bring a new voice to the professional audio market, providing innovative audio engineering at affordable prices. Our mission, with Avante, is to provide a high quality audio experience delivered through a system that is engineered to appear as beautiful as it sounds. Everything we create will be made with passion, creativity, and performance in mind."
Formed as a new division of the extremely successful ADJ Group of Companies (ADJ Products, Elation Professional, DuraTruss, Acclaim Lighting, American Audio & Accu-Cable), Avante Audio is an independent business unit focused on developing, manufacturing, and marketing innovative professional audio equipment at affordable prices.
The Achromic Series of professional calibre active speakers will begin shipping worldwide in late September 2017.