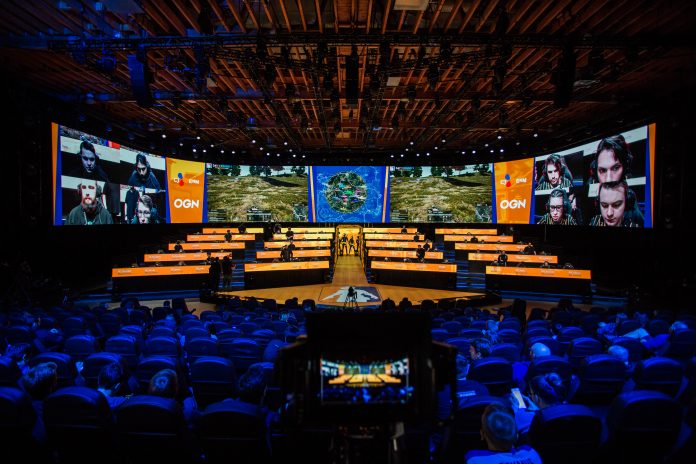 Astro Spatial Audio is at the centre of a ground-breaking new flagship e-sports studio in Los Angeles, bringing true object-based three dimensional sound to one of the world's fastest-growing areas of sports entertainment.
For millions of fans worldwide, the future of sports can be found not on a pitch or a field, but on a screen, with e-sports such as League of Legends and Player Unknown's Battlegrounds (PUBG) having now entered the mainstream.
For leading South Korean e-sports promoter and broadcaster OGN, the enormous popularity of PUBG has prompted the opening of its first dedicated North American e-sports arena, located in Manhattan Beach, Los Angeles, California. Equipped with 80 PCs on stage with a stunning backdrop of giant three-sided immersive LED screen, the 35,000 sq-ft arena delivers unmissable entertainment not only for those watching at home but also the in-house audience. A key part of the experience is true object-based 3D sound courtesy of Astro Spatial Audio.
"The studio's screens and audio set-up have been designed to provide a more immersive experience than you'd traditionally expect in a TV studio," explained Matthew Park responsible for the audio project management at OGN. "In particular, we are trying to convey a unique experience to the audience in real time using the PUBG game's API data plus sound location information and directional sound. The real-time 3D sound of the game can be reproduced in the studio. It delivers a real wow factor for the studio audience."
Working seamlessly with the OGN Arena's Meyer Sound loudspeaker set-up, plus D3 media servers and a combination of QLab and Pro Tools, a single SARA II Premium Rendering Engine is enough to bring the virtual immersive experience of PUBG into the real world.
Measuring just 3U but delivering up to 128 MADI or 128 Dante configurable network pathways, the award-winning SARA II converts audio signals into audio objects and uses extensive metadata to precisely calculate that object positions within virtual 3D space over 160,000 times per second, as well as that object's acoustic effect on the virtual space around it. Crucially, Astro Spatial Audio is entirely brand independent, freeing audio professionals to choose the loudspeakers, consoles and third-party brands they want to use.
"Astro Spatial Audio 3D sound is an integral part of shows at the OGN Arena, where it's crucial that audience members feel utterly immersed in the action taking place on the screens," explained Astro Spatial Audio Managing Director Bjorn Van Munster. "The whole point of an e-sport like Player Unknown's Battlegrounds is that you can compete without the limits of the real world, so of course OGN wanted to extend that same feeling to everyone in the room.
"If a player in the game fires a gun, the audience hears the bullets whistle past, if a grenade is thrown, it feels as if it has exploded in the arena."
Having first experienced Astro Spatial Audio at a demonstration in Seoul, Park is happy to report that it is more than meeting his expectations. "It's helping a lot," he asserted. "The SARA II is working just as well as we hoped. It's inspired us to develop more 3D audio content so in time we're going to be able to do even more. For now, the system makes a big impression with our audiences. We have great expectations of what we will go on to achieve."