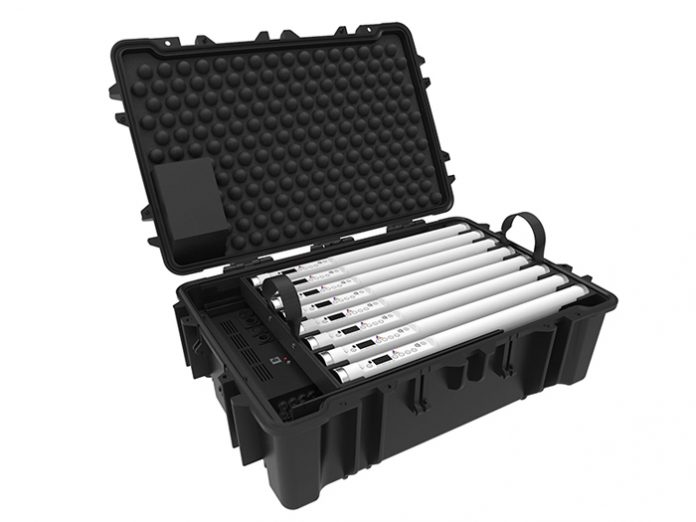 Astera will launch some new products and showcase its most popular current ranges at Prolight + Sound 2019 on Booth C20 in Hall 12.1.
The brand-new Helios range of LED tubes – smaller, lighter, brighter and more portable than ever – will be launched at the expo – available like all Astera products – with an ingenious assortment of accessories to cover every rigging and positioning eventuality.
This is also the first time at Prolight + Sound that Astera will show its TitanTube LED batten product which was launched last summer. Other highlighted flagship products will include the AX1 PixelTube, the AX3 LightDrop, the AX5 TriplePAR and the AX10 SpotMax. These powerful, flexible and extremely easy to use products are making a big impact in the worlds of film, video, promos and television as well as in a whole range of events, rental and staging applications and some more esoteric public arts projects.
Astera's new Helios tube has all the features and functionality of the TitanTube in a smaller, lighter and more transportable package – which can be mounted in places where a TitanTube might be too long or impractical to rig. The Helios has 8 pixels and is half the brightness of the TitanTube but with the same high CRI.
The colours, brightness, battery life and other elements are perfectly matched to those of the TitanTube so combining the two fixtures gives seamless lighting coverage. Eight tubes fit into Astera's neat Helios Case which can be used for charging and transportation. It holds the same useful and practical sets of accessories as the Titan Tube case (16 eyebolts, 16 holders, 8 x floor stands, 16 x bolts, all included with the case) together with eight Wing Plates. There is also a compartment for ART7 or other accessories and the case comes with the same PowerBox charging as TitanTube.
TitanTube is optimized for an ultra-high TLCI, a very high CRI and peak brightness, with beautiful colours as well as hue, saturation and intensity that can be set directly on the tube or utilising Astera's proprietary SmartPhone app. The TitanTube can also be run wired (from mains power) and controlled via DMX using special power / data combination cables, which further dramatically increase its flexibility as a tool for lighting and visual designers.
The Astera AX5 lightsource comprises 3 15W RGBAW LEDs, it has a smart and tough aluminium housing, is completely wireless and IP65 rated for full outdoor-use, all of which allows event and lighting designers to position lights virtually anywhere. The AX5 will be shown in a special area on the booth to illustrate the new AX5 Dome, a handy accessory to diffuse the beam more than 180 degrees – with some of it projected backwards – and perfect for eliminating any shadows when AX5s are placed inside objects. The AX5 Dome comes with two different filters that can be fixed underneath giving users 'lightbulb' or 'softlight' style options, and this highly adaptable fixture will also be illustrated working with the 10 other accessories available for it from Astera.