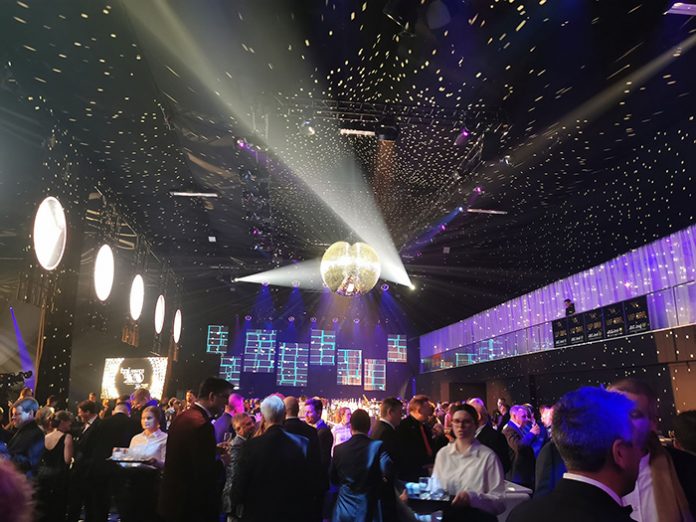 ArKaos continues its support of the Total Production International (TPi) Awards.
The annual event – produced by TPi Magazine, part of Mondiale Media – honours some of the best creative and technical achievements in the world of live entertainment. Staged on 24 February at the Evolution venue in Battersea, central London, TPi Awards 2020 sawthe return of host and comedian, Russell Kane.
An ArKaos Stage Server Pro running Kling-Net protocol was used by Lighting Designer, Nathan Wan in the main room to pixel map 108 Robe moving lights – a mixture of Spiider LED wash beams and Tetra2 moving LED battens. "This saved 26 universes of DMX and allowed the swift creation of fluid and dynamic patterns and sequences running through the lights," Wan explained.
Wan ran a mix of standard and specially created video content, triggered from the Avo Tiger Touch II console that was used to run all the room's show lighting.
In the bar area, the lighting included 28 Robe Tarrantulas were fed with Kling-Net from another ArKaos Stage Server Pro run from a second Avo Tiger Touch II console. As well as reducing the amount of DMX universes needed, running ArKaos through the relevant pixel fixtures also saved lots of programming time which was exceedingly tight, so every minute counted.
Also in the bar area, video and AV specialist Marcel Wijnberger – who works for ArKaos's UK and Irish distributor Entedi – utilised an ArKaos Studio 4K server to feed content into two high-powered Epson 20K projectors. This was mapped to eight custom white portrait screen surfaces flown in front of one of the long walls at varying heights creating a 'feature wall'.
These were used to display a selection of spectacular front cover designs from recent TPi Magazines. These spreads were interspersed with lively party-style content graphics.
Once the main event was over, the afterparty action shifted to the bar area, and the space that was initially open between the two rooms was closed via tab-tracked black drapes. The ArKaos Studio 4K server was also used to push material to a series of ROE Visual Vanish 8 'totem' LED columns positioned in front of the now-closed curtain effectively partitioning off the bar and bringing the wall alive with imagery.
Allowing the crew in the main room to start their de-rig and get out, while guests continued the great vibes, partying and networking in the bar.
The ArKaos Studio 4K server was run by Wijnberger from an MA Lighting grandMA2 onPC, with content programmed into three cue stacks – one dealing with the magazine covers, one for the kinetic content and the third with some ArKaos branding.
ArKaos' Managing Director, Agnes Wojewoda, commented: "We've supported the TPi Awards for several years by supplying our latest technologies for the show elements, and it was great to see it used so imaginatively and to help produce such great results. We enjoyed spending the evening catching up with our industry friends and colleagues, and special thanks to all our UK and Irish customers who joined us at the ArKaos table."