Black Skull Creative transformed this year's GRM Daily Rated Awards show into a blended reality experience with the help of Anna Valley and subsidiary company, Matrix UK Solutions. The awards – hosted live at the Eventim Apollo in previous years – were streamed exclusively on YouTube and ratedawards.com on 9 September 2020 from a digital environment designed to challenge the audience's perception of reality – and to comply with social distancing restrictions.
The fifth GRM Daily Rated Awards sought to celebrate some of the biggest names in urban music and their contribution to the genre in the year leading up to June 2020. The show was hosted by Julie Adenuga and Mo Gilligan and winners included J Hus, Stefflon Don and D-Block Europe for "Album of the Year," "Female Artist of the Year" and "Male Artist of the year," respectively. Dizzee Rascal was presented with "The Legacy Award" for his lifetime contribution to grime music and performed a live medley of his most popular tracks from a mixed reality environment reminiscent of the cover of his first album, Boy in da Corner.
Black Skull's concept for the awards' setting was to use a combination of physical elements, digital content, reflective surfaces and virtual design to blur the distinction between real life and augmented reality. To this end, Anna Valley and DB Multitrade built a cuboid set for the awards using a 6m by 4m LED back wall and floor, with mirrored sides and roof, at Anna Valley's headquarters.
The combination of LED and mirrored surfaces meant that content displayed on the LED back wall and floor, along with presenters, performers and any other "real" elements, were reflected on the mirrors, creating an infinity effect. This was enhanced by using Anna Valley's disguise gx 2 media servers to produce an extended reality overlay, so the cube appeared to be a small part of a vast digital space.
"This solution may have been born out of necessity, but it's delivered way beyond our expectations," said Dan Shipton, Creative Director at Black Skull Creative. "The images and final effect we achieved are exactly what we envisioned, and we're thrilled that we could make an impact while being safe and working within the new confines. Working with Anna Valley, and in their environment, was an amazing experience – the team went above and beyond, not only in delivering value for money but in providing a whole solution under one roof."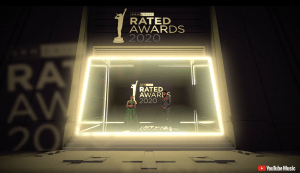 Anna Valley provided five Sony HSC-100 camera channels, mixed through a Ross Carbonite PPU to capture both the on-set elements and the winners' acceptance speeches, while Matrix took care of project management, including health and safety and COVID-19 compliance. Lighting was provided by TSL lighting, under the direction of Tim Routledge, James Scott and Jim Lambert managed the show's technical direction. Black Skull were responsible for creative direction and design and produced all the content and AR graphics for the show.
"This project proves that, with careful planning and creative direction, digital events can deliver the sense of scale, atmosphere and energy of a physical event," said Anna Valley director, Nick Hart. "While we're all looking forward to the return of live events, companies like Black Skull Creative are leading the way in changing the perception of online and hybrid events in the future."
---