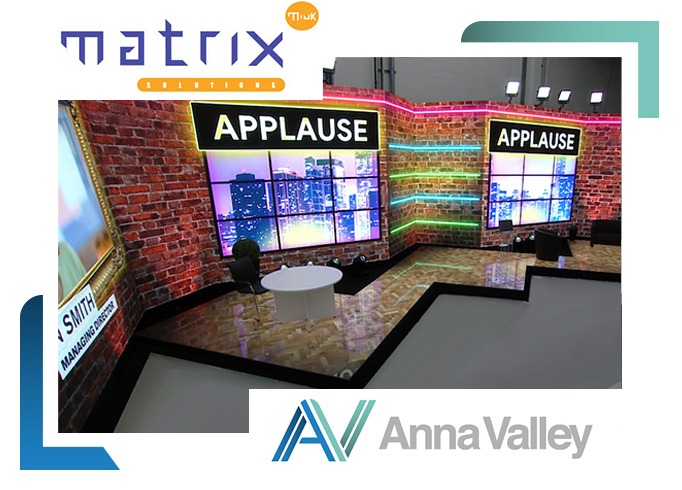 Anna Valley and subsidiary company, Matrix UK Solutions, have teamed up to launch a new studio solution designed to host online events for agencies and corporate clients.  The online event venue was unveiled earlier this week in a live stream that included a full demonstration of the solution's capabilities to an audience of over 200 event professionals.
With high-res LED backdrops and flooring, broadcast-standard production quality and a range of interactive elements, the solution is ideal for product launches, conferences, training sessions and internal communications.  Clients can host their online events from Anna Valley's 42 000 square-foot facility in West London which includes a fully functional and socially distant gallery as well as additional capacity for extended reality and chroma key sets, or have a customised solution built at a venue of their choice.
Some of the capabilities that the online event studio provides include:
Changing set backdrops at the click of a button.
Adapting configurations to present keynotes, host panel discussions and more.
Incorporating broadcast-quality live feeds.
Presenting dynamic graphics and charts as part of the set design.
Keying in backgrounds to make it look like remote participants are in the same space as your presenter.
Creating vast sets in small spaces with extended reality.
Introducing interactivity through polls, Q&A and audience votes.
"We put this solution and the live demo together in response to client requests for high-end, online event experiences," said Anna Valley MD, Peter Jones. "With our heritage in broadcast and reputation for providing live event and entertainment technology , we're ideally suited to helping event professionals  reinvent their physical shows as digital experiences."
Click here to view the live demo of the online event studio.