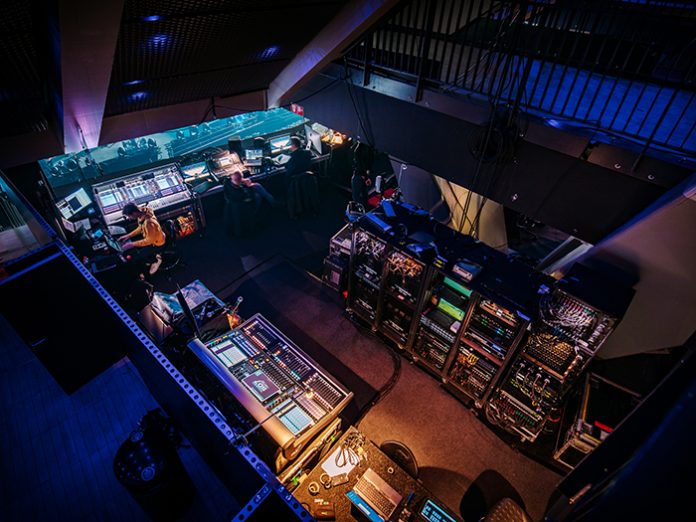 Eurovision Song Contest 2021 took place at the Rotterdam Ahoy in May, where winners Italy triumphed over the other 25 finalists with their song Zitti E Buoni performed by Måneskin. Due to COVID-19 restrictions the audience in the venue was limited but a huge Europe-wide TV audience of over 180m watched the event live, courtesy of the host broadcaster NPO/NOS/AVROTROS on behalf of EBU.
Utrecht-based Ampco Flashlight were the ESC's official technical supplier for audio, lighting and rigging, working with Erwin Rintjema, ESC's Head of Production, who was responsible for the whole technical production this year and Jeroen ten Brinke, ESC's Head of Live Sound.
Ampco Flashlight's Remco Verhoek was their Project Manager, Audio, for the event and he describes the role which Newton played in their system design: "Newton was used as matrix mixer to sum all the mixers to the PA feeds. There were two DiGiCo Quantum7s and two Yamaha CL1s, matrixed into a number of feeds outputting over Dante – on the other end we converted back to AES and analogue via LM44. All desks had AES and analogue outputs into the Newton with its failover feature enabled."
He added: "The PA consisted of a mixture of L-Acoustics K1, K2, KS28 and Kara in a total of 16 hangs spread across the Ahoy venue. Control of the Newton was done via a Mac Mini that resided in the control rack."
Ampco Flashlight purchased its first Newton units shortly after its launch in 2018 and have built dedicated drive racks equipped with Newton for use at all their festivals and indoor shows, including North Sea Jazz, Lowlands and Down The Rabbit Hole Festivals, Vrienden van Amstel Live and many others.