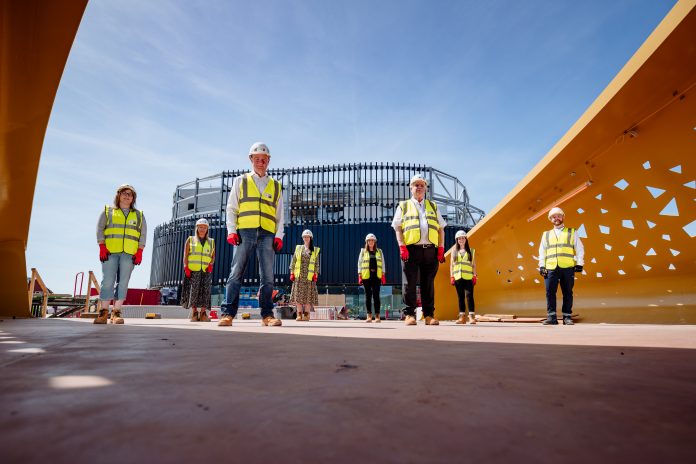 Ambassador Theatre Group (ATG) has announced the appointment of four key roles within the venue management team at the new Swansea Arena. 
The senior roles of Head of Marketing & Sales, Operations Manager, Technical & Building Manager and Conference & Events Manager at the new 3,500 capacity indoor arena have now been filled and hugely experienced General Manager, Lisa Mart has assembled a supporting management team that will lead the venue through to opening and beyond. 
Joining the team as Technical and Building Manager is Keith Powles, an award-winning Technical Manager, having previously honed his skills at some of the UK's leading music venues such as Thekla, Bristol, and Rock City, Nottingham. With almost 20 years' experience in live music and entertainment, Keith has worked with a range of top 20 artists and bands, developing his skill set across all sizes of venue as well as large scale festivals across the UK and Europe. Keith is also well known within the Swansea music scene and being from the area, brings vital local knowledge to the team.
Powles said: "Without a doubt this is one of the greatest opportunities I have ever been presented with. Over the short time I've been with ATG, I have seen how much they have invested into Swansea Arena and Swansea as a whole. I feel privileged to be part of such a progressive and motivated team, and I'm excited for what the future holds at the arena."
With a marketing career spanning over 20 years, Vicki Francis, the newly appointed Head of Marketing & Sales for Swansea Arena, brings with her a wealth of knowledge and experience from consumer focused businesses to the role, most recently as Head of Marketing for S.A.Brain & Co.
Francis commented: "I am thrilled to take on the role for ATG at Swansea Arena. As a passionate Welsh person, I am proud to be involved in such a transformational project; the flagship of Swansea regeneration, which will bring a welcome boost to the area and local economy. I'm excited to be part of a talented and inspiring team at ATG, bringing a fantastic programme of sought-after music, comedy and theatre to the city, giving people a great reason to visit Swansea. I'm also looking forward to seeing how the first-class event and conference facilities can support and shape business, at the heart of the community." 
New Operations Manager Lara Caple-Harding has over 10 years' experience working with ATG in various customer facing roles, including Front of House Manager for the New Wimbledon Theatre. Most recently she has worked as the Visitor and Events Operations Manager for Central Saint Martins, part of University of the Arts London. This extensive experience in the planning and management of large-scale live performances, arts and events has resulted in Lara becoming an accomplished Operational Manager, with a creative mind and keen eye for detail.
Caple-Harding added: "I am delighted to return to ATG, undertaking the role of Operations Manager for the brand-new Swansea Arena. It's a privilege to join the team and an exciting opportunity to work on such a wonderful project for the city and its community. I look forward to delivering fantastic live performances and events from this very special arena."
Sophie Humphreys will be Joining Swansea Arena from mid-July as the Conference & Events Manager; a commercial hospitality specialist with over 10 years' experience in the industry including global hotelier, Hilton Hotels & Resorts where she worked across provincial, city centre and regional roles. Sophie is an analytical and innovative thinker with extensive training and experience in conferences and events of all sizes and styles. 
"I am truly excited to be joining the ATG team at Swansea Arena during one of the most exciting UK regeneration projects in recent years!" Humphreys exclaimed.
Swansea Arena General Manager, Lisa Mart said: "Recruitment for this team was incredibly difficult due to the large number of high-quality candidates and the fantastic interest from industry professionals across the UK and abroad! I couldn't be happier with the four people we have brought together; we have a great mix of skills and knowledge across music, hospitality and events and feel confident we now have everything we need to move the venue forward. I know the people of Swansea and beyond are impatient for us to crack on and start working on our offer to them and this is where the fun bit starts… we have a lot of work to do!"
Cllr Robert Francis-Davies, Swansea Council's Cabinet Member for Investment, Regeneration and Tourism, said: "The appointment of the new ATG management team for Swansea Arena is yet another step forward for the attraction, with its construction due for completion this autumn as part of the Copr Bay phase one district being led by the council.
"ATG have assembled a world class team that will ensure the Swansea Arena, once operational, is one of the best of its kind. These high-value jobs add to the 2,000 local construction jobs created during the build of Copr Bay phase one so far, and are among 600 full-time jobs the district will accommodate when it's up and running. This will accelerate Swansea's economic recovery from the pandemic, while helping attract even more jobs and investment to the city in future." 
The newly assembled venue management team is expected to host 160 performances across music, comedy, esports, sport and conference events for an estimated 230,000 visitors each year.
The development of the Arena will be a significant landmark within Swansea's city centre and its £135m transformational Copr Bay Phase One project, which is being delivered by the Council working alongside development manager RivingtonHark. Once complete, it will comprise the brand-new 3,500 capacity indoor arena and conference centre – next to Swansea Marina – as well as new independent restaurants, city centre apartments, a 1.1-acre coastal park, two new multi-storey car parks, and a new 'gateway' landmark pedestrian and cyclist bridge over Oystermouth Road, to provide a seamless passageway connecting the revived city-centre to Swansea's Marina and its famed coastline.
Swansea City Centre is one of the largest urban transformations currently being delivered in Europe; over £1bn is being invested across the city, allowing Swansea to realise its potential to be one of the most vibrant places to live, work, visit and study in the UK.
The arena also forms part of the Swansea City and Waterfront Digital District project which is being part-funded by the £1.3bn Swansea Bay City Deal.