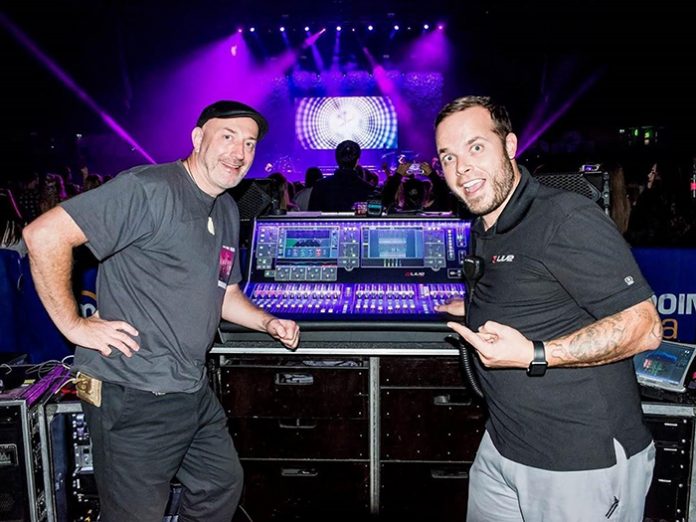 Allen & Heath is celebrating global success with its flagship dLive digital mixing system, which has been specified by many engineers on international riders over its first season, culminating in over 150 touring PA rental companies investing in the product worldwide.
"dLive has turned a lot of touring engineers' heads with its smart, customisable workflows and stunning FX and DEEP processing plug-ins. The 96kHz sampling rate, plus dLive's potential for expansion and integration make it a no-brainer," explained Leon Phillips, Allen & Heath's live sound & touring evangelist.
Artists including Fifth Harmony, Ceelo Green, Jamie Lawson, Travis, Bring Me The Horizon (BMTH), Edward Sharpe & The Magnetic Zeros, Morrissey and AIR, have all toured the globe with dLives this year.
David 'Milky' Millward, Morrissey's FOH Engineer commented: "Touring with the dLive S3000 system for the first time has been a totally enjoyable experience."
"Over the past three months, I have moved between DM64 and 48 racks and to every size surface and my show file has transitioned seamlessly. The addition of pre-amp modelling in the latest firmware update is excellent, I began using it straight away," adds Jared Daly, Monitor Engineer for BMTH.
The first tour of the year to carry dLive was renowned trance group, Above & Beyond, which visited a variety of venues across the globe, including the prestigious Hollywood Bowl, the Sydney Opera House, and London's Royal Albert Hall. Monitor Engineer Tom Howat requested the system for its large channel and mix capacity, and the ability to mix 'wide-screen' to a demanding number of musicians on in-ears and ME-1 personal monitors. Another indicator of dLive's capability, was the technology-intensive Soulwax tour, where two systems managed FOH and Monitors, equipped with MADI, Waves and Dante networking options.
With over 150 PA companies investing in dLive, notable members of the rental network include Rat Sound, VER and Clair Global in the USA, SSE Group in the UK, Ampco Flashlight in The Netherlands, Media Resource Group, TDA Rental and Freaksound in Germany, Sistemas Y Servicios de Audio G. R. in Mexico, Biggsounds in Australia, EZSHOW in China, Sound & Light Professional in India, and TPP in Singapore.