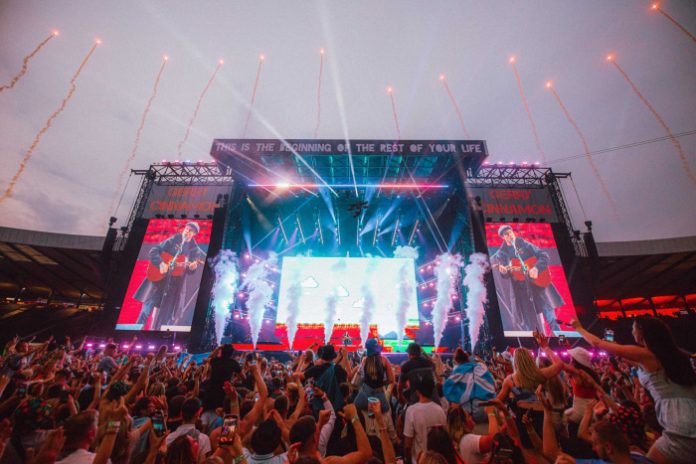 Scottish singer-songwriter Gerry Cinnamon's Production and Lighting Designer, Pete Hutchison of Illumination Creative Design, knows all about Cinnamon's determination to entertain every member of his audience and give each and every one of them an unforgettable experience, whichever part of the stadium they are seated in.
"This Is The Beginning Of The Rest Of Your Life is a maxim which forms a big theme for Cinnamon and outlines his intention to bring the party to his fans. His set and lighting are designed to deliver big moments, which include lots of pyrotechnics, video and lighting effects, and are based on an open design which renders the performer highly visible to all," he began.
From an artist's perspective, Cinnamon likes a lot of haze coming off stage to create that big party look. "He wants to see beams go right out into the back seats as an extra element to keep everyone involved and part of the show, no matter where they are. You need to chuck a lot of haze out to achieve that! It helps that we had some really excellent stadium hazers from MDG!" said Hutchison who toured with four MDG theONE dual haze and fog generators to help realise his design to its maximum potential. 
"theONE is absolutely incredible," he said. "The volume of haze they produce to fill the whole stadium, yet without making the stadium feel 'smoky' an important factor for the audience and artist was unbelievable."
theONE generators were positioned on the floor at stage left and right, and upstage either side of centre stage. "We had two days of pre-production at the Hampden Park stadium, and an extra programming day in advance of the shows, but no matter how bad the weather was, we still got a phenomenal amount of haze across the stage and stadium," he confirmed.
TheONE generators were supplied by Adlib, who has collaborated with Hutchison for Gerry Cinnamon's tours since the beginning of his rise to fame. "It's hard to pay a compliment to theONE," said Adlib Head of Lighting and Video, Tom Edwards. "How do you say anything other than it's possibly 'the best hazer in the world'! It's called theONE for a reason! The fact that we never have to talk about them or worry about their performance on a stage as large as this, outdoors in the Scottish weather, speaks volumes! The stage is 22m tall and 30m wide but we never once struggled for haze." 
Hutchison added: "They gave us enough haze during the day for beams to cut through and never struggled for beam looks in either daytime or dusk. And they are reliable – they just turn up and they work!"
This is the first time Hutchison has used theONE and they definitely did not disappoint: "I'll absolutely be taking them on any outdoor gigs I do from now on," he concluded. "They were fantastic!"