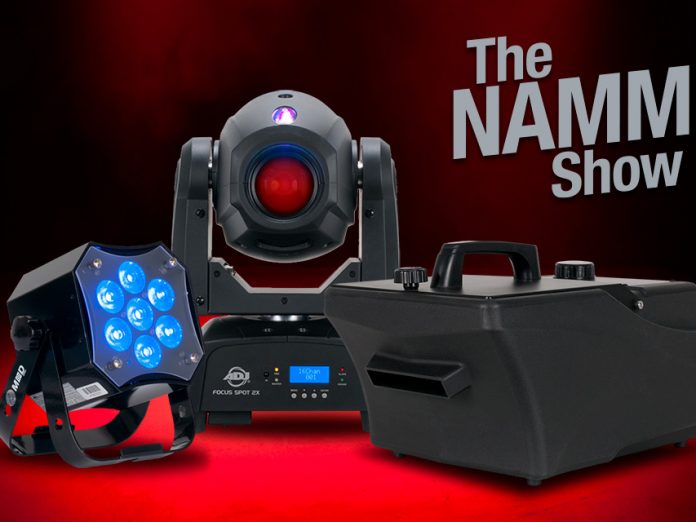 Following a stellar 2019 for entertainment lighting, LED video and effects equipment manufacturer ADJ, the company is preparing to kick off the new decade with a significant presence at the 2020 NAMM exhibition in Anaheim, CA. Taking place later this month, The NAMM Show is a global event for music, sound and entertainment technology professionals that ADJ will use to debut new products as well as showcase many best-selling fixtures from its existing range.
Officially launching at NAMM 2020, ADJ's new MDF (Magnetic Dance Floor) System is a robust, lightweight and extremely easy to setup portable LED dance floor solution. Each panel (MDF2) features an array of 3-in-1 RGB LEDs that cause its opaque tempered glass surface to glow intensely in an almost limitless selection of vibrant colors.
The panels fit together quickly and easily thanks to an innovative magnetic locking system as well as a convenient cable-free power and data transmission arrangement that connects adjacent units in a row. Power and DMX control is then supplied to each row via a dedicated power ramp (MDF2PR) which features 3-pin DMX input and output sockets alongside proprietary 4-pin 24V DC power connections.
Power is supplied to the system by a choice of dedicated power supply units designed for use with different quantities of panels (9, 15, 20 or 40), while a complete range of accessories is also available. Thanks to its easy-to-setup design, the MDF Series is ideal for temporary event use by mobile entertainment and AV production companies. However, it is also suitable for permanent installation in nightclubs and bars looking to create a uniquely eye-catching dancefloor. The panels and accessories are all available individually, but can also be purchased in a pack of 9 panels (MDF433) complete with all cables, ramps and a flight case.
Also making its exclusive debut at NAMM 2020 will be ADJ's new Entour Chill high-output low-lying fog machine, which uses standard water-based fog juice and ice cubes to generate an effect similar to that of dry ice. This latest addition to the Entour range of professional DMX-controlled effect generators builds on the success of ADJ's immensely popular Mister Kool low-foggers, with enhanced technology to allow for increased output. A newly-developed 800W heater system allows for continuous output for up to an hour, while sophisticated new electronic temperature control lets the machine heat up in 3 minutes and stay at optimum temperature ready for immediate firing of the effect when it is required.
Featuring an intuitive menu system accessed via a backlit 16-character LCD display, the unit is easy to setup for DMX control, remote control (sold separately), timed intermittent operation or immediate continuous output. Housed in a rugged, fire-resistant plastic case, the Entour Chill is ideal for use on theatrical productions and concert tours as well as by mobile entertainers and event companies.
NAMM 2020 will see the launch of the latest addition to ADJ's range of wireless LED up-lighters, the Element ST HEX. Building on the success of ADJ's popular Element Hex, the new model features an extremely compact design as well as a full-colour touch screen display for extremely easy setup and DMX addressing.
Utilising the power of 4 x 6-Watt RGBAW+UV LEDs to generate a powerful wash of color with a 20-degree beam angle, the fixture features a built-in rechargeable battery that offers up to 8 hours of continuous operation as well as ADJ's WiFLY EXR wireless DMX connectivity. Cleverly designed with a built-in variable-angle kick-stand and convenient carry handle, the unit is ideal for production companies, décor specialists and mobile entertainers.
ADJ will also use NAMM 2020 to showcase the new Focus Spot 2X, which builds on the immense popularity of the original Focus Spot Two moving head fixture. With increased brightness thanks to an upgraded 100W LED engine, the new model inherits all of the award-winning features of the original fixture alongside the addition of a second 6-facet prism to give lighting designers even more creative potential. It's impressive lineup of beam shaping tools include motorized focus, 8 dichroic colours + open white; 6 rotating, indexed and easily replaceable GOBOs; manual zoom (for a beam angle of 16 ~ 19-degrees) and both circular and linear 6-facet prisms. As an added bonus, the Focus Spot 2X is also equipped with a separate 3W UV LED.
This is independently controllable and means that the fixture can also be used to bathe a stage or venue with atmosphere-enhancing ultraviolet light. The fact that the fixture offers this 'blacklight' effect – which causes white and fluorescent clothing and décor to glow impressively – is just one of many features of the Focus Spot 2X that set it apart from other competing moving heads.
The company's NAMM 2020 booth will also feature the MOD STQ, which is the latest addition to ADJ's range of LED-powered par-style wash fixtures. This professional lighting tool offers a winning combination of punchy output, compact size and versatile design, which makes it ideal for a wide variety of applications. Harnessing the power of seven 8-Watt RGBW LEDs, for a total output of 56W, the fixture has a narrow native beam angle of 17-degrees. This allows it to generate tight shafts of light that are ideal for uplighting and truss warming.
However, the unit is also supplied as standard with three frost filters that can easily be applied to widen the beam angle out to 20, 40 or 60° when required. The MOD STQ has a distinctive design with a black gloss finish and is both lightweight and extremely compact. It has a robust metal construction and is fitted with a versatile scissor yoke that can be used either as a hanging or floor-mounting bracket. It is therefore ideal for use by rental, production, décor and entertainment companies, as well as for permanent installation in churches, clubs, bars, lounges and fun centers.
"2019 was an important year for ADJ as we cemented ourselves firmly in the broad middle market of the professional entertainment lighting, video and effects industry," commented ADJ USA's National Sales Manager, Alfred Gonzales. "Capitalizing on our 35-year heritage and reputation for product reliability and good customer service, we expanded our range to cover every lighting, LED video and effects requirement of production companies and rental houses as well as nightclub, entertainment center and church installers. A particular focus in our product development was IP-rated fixtures, and we now offer a full line-up of beam and wash moving heads, as well as static washes, blinders and LED video panels, that can be used for events both in and outdoors, regardless of the conditions. These products will feature heavily on our NAMM 2020 booth, alongside our new product launches and other recent additions to our catalog."
Other recently launched fixtures that will take pride of place on ADJ's NAMM 2020 booth include the powerful Vizi Beam 12RX moving head beam fixture, the Pixie Strip Series of pixel-mappable RGB LED strip units as well as the Encore Profile Pro WW and Encore Profile Pro Color professional-caliber LED-powered ellipsoidal fixtures. The new Vision Series of LED video panels, which are available in a variety of pixel pitch options that are all both front and rear serviceable, will also be on display alongside the recently announced additions to the top of ADJ's Focus Series. The extremely powerful and feature-rich Focus Spot 5Z and Focus Spot 6Z moving head spot fixtures will be showcased alongside the Focus Wash 400, which is the first wash fixture in the range, utilizing a 400W HEX LED engine (red, green, blue, amber, cyan and lime) positioned behind a large Fresnel lens that generates a completely even homogenized output. The full Hydro Series of IP-rated moving head fixtures will also be on display, including the latest addition to the range, the extremely powerful Hydro Wash X19.
The NAMM Show takes place at the Anaheim Convention Center in Southern California, January 16 thru 19, 2020. On the ADJ booth – #11233 – not only will the company's latest products be on display, but the knowledgeable ADJ team will be on hand to provide demonstrations, offer useful advice and answer specific questions.
To learn more about all the products that ADJ will have on display at NAMM 2020, visit: www.adj.com/products/trade-shows/namm-2020