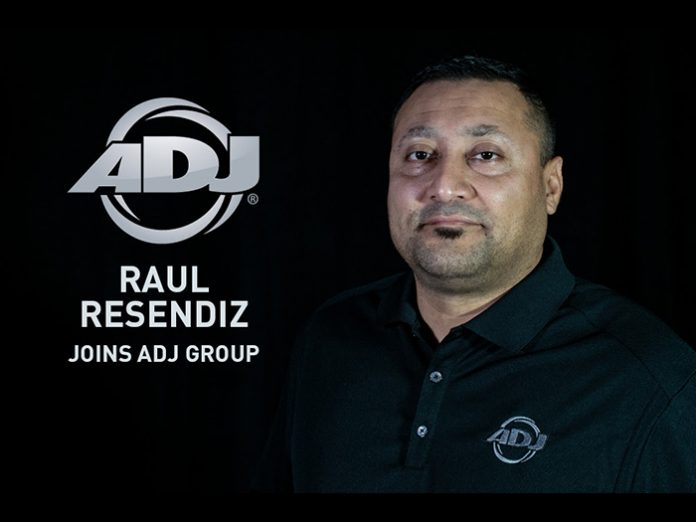 The ADJ Group of Companies appoints MI veteran, Raul Resendiz, as Product Specialist for ADJ Lighting.
Resendiz will work directly with company staff, dealers and end users with ADJ's growing line of technical products in ADJ Products, American Audio, and Accu-Cable.
Southern California native, Raul Resendiz, has been in the MI industry nearly two decades in roles as the technical specialist, field trainer and sales manager at Guitar Center, M-Audio, PreSonus, and most recently at Roland USA.
"I'm a total gear head," admitted Resendiz. "I'm passionate about current and emerging audio, video and lighting technologies. I've used ADJ Lighting gear for years, so working here is a natural fit for me. I love learning about new gear and then teaching others how it can enhance their business."
Resendiz's primary responsibilities will be to work hand-in-hand with ADJ's sales and R&D departments to help train staff members, regional representatives, authorized dealers designers and end users about ADJ's emerging technologies in video walls, moving heads and stage lighting. He will attend trade shows, ADJ Road Tours, retail stores and other educational forums offering technical training.
ADJ USA's National Sales Manager, Alfred Gonzales is pleased to have Raul join the ADJ family.
"I'm excited to have the calibre of talent that Raul brings with his two decades of technical experience. He will be a huge addition to our team as he educates lighting users about ADJ's growing range of products; specifically with our expansion in the categories of video walls, moving heads and stage lighting."
Resendiz joined the ADJ team on 11 September 2018. He will be on hand at the company's booth at LDI 2018 in Las Vegas, Nevada from 19-21 October 2018.