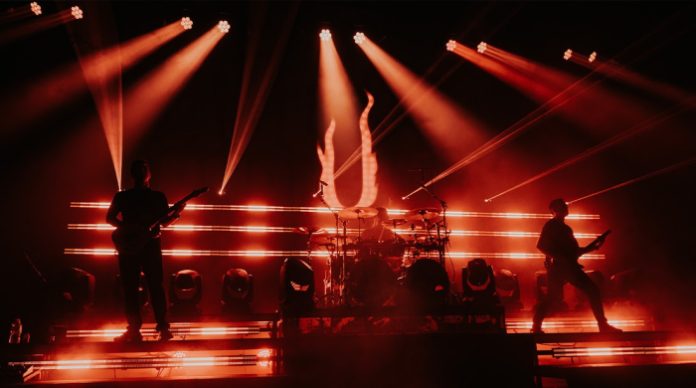 August Burns Red is currently touring the US and Canada in celebration of its 20th anniversary. At the heart of Lighting Designer, Carlos Katsurayama's rig for the shows is a wall of 32 ADJ Jolt Bar FX LED wash/strobe fixtures, which provides a flexible backdrop to the band's high-octane performances.
Arranged in five continuous rows, which frame the musicians' performance space, the Jolt Panel FX fixtures are used as the visual anchor for the production, generating a wide variety of distinctly different effects throughout the band's energetic one and a half hour headline shows.
Katsurayama began working with August Burns Red in early 2020, although only managed three shows on that Spring's tour supporting Killswitch Engage before it was abandoned due to the COVID-19 pandemic. Fortunately, Katsurayama made a good impression during that brief window, as the collaboration continued when touring was able to resume and he designed the lighting for all of the band's subsequent shows.
"The guys in the band pretty much trust me entirely at this point," confirmed Carlos, "They know that I understand their aesthetic and what they're going for. For the past couple of tours, we'd used set carts. They were pretty cool, as we could reconfigure them in different ways, but this time I wanted to do something different. I felt like I was seeing a lot of set carts and pre-rigged truss, so I felt that for this tour I needed to do something big aesthetically with a build, and that led to the massive wall of Jolt Bar FX fixtures."
A large linear LED fixture, the Jolt Bar FX offers output as well as the creative potential of bright white strobe/blinder LEDs combined with multi-zone colour wash LEDs in one unit. It features a central strip of 112 5W cool white SMD LEDs, surrounded on both sides by a total of 672 0.3W RGB colour mixing SMD LEDs. This allows the same fixture to generate white strobing effects as well as colour washes. Both types of LED are grouped into independently controllable zones (16 white and 32 colour), which means the unit can also be used to generate strobe chases and other 'eye candy' effects. With a wide 116° beam angle and immense light output, the Jolt Bar FX will make a big impact wherever it is used.
"On a number of previous tours, for various different artists, I'd used a similar, smaller product that has motorised tilt and is very well known," commented Katsurayama. "However, I realised that I was almost never using the tilt function, but I always wanted more – in terms of width – than my budget would allow. I'd be like, 'can I have twelve of 'em' and I'd be told, 'no, you can have three for the budget'! We then did a show on a secondary run last summer where the house rig in one of the venues had some ADJ Jolt Panel FX fixtures and I was incredibly impressed. They are super bright and have really nice RGB pixels as well as insanely bright white LEDs. Right away I told the guys in the band they should buy some of the linear version, and they did!"
August Burns Red invested 12 Jolt Bar FX fixtures, which they plan to use as part of their floor package for festival shows. However, for the 20th Anniversary headline tour Carlos wanted to go big! His design features a total of 32 fixtures which are arranged in continuous vertical lines. Two separate pairs of fixtures sit beneath decks positioned at either side of the drum riser, while three complete lines of eight fixtures – mounted end-to-end on an upstage pipe and base grid – run the length of the set, providing a versatile backdrop for the band. The extra fixtures for the tour were supplied by Squeek Lights in New Jersey, which invested in a substantial quantity of Jolt Bar FX fixtures for its rental department last summer.
"The idea of the Jolt Bar FX is very cool," enthused Katsurayama. "It is really two fixtures in one! The RGB and the white LED elements are two completely separate things and when you dissect them and put them into different groups in your console it's like working with double the number of fixtures – the possibility of looks you can create are pretty much limitless!"
The LD first used them for Christmas Burns Red, a festive mini festival hosted in the band's hometown of Lancaster, PA. For those shows, he used the fixtures in a low channel mode. "They looked great but during the programming for this tour I bumped them up to the full 126-channel mode and realised they are really quite special. I was able to create a wide variety of different looks by selecting different subsets of fixtures."
The band is very technical, playing in a variety of different time signatures, and Katsurayama describes his programming as literal – using the Jolt Bar FXs to translate musical elements like snare hits visually. "The power of the strobe effect is extremely appropriate for this genre, but I also used the fixtures for more subtle stepped chase effects that added variety and depth to the show. I put a lot of time into the programming, so I was glad it worked out so well and I am very proud of how the show looks."
He added: "It wouldn't have been possible to achieve the look I wanted if it wasn't for the size, brightness, versatility and price point of the Jolt Bar FX. It's also worth adding that we've found them to be very reliable, we didn't have any issues with them on the road as far as durability goes."
Katsurayama's Jolt Bar FX 'wall' provides a visually stunning backdrop for August Burns Red's 20th Anniversary Tour. The fixtures are used extensively throughout the band's performance, sometimes in unison – to create high impact strobe hits or colour washes, at other times split by rows, fixtures or individual sections – to generate 'eye candy' effects perfectly synchronised to the band's energetic and often unusually timed music. The result is an impactful and engaging light show that is as intense and complex as the band's musical performances.