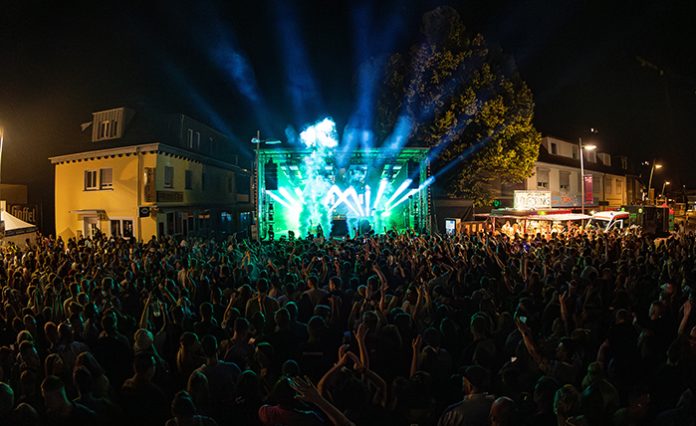 A variety of ADJ fixtures, including 32 moving head beam luminaires and 28 Jolt Bar FX multi-function LED washes were used to illuminate the main stage at Stadfest Monheim in Germany. With lighting, audio and video equipment supplied by local production companies, Creative Sounds Veranstaltungstechnik and LaserFrame, the stage hosted a wide variety of performances and presentations throughout the three-day event, including headline sets from Fedde Le Grande, Joris and Tujamo.
Over the weekend of 16 to 18  June 2023, the city of Monheim am Rhein in Germany hosted its 12th annual Stadfest (City Festival). The free event featured entertainment and attractions for all ages, including a street market with around 300 traders, a showcase of local special interest clubs, and a variety of games such as flamingo-themed mini golf, virtual reality experiences, and a laser course. Erected in the very heart of the city, the main stage hosted an evening party program which ran late into the night. 
On Friday evening, the Monheim am Rhein City Orchestra played classic pop, rock, funk, and soul music as the sun went down. DJs Air Flik and Micha Deutz then took to the decks, playing back-to-back, to warm the crowd up for a headline set from DJ and producer Fedde Le Grand, known for European hits 'Put Your Hands Up 4 Detroit' and 'Let Me Think About It'. The following evening a large crowd enjoyed performances by German singer Joris and DJ/producer Tujamo, supported by local band El Flecha Negra, which opened the show, and DJ/producer Dhali, who ended the night.
Regular collaborators Guido Schütz of LaserFrame and Creative Sounds Veranstaltungstechnik's Patrick Hirt took responsibility for the technical production of the stage, utilising a rig composed predominantly of ADJ lighting and atmospheric fixtures. Their design featured a variety of fixture models in order to complement the different types of performers and a wide variety of musical styles showcased on the stage throughout the weekend. Another key consideration was that some of the performances took place during daylight and therefore fixtures that could be clearly visible before the sun set were required.
A total of 24 Jolt Bar FX linear LED fixtures were mounted to a series of angled trusses that filled the roof space of the stage. In addition, two more of these units were positioned end-to-end and rigged vertically at either side of the stage's rear wall. Each of these fixtures feature a central strip of 112 x 5-Watt cool white SMD LEDs, surrounded on both sides by a total of 448 x 0.3W RGB colour mixing SMD LEDs. This allows the same fixture to generate intense white strobing and multi-colored chase effects. Both types of LED are also grouped into independently controllable zones (16 white and 32 colour), which means the unit can also be used to generate strobe chases and other 'eye candy' effects. These effects were clearly visible on the Stadfest Monheim stage during the day and were truly stunning after the sun had set.
The angled roof trusses were also used to rig 12 Vizi Beam 12RX dedicated beam fixtures, which created a 4 x 3 matrix above the stage. This next generation beam fixture is powered by the brilliant 260W Philips Platinum 12R LL MSD Discharge Lamp, which features an innovative reflector design to generate an extremely high-intensity beam. It is coupled with precision-engineered optics and a large glass front lens to allow the luminaire to generate an exceptionally potent and sharp beam. It offers a razor sharp 2° beam angle and is equipped with a wide variety of beam-shaping tools, including 14 colours + open (with colour indexing), 16 static metal GOBOs + open (with GOBO indexing), two rotating prisms (6-facet linear and 24-facet circular) and a frost filter for wash effects.
In addition, eight Hydro Beam X12 fixtures were positioned along the front edge of the stage. Harnessing the same potent light source and offering the same versatile feature set as the 12RX, this model is part of ADJ's IP65-rated Hydro Series and is therefore protected from water ingress. This makes it perfect for use on outdoor stages in positions, such as the front of the stage, where no protection is provided by a roof covering. At Stadfest Monheim, the fixtures were used to shoot piercing beams up over the heads of the crowd, creating aerial effects which could be seen in the night sky from across the city.
Completing the line-up of moving head beam fixtures, 12 Vizi Beam RXONEs were grouped into two sets of six – one located at either side of the stage – and mounted on top of low trusses positioned behind the performance space. One of ADJ's best-selling fixtures of all time, this extremely compact and incredibly quick moving head is powered by a potent Osram Sirius HRI 100W 1R long life lamp focused through highly efficient optics. It produces a super sharp 3° beam of light capable of travelling up to 100m. The fixture features 14 colours + white, 15 fixed GOBOs + spot, a 21° frost filter, and a 16-facet prism with macros. For Stadfest Monheim they were used to project aerial effects from the back of the stage up over the heads of the performers.
The final ADJ lighting fixtures utilised on the stage were 14 Encore Burst 200 blinders, which were deployed in two sets of seven, one at either side of the stage. This dual lens fixture combines the power-saving and long-life benefits of an LED light source with the classic blinder effect in a flexible modular weatherproof case design that allows it to be deployed in a variety of different configurations. Powered by a pair of 110W warm white (2700K) CREE COB LEDs, with a 50,000 hour average lifespan, it offers a wide 50° beam angle. It is also fitted with an innovative 'Tungsten Mode', which reduces the colour temperature to 1200K at low dimmer settings to emulate the warm glow of filament-based light sources used in classic stage lighting fixtures. This allows it to generate the same effect and comparable, if not brighter, output to traditional blinder fixtures powered by 650W halogen lamps but using a fraction of the power.
In addition to the lighting fixtures, Patrick and Guido also utilised two products from ADJ's collection of atmospheric effect equipment. A pair of Entour Faze compact water-based haze machines were positioned at either side of the stage to fill it with a beam-enhancing atmosphere. Six Fog Fury Jett Pro high-output, LED-illuminated vertical fog machines were also lined across the front of the stage, allowing for high impact bursts of fog to momentarily obscure the performance space and then fill the air above the crowd with clouds that further accentuated the beams created by the Hydro Beam X12 fixtures.
"I think the pictures speak for themselves to show how good the stage looked," commented LaserFrame's Guido Schütz. "We needed a versatile rig to complement the wide variety of performances covering different styles of music and the ADJ fixtures didn't disappoint! The Jolt Bar FX units, in the roof and on the sides of the stage, were real eye catchers thanks to their intense brightness. The Vizi Beam RXONEs across the back made an excellent fan effect, while the Vizi Beam 12RXs in the roof and the Hydro Beam X12s across the front complemented each other perfectly, creating razor-sharp beams that filled the night sky."