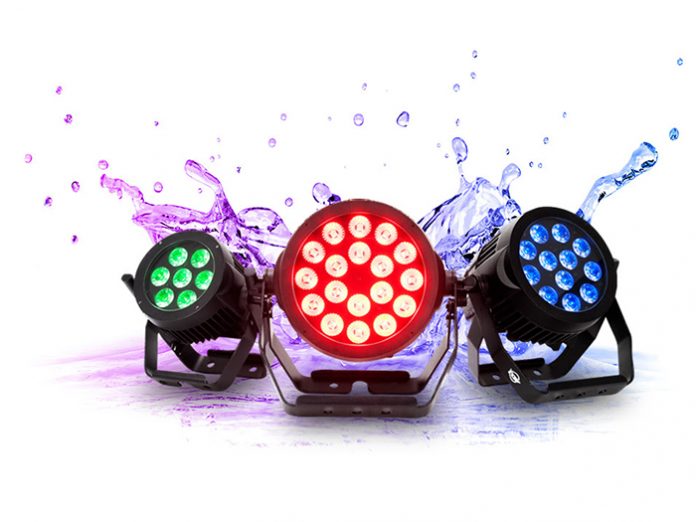 ADJ is pleased to announce the expansion of its popular HEX series of LED pars with the introduction of 3 durable new fixtures that all feature a tough weatherproof casing design.
The 7P HEX IP, 12P HEX IP and 18P HEX IP combine the wide colour palette of HEX LEDs with the flexibility of a robust all-weather IP65 rated casing to create truly versatile professional wash fixtures.
Each of the new pars features powerful 12-Watt hex colour RGBAW+UV (red, green, blue, amber, white + UV) LEDs which allow for a huge gamut of colours to be created. These include both cool and warm white, for stage illumination, as well as UV-infused hot pink, lime green and electric blue.
The inclusion of the UV element also means that the fixture can create the classic 'black light' effect that causes white and neon-coloured surfaces to glow brightly. The LEDs are flicker-free, therefore suitable for filming applications, and offer an impressive operational life of approximately 50,000 hours.
All three fixtures have a 30-degree beam angle, which makes them suitable for a wide variety of duties including stage washing, dancefloor illumination and architectural up-lighting and down-lighting. The 7P HEX IP incorporates seven LEDs, for a total output of 84W, and has a compact casing design that makes it ideal for situations where space is at a premium.
The slightly larger 12P HEX IP features twelve LEDs, giving it a total power rating of 144W, meaning that it is suitable for situations were increased brightness is required but a relatively compact casing is also desirable. Finally, the largest fixture in the range – the 18P HEX IP – features eighteen LEDs, generating a potent total output of 216W, and is ideal for large events and applications that require extremely bright colour washes.
A distinctive all-metal casing design is common to all three models. This incorporates a flexible and robust scissor yoke, which can be locked securely into place using convenient bar-shaped handles and used either as a floor stand or hanging bracket. The casing also has an IP65 rating, which means that it is protected from rain, snow and dust, and therefore suitable for use at temporary outdoor events.
The fixtures feature outdoor-rated powerCON TRUE 1 power input and output sockets as well as weather-proof XLR data input and output sockets. They can be used with water-proof power and signal cables, however, when the fixtures are used indoors standard XLR and powerCON cables can also be used. All four connections feature rubber covers, which can be fitted to prevent moisture entering them when a plug isn't connected, and the units also feature watertight four-button LED menus for mode selection and DMX addressing.
All 3models are pre-programmed with 63 colour macros and can be used in any of five operational modes: Static Colour, RGBAW+UV Dimmer, Program, Sound Active and DMX Controlled. For DMX control they offer a choice of six different channel modes (6, 6+, 9, 9+, 10 and 12) and are also compatible with the RDM (Remote Device Management) protocol that allows compatible DMX control systems to set a fixture's DMX address remotely.
Using DMX control, the fixtures offer variable speed pulse and strobe effects as well as 0-100% digital dimming. They also offer a choice of five different selectable dimming curves suitable for a variety of different applications: standard, stage, TV, architectural and theatre.
Despite their heavy-duty casing design, all three fixtures are relatively lightweight and compact. The 7P HEX IP weighs 7.5 lbs. / 3.3 kg and measures 10" x 6.5" x 9.25" / 256 x 161.7 x 232.5mm (L x W x H), while the 12P HEX IP comes in at 10.5 lbs. / 4.7 kg and 11.75" x 7.85" x 10.5" / 298 x 199.5 x 264mm (L x W x H), finally, the top-of-the-range 18P HEX IP has a weight of 13.5 lbs. / 6.1 kg and dimensions of 13.25" x 9.25" x 11" / 336 x 233 x 279mm (L x W x H).
"The original 5P HEX, 12P HEX and 18P HEX have been really successful for ADJ," comments ADJ USA's National Sales Manager, Alfred Gonzales, "but we wanted to take the range a step further, which is why we're pleased to be launching the 7P HEX IP, 12P HEX IP and 18P HEX IP.
Not only do these durable fixtures offer an IP65 outdoor rating, but they also all share a compact design with nice extruded aluminium cases that are extremely sturdy. This means they are perfect for outdoor use – whether for install or production or even if you want to put them in a rental, they are so robust that they will be able to take the banging back and forth – putting in and out of cases – which is inevitable for rental stock.
With its 12W HEX LEDs, they are also extremely powerful making them ideal for all kinds of situations – both indoors and out – which require potent colour washes."
All three fixtures are available now from ADJ USA, and will be available at the end of June from ADJ Europe.