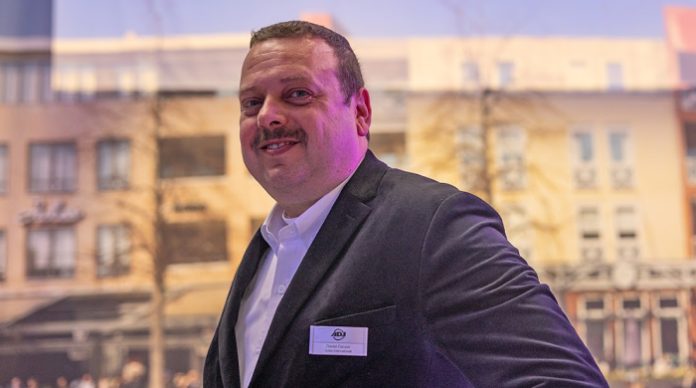 ADJ has expanded its sales team in Germany through the recruitment of industry professional, Daniel Danzer.
With over 25 years of experience in the sales and distribution of entertainment lighting equipment, as well as a long-established relationship with ADJ, Danzer is uniquely placed to augment the company's existing sales force in the country.
Having started in the business in 1994, Danzer has a wealth of experience in all aspects of the audio and lighting industry. Beginning his career – as so many in the industry did – as a mobile DJ, he quickly progressed into event production, systems integration and, finally, equipment sales and distribution. Alongside his early career, Danzer also studied business administration, communications, and marketing, earning an MBA. He was a founding member of the AV Alliance, a global family of event technology and AV rental companies, and has built up an extensive network of contacts – both across his native Germany and around the world. "I have enjoyed a long professional relationship with ADJ, both as a company and with many of its current team members, and I look forward to developing these relationships as I take on this new role," commented Danzer.
"Everyone at ADJ is friendly and works together to deliver the best possible products and service to their customers. I think this is extremely important, as people buy from people they like, so in business personal relationships are exceptionally important. For my part, I will bring to the table many longstanding relationships with production and integration companies in Germany. I am very excited to be joining the ADJ team in 2022 as I think it is a great time for the company. With a history going all the way back to 1985, it has solid foundations in the industry but over the past decade the brand has been completely redefined. It is no longer focused on DJ lighting, but a manufacturer of professional fixtures that are both reliable and affordable, which I know will appeal to my client base in the integration and production markets. ADJ equipment delivers the ROI that today's customer demands, while also offering the necessary performance and reliability backed up by excellent after sales service and support."
Danzer will join current ADJ Sales Representatives, Holger Hensel and Lars Trautmann to provide sales support throughout Germany for both new and existing customers. In terms of developing new business, he will have a particular focus on the systems integration and special projects market, including theme parks, cruise liners and corporate installations.
"Germany has always been an important market for ADJ in Europe, and we not only expect this to continue but to increase further," stated ADJ European Sales Director, Sebastian Mobers. "We therefore want to invest in the region by expanding our local sales team. Daniel is well known to us as a company and exceptionally well connected within the wider industry, and particularly in the German market, which makes him the perfect choice for this position. He brings a great deal of knowledge and experience, meaning that he is ideally placed to provide sales support to our existing German customers as well as to develop new business for ADJ in the region."
Danzer can be contacted via email on daniel.danzer@adjgroup.eu.