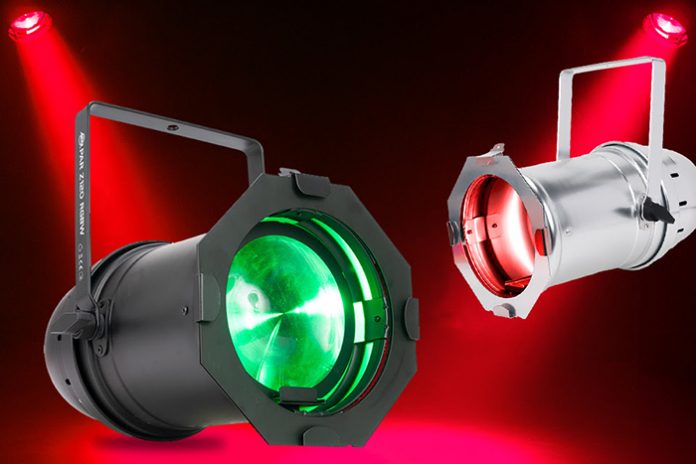 Following the success of the original PAR Z100 series of par can fixtures powered by modern warm white COB LEDs, ADJ has marked the introduction of 2 new models offering RGBW colour mixing.
Providing lighting and stage designers the look of traditional par cans but with the technological advantages of LED light sources, the PAR Z120 RGBW and PAR ZP120 RGBW provide a modern twist on this iconic lighting fixture.
Both models are housed in authentic metal cases that are the same size and shape as traditional PAR 64 fixtures. The PAR Z120 RGBW features a subtle matt black paint finish, making it ideal for inconspicuous stage lighting. The PAR ZP120 RGBW, on the other hand, has a dazzling polished silver finish which makes it ideal for use on stage where the fixture itself becomes part of the set. The units each have measurements of 19.5" x 11" x 9" / 491 x 275 x 224mm (LxWxH) and weigh in at a very manageable 8.5 lbs. / 3.9kg.
Potent 115W quad-color RGBW COB (Chip On Board) LEDs provide the light source for both units. This allows for the creation of an extremely wide gamut of colours, with an output comparable to a 1000W halogen sealed beam par. The LED has a life expectancy rating of 50,000 hours, which means that lamps blowing midway through a show or awkward lamp changes when fixtures are mounted at height are now a thing of the past.
The fixtures both offer the flexibility of variable beam angles, allowing them to be used to create narrow shafts of light or wider washes depending on the required effect. Manual adjustment on the fixture itself allows easy selection between five beam angle options – 7, 11.5, 16 or 25-degrees – while a gel frame is also included which can be used to introduce diffusion filters (sold separately) to further change the beam angle.
On the back panel of each fixture can be found its LED menu, for mode selection and DMX addressing, as well as all of the connection sockets. Professional-calibre locking powerCON input and output sockets allow the power supply for multiple fixtures to be daisy-chained together, while 5-pin XLR input and output sockets allow the connection of a DMX control signal.
A choice of six DMX channel modes – 4, 5, 6, 7, 8 or 9 – allow for varying levels of control complexity to suit a wide variety of different applications. In addition to RGBW colour mixing and electronic dimming (with a choice of five different dimming curves), DMX control can also be used to trigger a variable speed strobe effect.
The PAR Z120 RGBW and PAR ZP120 RGBW join three existing models in the PAR Z Series. The PAR Z100 5K features a 100W white COB LED with a colour temperature of 5700K, while the PAR Z100 3K offers a warm white 2700K COB LED light source. Finally, the PAR ZP100 3K offers the same 2700K LED but housed in a polished silver casing. All of the fixtures in the PAR Z Series offer the same authentic par can casing design, which means that the various models can be mixed within a lighting rig while retaining a coherent aesthetic.
"Par cans have been around for decades and remain an essential tool for many lighting designers," commented ADJ USA's National Sales Manager, Alfred Gonzales.
"However technology has advanced significantly in recent years and it is no longer necessary to use inefficient halogen lamps for stage lighting. That's why ADJ has developed the PAR Z Series of fixtures which house state-of-the-art COB LEDs within traditional par can cases.
He continued: "This allows a classic stage look to be achieved but with all of the benefits of LED such as low power draw, low or no maintenance, reduced heat (making for a more comfortable experience for performers) and no need for bulky external dimmer racks. This concept proved extremely popular with the original PAR Z100 white light fixtures and I am sure that these new RGBW colour mixing models will be equally well received by lighting designers, equipment installers and production companies."
Offering the classic par can look combined with modern COB LED technology, the PAR Z120RGBW and PAR ZP120 RGBW are professional lighting fixtures perfect for a wide variety of applications. They are ideal for installation in theatres, concert venues, churches and nightclubs, while their robust external case design makes them equally suited for use on one-off events and touring productions.