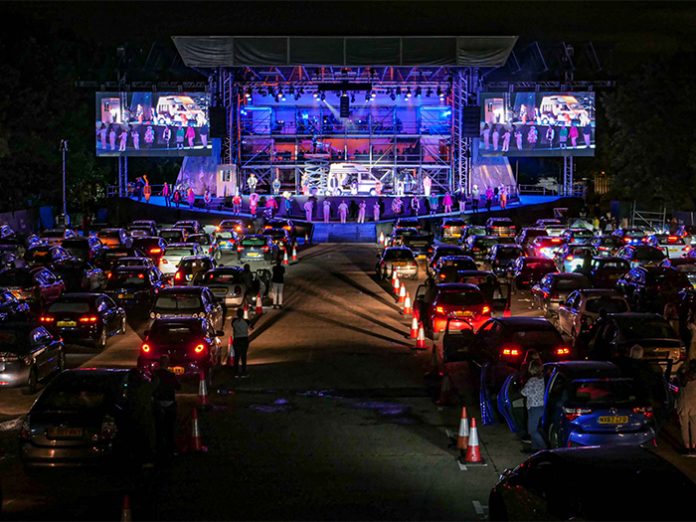 English National Opera (ENO) chose ADI.tv to support them in the delivery of the 'world's first fully staged' drive-in opera, ENO Drive & Live at Alexandra Palace on 19 to 27 September. This ambitious outdoor project saw performances of Puccini's La Bohème take place outside the Ally Pally, providing UK audiences with live opera for the first time since March
Despite the creative and technical challenges of delivering fully staged performances beyond their usual venue, ENO in partnership with ADi.tv achieved the huge feat of transforming Alexandra Palace's car park into a fully featured outdoor theatre on a vast scale. ADI.tv provided a complete event production solution, incorporating staging, structures, LED screens, lighting, OB and cameras.
The production was met with critical acclaim with the 16 live performances hosting many sell-out audiences. Attendees were able to enjoy the spectacular and emotive experience from their vehicle, Uber box or bike, with performances taking place both on stage and on the ground in order to put opera fans at the heart of the action. The production was also broadcast live on Sky Arts on the 23 September.
Given this was ENO's first foray into large-scale outdoor productions they commissioned ADI to apply their expertise and turn a vision into reality. It was essential to retain the exceptional production values created at the London Coliseum, and reimagine them for a 'drive-in' audience. To achieve this ADI worked closely with ENO's Technical Director, lighting director, stage designer, audio designer and production managers to design and build a raised stage solution – featuring high resolution 4.6mm 45sq m LED screens on the wings to offer image magnification and coverage for up to 100 vehicles.
ADI and ENO explored a several options including delivery over Bluetooth via an app for audio, but eventually decided on the traditional drive-in solution of delivering over radio signal to individual cars. This was supported by an onsite 5.1 audio system which covered the whole car park to ensure an impeccable aural experience from every corner of the venue.
The 385m stage was designed with integrated ramps to allow multiple vehicles – including vintage VW camper vans and convertibles – to drive on and off stage as part of the performance, while a separate double-storey structure was incorporated upstage to host the award-winning 40-person ENO orchestra. The staging also needed to support the two large LED displays, PA solution and full theatre lighting rig, including moving heads and LED batons.
While the stage itself was the largest structure at over 15m high, ADI also co-ordinated the build of two-storey towers either side of the auditorium and in the front of house position. These housed follow-spots directed at principal performers on stage, with the FOH tower hosting cameras, audio and further lighting fixtures.
ENO Orchestra, chorus and principal singers used microphones which broadcast direct to the audience via a wireless sound system. The outside broadcast solution from ADI was extensive, with a team of directors, engineers and camera operators creating a live screen mix for the large LED screens in the wings, and also delivering video feeds to the Sky Arts OB team for their live broadcast.
In the auditorium and FOH towers three broadcast cameras with box lenses were able to cover the distance to the stage and deliver close-ups, while three GoPro's were fixed into some of the stage vehicles to show footage from the view of the performers. An RF system camera was also provided for one of the cast members throughout their performance, who played the role of a filmmaker. This footage was integrated into the TX feed – managed from ADI's OB unit – and broadcast live on the LED screens to the audience.
English National Opera's Technical Director, Matt Noddings, commented: "It was clear from the outset that ADI understood what we wanted to achieve, and they were both enthusiastic and knowledgeable in their support for ENO making this tremendous statement for the live arts sector. Moving production from the London Coliseum to a car park could have been quite daunting, but thankfully that wasn't the case! The ADI team have been brilliant to work with and helped make a challenging concept achievable and seamless for ENO, culminating in spectacular live performances that were incredibly well received by audiences, media and the wider industry."
ADI Business Development Manager, Harj Virdee, said: "In spite of the current landscape for the Arts and live events sector it's fantastic to help bring a world-first project to life, and to do so with such a respected company like ENO. ADI's outdoor event and technical expertise has helped achieve ENO's creative vision and bring the joy of live opera back to UK audiences at such a critical time. We've been able to support them by taking the role of technical production partner to deliver an all-encompassing solution across multiple elements of the event, and we're thrilled it's created a resounding success for ENO."
Head of Technical Solutions, Dave Crowther, stated: "ADI supported ENO in successfully translating a fully-staged operatic production to a drive-in format.  They've been brave enough to really push the boundaries for Opera, which is a hugely positive story for the industry as a whole, at time when it's been terribly affected by the COVID pandemic.  We've worked closely with ENO over a number of months to evolve this concept and it's been fantastic to see it come together so successfully."
He concluded: "This has been an opportunity to showcase the project management capabilities we have at ADI – we've taken responsibility for the complete event production, including not only the LED element we are traditionally known for, but staging, structures, lighting and event broadcast.  We're fortunate to have brought together a great team of people so it's been a real pleasure to work on and ENO have been a wonderful client to work with."