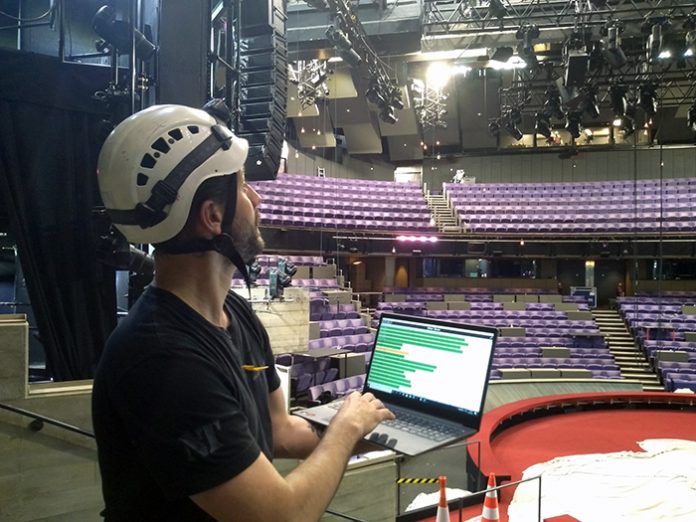 Looking for a robust and flexible method of load monitoring across their three indoor spaces, the National Theatre, London, have recently invested in a Kinesys load measuring system to help them monitor their loads more carefully and add an additional level of safety.
Since its opening in 1963, the National Theatre has produced well over 800 plays, staging a broad range of productions in London as well as touring extensively across the UK and internationally. Their wide-spread nationwide learning and participation programme supports creative education for young people through performance and writing programmes. In addition, their programme of talks, events and workshops opens up theatre to people of all ages. They pride themselves on making world-class theatre that is entertaining, challenging, inspiring and for everyone.
National Theatre Stage Resources Manager, Mike Rungen commented: "After looking at a number of systems, we decided the Kinesys LibraCELL was the product for us. Having had experience of working with Kinesys products on a variety of projects previously, I was confident in its reliability and functionality. We have ongoing monitoring requirements over extended periods, and have found that the use of a wired system eliminated the need for battery replacement. We also liked the zero loss of rigging headroom thanks to the shackle construction and the ability to transmit the monitoring data over a Wi-Fi network to allow remote access within each space."
The National Theatre purchased their Kinesys system from leading entertainment technology supplier, A.C. Entertainment Technologies (AC-ET). In addition to the LibraCELL system, AC-ET also supplied a Kinesys DigiHoist Controller and bespoke cabling from Tourflex Cabling to compete the system.
Rungen continued: "From the initial contact with AC-ET's Ben Steppenbeck, it was evident that he had an excellent working knowledge of the product range and its practical applications, this made it easy to ensure that we had all the necessary equipment for what we needed to achieve. The short lead time between order and delivery meant that we were able to install earlier than expected which helped with familiarisation of the system for the end users in the venues."
Steppenbeck commented: "It is great to see such a major venue investing in the additional level of safety that load monitoring brings. The Kinesys system will give a clear view of loads, providing peace of mind for staff and visitors alike. It was my absolute pleasure to help Mike find their ideal solution and I am delighted these products ticked all the right boxes for this venue."
Rungen concluded: "With the system now in operation, we can more accurately monitor the loads imposed on both the structures and the lifting equipment, ensuring that our load estimations are reasonable and that loads in multi-point lifting operations are distributed evenly, adding an additional layer of safety to operations at the National Theatre."