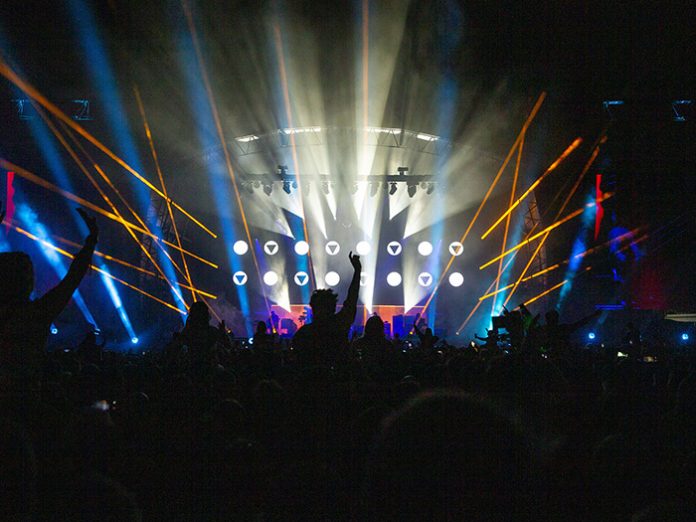 Ahead of their London's O2 arena show scheduled for November, New Order played two one-off, outdoor shows recently – the first at Piece Hall in Halifax, followed by a hometown show two days later at Manchester's Heaton Park. Lighting Designer, Andy Liddle – who celebrates his own landmark of 40 years as the band's LD this year – specified 66 Robe MegaPointes, supplied by Siyan, on the rig.
MegaPointes were rigged on three overhead trusses above, below and around the sides of the screen, with another row upstage on a low truss. In a show characterised by heavy and dramatic back lighting, Liddle said: "I relied on MegaPointes for absolutely everything in terms of effects, expression and power."
The LD specified MegaPointes as the one moving light fixture for this design, triggered by memories of shows in the '80s when – if you were lucky enough to have the budget – you only had the choice of one type of moving light. "Having the one fixture also made programming hugely easier and more expedient in the short timeframe we had available as I could do all the palette work simultaneously," he explained. "Robe kit is always reliable, well-built and offer a lot of imaginative scope." 
The aesthetic of both outdoor shows derived from a 2015 design with five arrays of upstage video wall, now condensed into one 4:1 ratio panoramic screen showing a range of video content that matched with Siyan lighting kit and BPM SFX lasers, the latter programmed and operated by Toby Macknight and Cosmin Barbuceanu. 
Additional moving lights were chosen for key and side lighting, as well as LED beam strobes and blinders for rear hits and audience illumination. Liddle programmed and operated the show using two Avolites Arena consoles running Titan 15 software, assisted in the lighting programming by Nathan Wan and Associate LD, Nathan Bird, who programmed some of the newer material and supervised the backup console. 
The video cues were triggered from drummer Stephen Morris's pads utilising a Catalyst media server, and the content from various digital artists was amassed and prepared for the show by Warren Jackson and run by Pete Cross. 
"It was amazing to be back in the live environment  with great gear, a great crew and two really fun shows!" Liddle exclaimed.