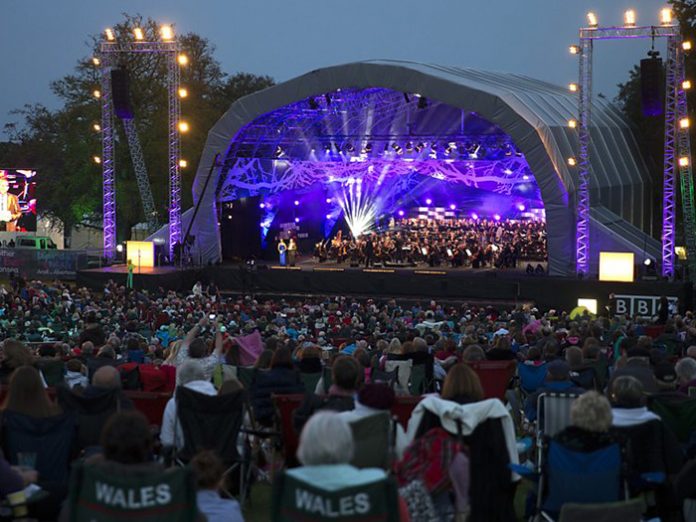 11th Hour enjoyed the summer sunshine at a range of UK festivals, providing a host of services across a diverse programme of events. Here are some of the highlights…
The festival scene in the UK is in great health, with more people attending music and wider cultural events than ever before. Last year it was reported that overall attendance had increased by around 12% in 2016 to over 30 million, contributing £4 billion to the economy. The figures continue to rise, meaning that demand for support services is high, something that brings a smile to the face of (and a great deal of hard work to) the team at Cardiff-based events services suppliers 11th Hour. The 2018 festival season was their busiest yet in the company's 12-year history and saw them deliver wide-ranging provision, including turnkey solutions for a number of major events.
British festivals have earned something of a reputation for being muddy affairs, where struggling to erect tents in gale force winds is the norm but 2018 radically bucked that trend, with the result that sun-cream rather than rainwear was the order of the day. In rock and roll terms, 11th Hour continued to expand its remit, adding new events as well as reprising and supplementing its role with regular clients.
Heavy Metal featured prominently on the agenda. 11th Hour supplied power and distribution to Bloodstock, Britain's largest independent metal event, which took place in Derbyshire and an even larger inventory to Britain's highest festival, Steelhouse, which is sited on top of a hill near Ebbw Vale in South Wales. For this gathering of international classic rock and metal stars, 11th Hour delivered power, distribution, staging and covered structures for front of house and backstage. The company's steady expansion means that it regularly finds itself supplying simultaneous large-scale events, so whilst Bloodstock was running at full steam ahead, an 11th Hour team was at home in Cardiff Bay working at The National Eisteddfod, installing power, distribution, staging, and stage lighting for the large main stage in the Oval Basin, as well as power and festoon lighting to the out-of-town campsite. At the Watchett Festival in Somerset, where last year 11th Hour supplied the main stage and pit barrier, this year the remit was extended to include all power and distribution.
Music played its part at DEPOT at the Castle, a food and music festival in Cardiff Castle, where the Fratellis and Sister Sledge took part in an event where 11th Hour supplied a turnkey solution, including power, distribution, staging, barriers, lighting and full project management that took care of coordinating audio, marquees and overseeing health and safety. The castle theme continued at Rock the Castle in Pembroke where a similar turnkey solution was delivered for a two-day festival that featured UB40 and The World Famous Elvis Show.
The Hay Festival, now firmly established as the UK's foremost cultural gathering, presents a number of challenges by virtue of the nature of its site and the enormous variety of the 800 events that take place under its auspices over a period of ten days. Around 250,000 visitors enjoy lectures, readings, concerts, screenings and discussions. Extensive catering facilities, retail areas and a busy media centre all demand attention and as lead production company for this year's renewal, 11th Hour was in the thick of the action, supplying power and distribution and site lighting, as well as coordinating the supply of staging, audio and stage-lighting for the 8 principal venues and their smaller satellites. Jake Bugg and Imelda May supplied the rock and roll, Monty Don, the gardening and Chelsea Clinton discussed global health…
Just before the curtain came down on the festival season during September, an 11th Hour team made its way north to Eirias Park in Colwyn Bay to support the BBC's Proms in the Park, a feast of classical music headlined by international superstar Katherine Jenkins. Here the company supplied power (6 generators in all) and distribution, cable, cable ramps and fuel tanks to take care of PA, lighting, screens and outside broadcast requirements. 11th Hour supplied 2 electricians who worked on the site for the 6 day duration of the set-up and strip down, whilst a dedicated generator technician was in attendance for the day of the show. As that particular auditory feast took place, Cardiff's own 4 weekend-long 'Summer Feastival' was closing, having delivered a more literal version with its street-food stalls and live music in Sophia Gardens. Once again displaying a comfortable capacity for managing simultaneous events, 11th Hour was on hand throughout 'Feastival' supplying power and distribution as well its brand new 20 x 9m Stretch Tent, staging and lighting.
Jason Venables, Business Development Manager at 11th Hour commented: "As the festival season of 2018 gives way to winter, our 2019 calendar is already being filled. New events are already being added to a schedule that will also involve returning to deliver increasing levels of service to existing customers. International sport and the ever-expanding provision of showcase ice rinks now take centre stage for 11th Hour teams – we're looking forward to another busy winter."