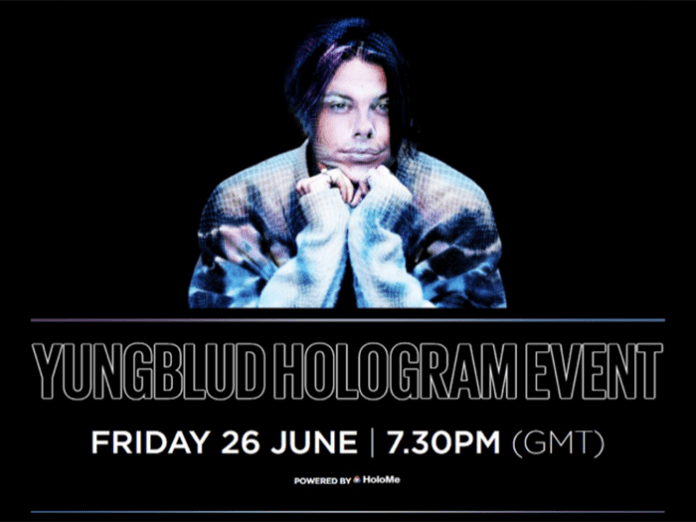 50,000 Music fans from across the globe have so accessed a first of its kind, intimate gig with musician Yungblud, after the singer released a Hologram version of himself via Instagram yesterday.
Working with music social publisher UNILAD Sound, Yungblud has created an exclusive opportunity for fans to invite the musician into their homes by augmenting a Hologram of the artist. Singing his new single Weird, fans have the opportunity to experience a first of its kind performance through the cameras on their mobile phones. So far, 50,000 fans have experienced the gig in less than 15 hours. The gig is still available to access here, and fans will also have the opportunity to access another version of the Hologram through LADbible's Snapchat Discover Edition at 11am today.
The immersive experience, pioneered by UNILAD Sound, and brought to life alongside Augmented Reality software developer HoloMe, promises to provide a realistic alternative for music fans and artists alike. Many of whom may have missed out on experiences such as Glastonbury and/or Coachella, but through this event, can come together to experience live music wherever they may be around the world.
In recent months, Yungblud has become renowned for his efforts to create virtual experiences for his fans. In March this year, the musician launched The YUNGBLUD Show, a livestream online gig, offering his fans a genuine concert experience due to his tour being cancelled. The AR performance released today seeks to bring hope to music fans and artists across the world as they continue to miss out.
On launching this virtual experience today, Yungblud said: "Obviously it's always important for me to connect with my fanbase and I'm missing them now more than ever. So, I wanted to create an opportunity where I could be with them, no matter where they are; their front room, at work, on their fuckin toilet or walking down the street. I had so much fun making this hologram, I hope you fuckin' love it."
UNILAD Sound is part of LADbible Group, the largest social publishing company in the world and has an audience of over four million worldwide across Instagram and Facebook and is one of the top ten most visited sites for music on Facebook in the world. Today's event forms part of the publisher's commitment to use its platforms and influence to create opportunities that bring global audiences closer together.
Joe Williams, Immersive Technology Lead at LADbible Group said: "AR technology has the potential to generate genuine and intimate experiences between artists and their fans, and at a time when lockdown continues to govern our social interactions this approach to immersive entertainment is more important than ever before. LADbible Group is proud to be the most engaged youth publisher in the world and the success of this launch is testament to our ambition as a company."
To access the performance, visit: yungblud-live.unilad.co.uk.