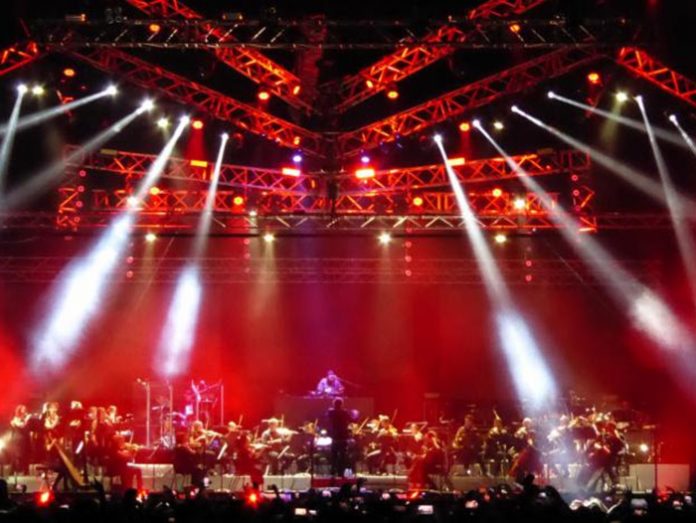 Celebrated hip hop lighting designer Paul Owen – who has illuminated performances by Wu-Tang Clan, De La Soul, Grandmaster Flash and The Streets – used a range of lighting control equipment from British manufacturer Avolites for the recent Restrung tour by Australian rap legends Hilltop Hoods.

A live tour of the trio's second orchestral album, Drinking from the Sun, Walking under Stars Restrung, took place in April and quickly sold out. It stopped at all five major Australian cities and featured the symphony orchestras of Sydney, Queensland (Brisbane), Adelaide, Melbourne and West Australian (Perth). Like Hilltop Hoods' latest long-play release, the Restrung tour sets tracks from the Hoods' two double platinum albums, Walking Under Stars and Drinking from the Sun, to a classical accompaniment.
Owen made good use of Avolites' high-performance Sapphire Touch lighting console running Titan V9, which he used to create a stunning array of spectacular visual effects for the tour's larger shows.
"I really loved using the pixel mapper feature. It's one of the highlight functions of the Sapphire Touch desk. The pixel mapper made it possible to create some awesome yet simple and effective colour effects throughout the rig as a whole. I love the Titan approach to pixel mapping. I wish it had always been that easy!

"I'm also a big fan of the Key Frame Shapes function. For the first time in my career, I found it easy to create my own movement effects, exactly as I wanted them. I used the function to create offset zoom effects, colour effects and offset gobo spin effects to name but a few! Any little nuance in a layer I could think of, Key Frame Shapes was the answer. It's an easy-to-use yet powerful function. The number of main playbacks on the Sapphire Touch also came in useful."

Augmenting the Sapphire Touch, Owen used an Avolites Tiger Touch II plus Tiger Touch Fader Wing, which offered him the perfect combination of power and portability. The system was networked with a Titan Net Processor, which enabled remote DMX processing for the bigger shows with more universes and no latency.
"This third generation console is packed with enough power for complex shows, yet it is small and light enough to fit in a standard plane luggage hold," added Owen. "Not only that, the Fader Wing gives me 30 additional faders for instant access to all playbacks, fixtures and palettes. In addition, programmable macro buttons and local, independent paging control means that lighting huge events like this becomes intuitive."

Owen has worked with Hilltop Hoods since he designed the lighting for the group's first orchestral tour, The Hard Road: Restrung, in 2007. Australia's premier hip-hop act contacted him thanks to his reputation for dynamic and atmospheric stage lighting for some of the world's most famous urban artists.
"I've been using Avolites products for a good 15 years or so now as they suit my style," said Owen. "For a massive and complex live show like Restrung, they made my life so much easier – thanks to their rock solid effects engines, pixel mappers, handy windows with different layouts and 30 pre-set faders."
The Avolites equipment was supplied to Paul Owen by Dave Taylor at TLC Global Lighting in Queensland.