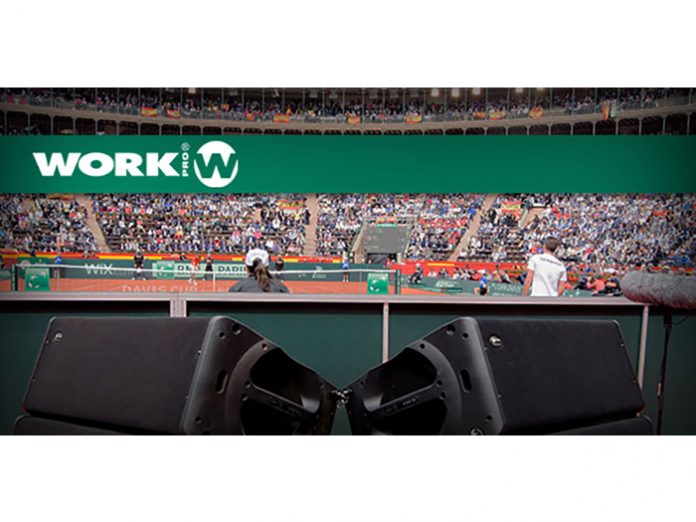 The recently launched Arion SL 210A line array speakers from installation and pro audio manufacturer Work Pro Audio were put on PA duty at a historic Spanish bullring in early April. The array system was part of a temporary sound reinforcement installation for the Valencia-based quarter-final Davis Cup tennis match between Spain and Germany.
Together with its parent company Equipson, Work Pro Adio is also based in Valencia. When the call went out from the bullring project's integrator for a temporary PA to be installed at the bullring for the Davis Cup quarter-final, Work Pro Audio stepped into the breach, supplying 20 SL 210A speakers, two SL 218 SA subwoofers, and also the company's Senior Loudspeaker Designer and acoustics engineer Joan La Roda to oversee the installation.
The 10,600-seater Valencia bullring was built in the 1860s, and, as a local venue rich in historical tradition in the region, has been carefully preserved over the years. Today it is one of the best-maintained vintage bullrings in Spain, but a few changes were needed before it could host the Davis Cup, which was a first for the venue. A clay surface had to be specially installed for the temporary 'court', and the technical requirements were more demanding.
Although the traditional circular shape of the venue guaranteed the spectators in the bullring an uninterrupted view of the matches, providing sound reinforcement was a different matter. The PA, which had to handle all public address/voice alarm duties as well as all of the background music for the 3-day event, had to guarantee consistent, wide coverage horizontally and vertically. Because the temporary tennis court erected in the bullring mostly filled the available circular space, and the speakers had to be mounted on the floor of the historic venue, the SL 210 A units had to be capable of consistent dispersion over a very steep angle to ensure complete vertical coverage of the all the spectators.
Launched during 2017, the Arion SL 210 A is a bi-amplified unit with built-in DSP and the option of Ethernet-based remote monitoring and control. Together with its associated SL 218 SA subwoofer, the SL 210 A can form a powerful line array suitable for medium to large scale PA installations in theatres, concert halls, and, as it turns out, bullfight arenas.
"This was a potentially challenging project which we are delighted to have executed successfully," commented Equipson CSO Juan Jose Vila.
"It would have been easy for an integrator to create a cheap PA/VA solution for the bullring that sounded good at ground level but was inaudible or incomprehensible in the top rows of the venue. Not only did our Arion SL 210A speakers once again prove themselves technically, we are very proud of our Chief Designer's work at the Plaza de Toros Valencia to ensure that the placement of the 20 speakers was optimal, ensuring consistent, even coverage during the quarter-final throughout all levels of the venue from our 20kW system."