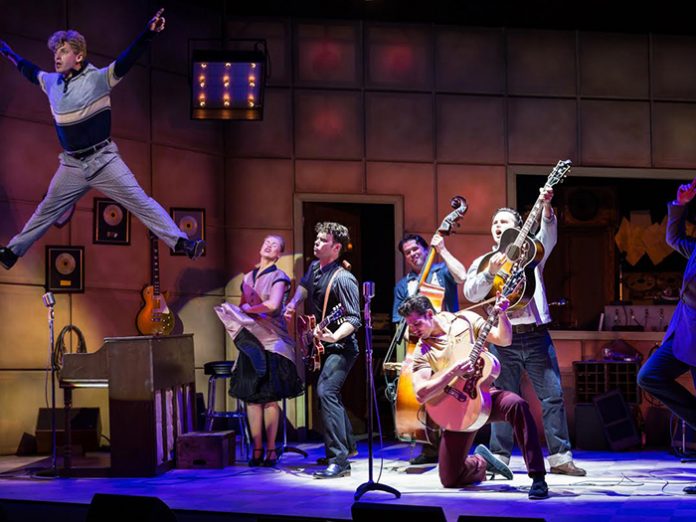 As the leading lighting supplier to West End and UK touring theatre, White Light has been approached to provide the lighting equipment as Broadway smash-hit Million Dollar Quartet returns to the UK for a brand new touring production.
The Lighting Designer is David Howe, who commented: "The incredibly talented director Ian Talbot and set and costume designer David Farley have perfectly captured the space and atmosphere of the tiny Sun Records recording studio. My brief was to create a design that supported both the performances and action on stage, moving the audience through the story and these amazing songs." Due to the nature of the show, David had to create a design that captured a strong sense of 'real' time yet could also blend into the abstract, with many of the numbers being 'flashbacks' in time and location.
He added: "The choices I made for the rig were both creative and practical. Creatively, the set is one unit therefore I needed a whole palette of looks at my disposal to create both the real and abstract. Colour and texture are key to the design and I wanted to create strong shafts of light in the atmosphere whilst controlling the background. To achieve this, I drew on Clay Paky Mythos, Clay Paky Sharpys, MAC Viper Performances, MAC Aura Washlights and Colour Force battens.
"I also drew on the SGM P5s for the first time, with the units acting as a low angle footlight fill. These worked perfectly alongside the ETC Source Four Lustrs which I used for face lighting."
With the tour playing for 30 weeks in multiple venues, the practicality of the rig was also a large factor. David stated: "The equipment needed to be reliable and efficient so that it could be set up easily when moving from theatre to theatre. Therefore we worked hard in pre-production to make sure our lighting plans were suited for each venue."
David added: "I've been surrounded by a great team that includes Production Electrician Sonic Harrison, Lighting Programmer Stuart Cross and Show Chief Cairn Stewart. I am also extremely grateful to WL for providing such a fantastic, reliable service and supplying me with the exact lights I required."