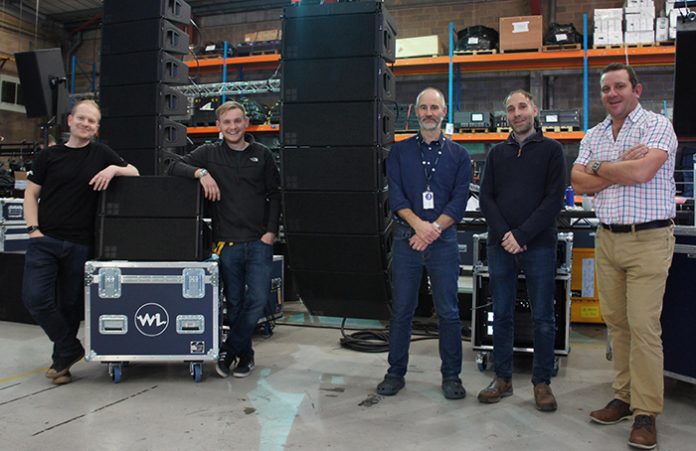 Following the formation of its audio department four years ago, White Light has continued to grow its inventory and recently made a significant investment in a range of leading audio products, from manufacturers including d&b audiotechnik, DPA microphones and Shure.
WL's Head of Audio Lee Dennison commented: "Ever since we launched our audio department four years ago, we've formed a reputation of being able to supply customers with audio solutions bespoke to their needs. Alongside our existing relationships with leading manufacturers, our long-term plan was to start introducing further big brands in year four and ensure we have equipment that is industry-standard and suitable for a range of markets, from theatre to live events to broadcast".
The recent d&b audiotechnik investment includes speakers from the E, Y and V series. Dennison explained: "We are delighted to have made this commitment to d&b and take on a range of their loudspeakers. These are industry-recognised products and having these readily available in our hire stock will allow us to continue serving our client's needs".
There has been an immediate interest in the d&b range and the systems have already been used on an eclectic range of events, including Six Day London at Lee Valley VeloPark, the UNICEF Halloween Ball which featured a live performance by Rita Ora as well as the WWF Living Planet Lecture at Central Hall Westminster. Dennison added: "With the d&b range already proving extremely popular, this not only showcases its versatility but also the fact that these industry-recognised products are often the first choice for a lot of audio professionals".
WL is also continuing its investment in DPA microphone products, including the eagerly-anticipated d:screet CORE 6000 series. This is DPA's smallest high-end pro audio microphone capsule and has been developed from years of research with leading theatre, film and television professionals. Lee explains: "We are delighted to be continuing our relationship with DPA and this latest investment shows our commitment to both the brand and these fantastic new products. They are the go-to manufacturer when it comes to microphones, whether it's for theatre shows, conferences or award ceremonies, and an invaluable asset to our inventor and build on our existing stock of the DPA product range.
As an Elite Rental Partner for Shure, WL has continuously invested in the company's pioneering products. This now includes the brand-new Axient Digital Range. With an unprecedented level of signal stability and audio clarity, the Axient Range incorporates some of the most innovative wireless audio technology in the world. Dennison explained: "We had invested into Axient earlier this year but we have now pushed into the ADX range of transmitters including the brand-new ADX1M. They are not only powerful but extremely discrete; making them a game-changer for the corporate market".
The d&b audiotechnik, DPA and Shure products are now all available to rent from WL's hire stock and clients are encouraged to contact WL's expert team with any queries they may have. Dennison concluded: "What this latest investment indicates is our constant desire to pioneer the very latest products and ensure our audio inventory is industry-standard; offering our entire breadth of clients with the best equipment possible".