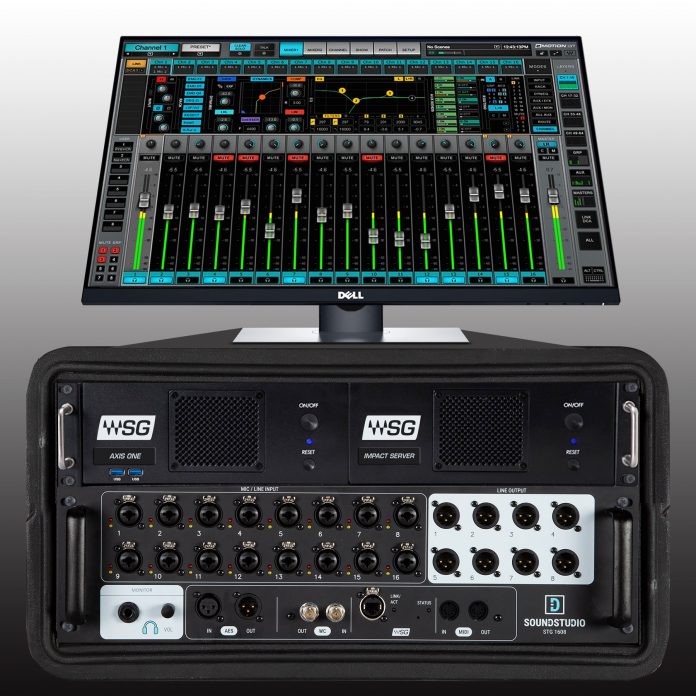 Waves Audio has introduced the eMotion LV1 Complete Live Mixing System.
The complete live mixing system comes with the Waves eMotion LV1 16-stereo-channel live software mixer, SoundStudio STG-1608 stage box, SoundGrid Impact Server-C, Axis One Waves-optimised computer, 24-inch Dell touchscreen, eight-port network switch and network cables.
The LV1 delivers class-A sound quality and an unparalleled workflow. Featuring 16 mono/stereo channels, LV1's channel strips feature a plugin rack that can host up to eight SoundGrid-compatible plugins for real-time processing. It also comes pre-loaded with three plugins specifically designed for live sound: eMo F2 Filter, eMo D5 Dynamics, and eMo Q4 Equalizer. The included SoundStudio STG-1608 is a sturdy SoundGrid stage box that features 16 mic/line inputs with high-end preamps, the latter of which can be remote-controlled directly from LV1's mixer channels.
All audio coming from the stage and through the plugins is processed on the included SoundGrid Impact Server-C. You can send the processed audio out to the PA system and back to the stage via the eight-line outputs. All of this takes place at a lightning speed of only 0.8 ms at 44.1–96 kHz.
To supercharge your LV1 mixing system, run eMotion LV1 on Axis One, a Waves-optimised computer made from the ground up to perform consistently and reliably even in the most challenging scenarios. It features an Intel i5 8500 processor, 16 GB of DDR4 RAM, two HDMI ports, one display port, eight USB2/3 ports and a USB-C port, all cased in a rugged 2U half-rack chassis. With maximum stability and rock-solid performance, Axis One is optimized to run eMotion LV1 and other Waves software with the power to spare.
FOH engineer Tomas Wolfe, who works at Run The Jewels' sold-out shows commented; "Really, without these plugins, I wouldn't have been able to do as good of a job in my live shows, period. And having them all run inside the LV1 mixer, all as part of one lightweight system is the bonus in this situation."
FOH engineer Jon Schumann (Mew, Lykke Li) has been mixing Danish electropop singer/producer MØ using the LV1. "Two things – the sound quality is amazing, and the system is so flexible and light. We're doing quite a few festivals and it's great to be able to pack up our entire small creative 'office,' check into the airport and put it all on the plane to fly with us wherever we go on tour. Even if you're a smaller band, you can take it with you. You don't have to be Coldplay to travel with your own rig!"
FOH engineer Luis Irizarry (Luis Fonsi, Calle 13) mixed the latest tour by hip-hop artist Residente using the eMotion LV1 live mixer. Irizarry commented, "The first thing that grabbed my attention with the LV1 was the option of having a console so portable and versatile. I can use it in a huge show of 30,000 people, and then I can just as easily mount it in my hotel room and tweak the sound using a recording of the show. This makes virtual soundcheck before the show a no-brainer. The setup is seamlessly simple. But above all, the sound quality is just INCREDIBLE. And, of course, Waves plugins are easily accessible from the LV1, which means that I can use the same plugin presets used in the albums. This enables me to have the show sound as close as possible to the mix of Residente's CDs. It's so versatile – I can run it in my living room today, then use it at FOH tomorrow."
Front-of-house engineer Dani Munoz chose the Waves eMotion LV1 live mixer on tour for Canadian reggae fusion band Magic!. Munoz remarked, "The Waves LV1 and Waves plugins are the ace under our sleeve. Now we are able to give fans the very best experience we can, no matter where we go."
Popular Brooklyn club and live music venue Elsewhere have chosen Waves' eMotion LV1 as its in-house live mixer. Technical Director David Levin commented: "My main goals in choosing a desk for Zone One were sound quality, ease of use and enough flexibility that the engineers won't get bored!" he said. "When I was first introduced to the LV1, it took about three minutes to learn the basic functionality of the desk, and under 30 minutes to feel like I had a deep grasp of the more in-depth functions. The layout is instantly very familiar, user-friendly, and extremely intuitive."
"The eMotion LV1 sounds insanely good. The preamps are clean, and the summing is at the top of any class of console. This allows the engineer to choose the vibe he or she wants to achieve. On any given day, you can choose to challenge yourself by mixing with a completely different set of plugins to explore all the flavour variations."
www.waves.com/hardware/emotion-lv1-complete-live-mixing-system