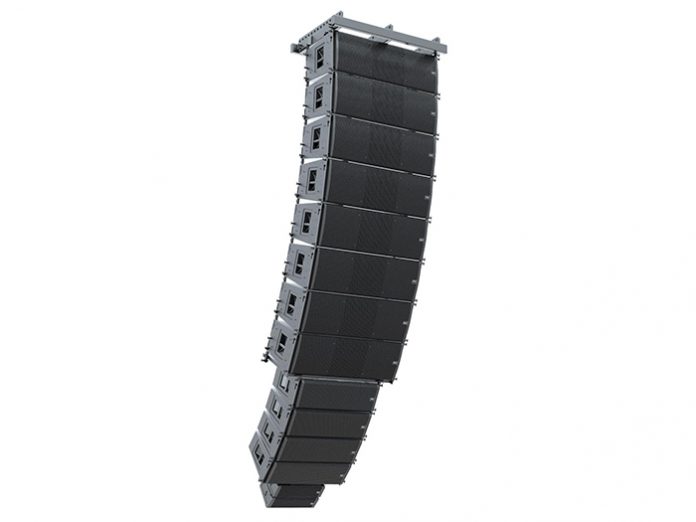 VUE Audiotechnik recently debuted the al-12, the newest and largest addition to the company's successful al-Class of Scalable Line Array Systems, at InfoComm 2016.
Thanks to VUE's Acoustic Linearity principles, the al-12 has the ability to integrate with other al-Class elements. CST (Continuous Source Topology) enables VUE al-Class line-array elements to function seamlessly in the same coherent, symmetrical line source array from the largest system at the top of the array to the smallest elements hung at the bottom of the array.
"The al-12 expands VUE's pristine sonic quality to larger applications in the global touring and permanent installation markets," said VUE CEO Ken Berger. "This latest addition to the line will enable current VUE end-users to expand their al-Class inventory while maintaining 100% use of their existing al-Class inventory. It will also attract companies looking to expand their business or upgrade their ageing and lower-performing 12- or 15-inch Line Array systems."
For VUE, the ongoing search for improved performance drives continuous innovations in the areas of advanced materials for magnets and cones, improved heat-transfer mechanisms to reduce power compression, and refined geometry for phase plugs and exit apertures in compression drivers used to deliver high frequency program content.
Each of the al-12 drivers was designed from the ground up for higher efficiency increased power handling and reduced power compression. High frequency reproduction in the al-12 is handled by two three-inch, 1.4-exit compression drivers utilising VUE's proprietary Truextent beryllium diaphragms. Two 12-inch low-frequency drivers with Neodymium magnet assemblies flank six midrange Neodymium drivers constructed with Kevlar cones. The HF and MF drivers complement the al-12's expanded LF output while still paying attention to the Acoustic Linearity design principles in the al-4 and al-8 systems.
The al-12 is powered using the new VUEDrive V3 Systems Engine, which delivers 9kW total burst power all channels, with 1.6kW sine wave per channel to the low- and mid-frequency drivers, and 500W sine wave per channel to the high-frequency drivers. The VUEDrive V3 provides integrated Digital Signal Processing for comprehensive loudspeaker management, factory-programmed array element configuration functions, network remote capabilities, analogue, AS digital and Dante network audio along user-definable input EQ and delay.
Every al-Class element is compatible with VUEPoint Beam steering technology.